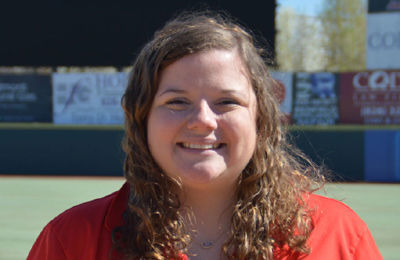 Hello Crustacean Nation and welcome back to another addition of Crawdads Corner. Although I've gotten the opportunity to meet a lot of you by now, my name is Kristen Buynar and I am going into my second season as a group sales executive for the team.
This might be surprising to some but 2019 was my first full season in Minor League Baseball. I previously did internships with the Northwest Arkansas Naturals and Memphis Redbirds, but I only worked a limited amount with both teams, not the full 70 games. I was not sure what to expect going into it, but let me tell you, it was more than I ever expected. Here is some insight into what I learned:
Lesson #1: You get no sleep.If you see some of us during the games and we look like zombies, it's because we are. On a typical game day, we get to the stadium at 9:00 AM. With the game not starting until 6:30 or 7:00 in the evening, we spend all day preparing for the game. We then work the game and stay after to clean up the stadium; this usually ends up with us going home around 11:00 PM or later, and then coming back to work the next day at 9:00 AM. Sometimes we do this for seven days in a row. It's exhausting but very rewarding at the same time. Sleep is overrated anyway, right?
Lesson #2: Always have tarp clothes at the stadium.Did you know the front office is responsible for pulling the tarp when it rains? Some teams have their grounds crew pull it, but since we have such a small staff, we are the ones out there. Let me start off by saying, I did not know how out of shape I was until the first time I pulled the tarp. When Douglas is shouting "Get to the tarp! Get to the tarp!" and you have approximately 5 seconds to get down to the field from the front office, you have no time to be out of shape. I have been known to forget my tarp clothes and it is no fun being drenched the rest of the day in business casual clothing. Note to self: Go to the gym and always keep a change of clothes at the stadium.
Lesson #3: Be flexible
During the season, days can be very hectic and fast paced. I am the type of person who wants everything to go right and nothing to go wrong. Unfortunately, that is not realistic in Minor League Baseball. I have been learning to go with the flow. For example, some nights we will be short staffed so I might be asked to work the bounce house or carousel for a few innings. Sometimes the promotions team might need help. It is all about stepping up where you're needed and just going with it.
Lesson #4: Smile
It's crazy to say I am living my dream of working in sports. I seem to forget about that sometimes and don't realize how lucky I am. I have met some of the most amazing people here in Hickory and I can't wait to meet more of you. Shout out to Rick and Renee Spencer for making me smile at every game. I consider it a blessing to have met y'all. I always get told to smile more and, truth is, I do need to smile more. I am having the best time out here and wouldn't trade it for the world. As Buddy the Elf would say "I just like to smile. Smiling's my favorite!"
I will continue to take these lessons into the 2020 season and beyond. I hope to see everyone at Opening Night on April 16. Go Crawdads!
Be the first to know
Get local news delivered to your inbox!