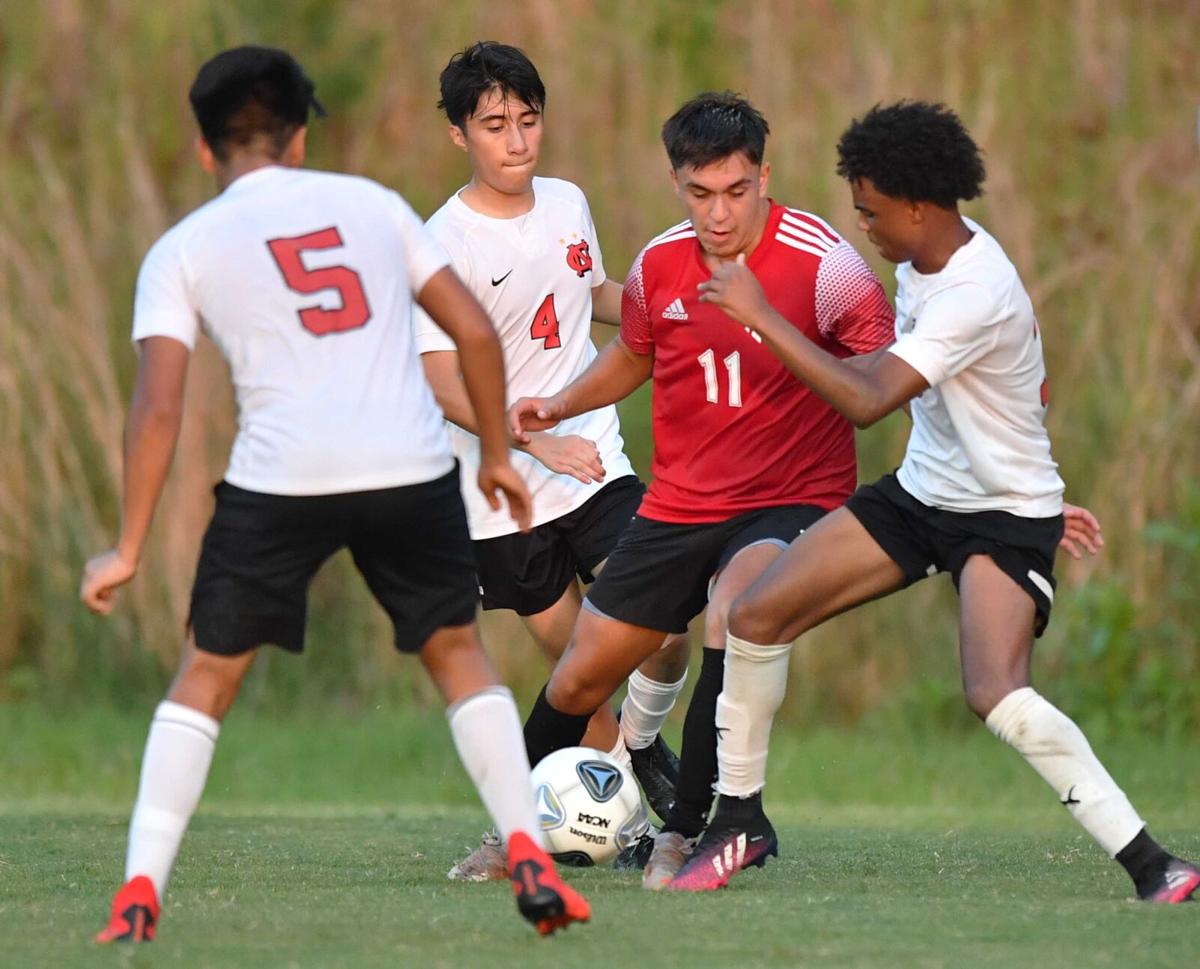 Soccer, volleyball, tennis and cross country races were on tap this week across the county and region.
Among the busiest sports was soccer. Ten matches were on the boys soccer schedule, nine were played.
After suffering their first loss of the season last week, the visiting Red Tornadoes (7-1 overall, 1-0 WFAC) defeated Statesville (1-4-1, 0-1) in the conference opener for both schools. Both teams return for league action Wednesday, as Hickory goes to East Lincoln and Statesville plays at North Lincoln.
St. Stephens at Fred T. Foard, ppd.
The match scheduled between visiting St. Stephens at Fred T. Foard was postponed due to COVID-19 protocols. No makeup date has been announced.
Catawba Valley Athletic 2A
At Lincolnton, the visiting Trojans had little trouble winning their conference opener over West Lincoln. Bandys scored four goals in each half.
Bandys (6-2 overall, 1-0 CVAC) will host East Burke on Wednesday, while West Lincoln (2-6, 0-1) goes to Maiden the same day.
Lincolnton 2, Bunker Hill 0
Lincolnton tallied a goal in each half to outpace the host Bears in the conference opener for both.
Lincolnton (3-0-1 overall, 1-0 CVAC) returns home Wednesday to host Newton-Conover, while the Bears (1-3-1, 0-1) travel to Lenoir to face West Caldwell.
At Icard, four different players tallied goals as the Cavaliers defeated Maiden on Senior Night in the CVAC opener for both.
Qwinton Hemphill, Jonathan Garcia, Landon Thome and Alexis Hernandez all scored to help East Burke (2-4-1 overall, 1-0 CVAC) to its second straight win. Eduardo Sanchez had six saves for the Cavaliers.
Jacob Sigmon on an assist from Christian Rodriguez accounted for the only goal for the Blue Devils (1-3-1, 0-1). Cooper Houser collected 10 saves for Maiden.
Both teams continue league play Wednesday, as Maiden hosts West Lincoln, while East Burke goes to Bandys.
At Newton, the host Red Devils rushed out to a 3-0 lead at the half to put the match away in the conference opener for both squads.
Both teams continue league play on Wednesday, as Newton-Conover (2-6-1 overall, 1-0 CVAC) goes to Lincolnton and the Warriors (2-6, 0-1) host Bunker Hill.
The host Panthers opened their new league schedule by holding on to win over visiting Polk County.
Collin Callahan scored twice on assists from Vance Jones to open up a 2-0 lead. Xavier Bernabe added a goal in the 66th minute to put Patton up 3-1. Connor Webb made 14 saves for the Panthers.
Patton (5-1-1 overall, 1-0 MF7) returns to action next Monday at East Rutherford while the Wolverines host Hendersonville this Wednesday.
South Iredell 6, Alexander Central 0
Visiting South Iredell blitzed the Cougars for a fourth straight win (4-2). The shutout was the third in four games for the Vikings, who will open Greater Metro 4A Conference play Tuesday against West Cabarrus. Alexander Central dropped to 3-5-1. Four of the team's five losses have been shutouts. The Cougars travel to Bunker Hill on Thursday.
At Morganton, Freedom started its Senior Night by pushing out to a 2-0 lead in the first half. The Trojans rebounded to even the match in the second half and neither team scored in two overtime periods during the match held at the Catawba River Soccer Complex.
After opening 0-2-1, the Patriots (2-2-3) are unbeaten in their last four matches and will next host McDowell on Wednesday. Chase (2-5) opens Mountain Foothills 7 2A play Wednesday at home vs. East Rutherford.
Hibriten 7, Lincoln Charter 0
At Lenoir, the host Panthers put up four goals in the first half. In the victory, Hibriten (7-0) posted its third shutout in a row and its fourth in five matches. The Panthers play on Thursday when they host Hickory Christian in another non-league contest. Lincoln Charter (4-2-1) has a non-conference match at home vs. Forest Hills on Wednesday.
GIRLS TENNIS
Alexander Central 6, South Caldwell 3
At Taylorsville, the Cougars swept all three doubles matches to claim their league opener.
No. 1 doubles team Faith Zirkle and Cassidy Caskaddon routed Victoria Villacorte and Juliette Adkins 8-2, while Mackenzie Harper and Emmy Rogers easily cruised past Sarah Cook and Aislinn Chapman 8-3. In No. 3 doubles, Rachel Skinner and Taylor Sharpe took out Georgia Reichling and Hayley Hartley 8-5.
For the Cougars, Zirkle received a win in No. 1 singles, as Gwyneth Frye retired in the second set. Rogers (No. 4 singles) defeated Reichling in straight sets 6-4, 6-3 and Skinner (No. 5 singles) outlasted Hartley 6-2, 1-6, 10-5.
For the Spartans, Chapman defeated Harper 6-3, 6-4 in No. 2 singles and Villacorte (No. 3 singles) took out Caskaddon 6-2, 2-6, 10-5. Cook (No. 6 singles) defeated Sharpe 6-4, 3-6, 10-4.
The Cougars (4-0 overall, 1-0 NWC) are scheduled to play a non-conference match Tuesday at North Iredell. South Caldwell (1-2, 1-2) plays a conference match Wednesday at Ashe County.
At Lenoir, Watauga continued its dominance in the Northwestern 3A/4A Conference. The visiting Pioneers (2-0 overall, 2-0 NWC) extended their conference win streak to 13 straight by winning five of the six singles matches, all by straight sets. The lone victor for Hibriten was Natalie Jones, who defeated Alaina Muse in No. 5 singles 6-1, 2-6, 11-9. The Panthers other win came at No. 1 doubles, as Cassey Vaught and Kennedi Harper defeated Jillian Russert and Sienna Davidson 8-4.
Hibriten (5-2, 1-1) is scheduled to travel to Freedom for a NWC match Tuesday. Watauga hosts TC Roberson in a non-conference match Tuesday.
Results for Ashe County at Freedom, Bandys at North Iredell, and Draughn at East Burke were not available at press time.
VOLLEYBALL
Western Foothills Athletic 3A
East Lincoln 3, St. Stephens 2
At Denver, St. Stephens led in the match twice before the Mustangs won the last two sets to rally and avoid the upset at home. The final score was 24-26, 25-23, 20-25, 25-16, 15-11.
Leading the Indians (3-6 overall, 0-3 WFAC) was sophomore Taylor Kelly with 11 kills and freshman Julia Gnida with 10. Junior Emma Watson led the Indians with 15 assists and 13 digs. Both return to league play Wednesday, as St. Stephens hosts Statesville and East Lincoln (6-2, 3-1) hosts unbeaten North Iredell.
Fred T. Foard 3, North Lincoln 0
At Newton, the Tigers swept visiting North Lincoln 25-13, 25-6, 25-14 for the team's third win in a row.
For Foard (7-1 overall, 3-1 WFAC), Laney Craig led the way with 10 kills on the evening. Middle blocker Averie Dale put down nine kills and a pair of blocks, while Martina Foster had seven kills and a block. Hailey Johnston handed out 20 assists and helped on the back line with 12 digs. She also served up a pair of aces. Maya Beatty was the big server of the day with six aces to go with seven kills and 15 digs. Sarah Lingle finished with nine digs, 11 assists and three aces. Lyndsey Warren had 8 digs.
The teams continue league play Wednesday as the Tigers travel to Hickory and North Lincoln (6-4, 2-3) hosts West Iredell.
Hickory 3, West Iredell 1
The visiting Red Tornadoes and West Iredell split the first two sets before Hickory asserted its will for the victory. Hickory (7-3 overall, 3-2 WFAC) won the first set 27-25 before the Warriors (0-3, 0-2) rebounded in set two 25-23. From there, the Red Tornadoes pulled away 25-14, 25-17. Hickory will host Fred T. Foard on Wednesday, while West Iredell goes to North Lincoln the same day.
Alexander Central 3, Bandys 1
The Cougars (5-1) avenged their only loss of the season with a four-set win over Bandys. Alexander Central won the first set 25-17 before the Trojans rebounded with a 25-15. The Cougars finished off the match 25-18, 25-16. With a scheduled Northwestern 3A/4A match set for Wednesday vs. Ashe Co. already postponed, Alexander Central next hosts Draughn Thursday for a non-conference tilt. Bandys (5-4) hosts Newton-Conover on Tuesday for a Catawba Valley Athletic 2A Conference match.
Freedom defeated the Titans for the second time in a week with a road sweep on Monday. Following a 3-1 win at home last Tuesday, the Patriots cruised to wins in the first two sets 25-14, 25-19, then held off the Titans 27-25 to complete the sweep.
Freedom (5-6) opens Northwestern 3A/4A Conference play Wednesday when it hosts Hibriten. McDowell (0-4) hosts Enka in The Mountain 3A/4A Conference match Tuesday.
At Lenoir, the Panthers continued one of their best seasons in several years with a sweep (25-13, 21-25, 26-24) of East Burke. The Cavaliers, a conference foe of the Panthers the last four years, had won 10 straight over Hibriten since 2016, eight of those by sweep. Now at 6-4, Hibriten — 1-13 last season — is two wins shy of its combined total from the last three seasons, when the Panthers went 8-52. The six victories are the most since the Panthers went 7-14 in 2017. Hibriten will open Northwestern 3A/4A play at Freedom on Wednesday. East Burke (1-10) hosts Lincolnton on Tuesday afternoon in a Catawba Valley Athletic 2A match.
Draughn 3 South Caldwell 0
At Valdese, Draughn won its fourth match in a row with a 25-22, 25-14, 25-22 sweep of the Spartans. Outside hitter Madison Powell had 11 kills and an ace, and Bella Williams had seven blocks to lead the Wildcats (7-3), who will travel to Rosman on Tuesday in a matchup of the top two teams in the Western Highands 1A/2A Conference.
South Caldwell (1-6) opens Northwestern 3A/4A Conference play at Watauga on Wednesday.
CROSS COUNTRY
Catawba Valley Athletic 2A Conference
At Newton, Bandys swept the individual races, while the Trojans' boys and East Burke's girls were the team winners at a conference meet held at Southside Park.
In the boys race, Grant Parham of Bandys won his race (17:51.80) by 28 seconds over Maiden's Hunter Smathers (18:19.50). David Birkhofer and Bryson Burkett claimed third and fourth for Bandys, as the Trojans team easily outpaced East Burke 34-64 for the win. East Burke's top racer was Jackson Spencer (20:11.00), who came in sixth. Top individual racers for schools included Ben Martin of Bunker Hill (fifth), Julian Musaeus of Newton-Conover (21st) and Jacob Spencer of West Caldwell (26th). As a team, Bunker Hill came in fifth with 117 points and Maiden took sixth at 120. Newton-Conover or West Caldwell did not field a complete team.
On the girls side, Paige Oldenburg of Bandys took first (21:19.94) over Meah Walsh of East Burke (21:36.98). However, East Burke had all five scoring runners in the top 16, including three of the top 10 to outpace West Lincoln 51-64. Maiden was third at 66 points, Bandys fourth at 70 points, Bunker Hill fifth at 87 and Newton-Conover 6th at 137. The top runner for each school included Kylin Wayne of Maiden (fourth), Kaylee Nelson of Bunker Hill (12th), Elizabeth Sherwood of West Caldwell (16th) and Caroline Powell of Newton-Conover (22nd).
Bunker Hill will host the next conference meet next Monday at Riverbend Park.