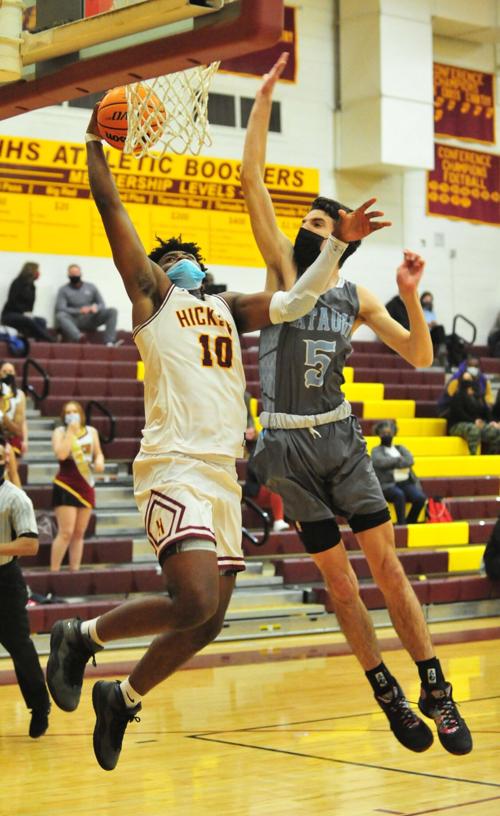 The North Carolina High School Athletic Association announced brackets for the 2021 boys basketball tournament on Sunday. The first round is scheduled around the state for Tuesday with the winners advancing to Thursday's second round. Here are the capsules for the games involving schools from area conferences.
No. 14 Forbush (9-3) at No 3 North Lincoln (12-2) (sfcnetwork.tv, fee required)
North Lincoln won six straight games to take the South Fork 2A Conference title. Senior guard Cole Seagle averages 22 points a game with fellow classmate Jack Carter adding 17.5. After seven losing seasons in a row, six of them with single-digit win totals, North Lincoln returned to the playoffs last season and won its first playoff game (62-48 over West Caldwell) since 2007.
After nine straight losing seasons, during which Forbush won more than nine games only once, the Falcons finished second in the Western Piedmont 2A Conference and will play in the postseason for the first time since 2016. Their last playoff win came in 2010.
Next up: No. 11 East Lincoln (11-3) or No. 6 North Davidson (12-0)
No. 11 East Lincoln (11-3) at No. 6 North Davidson (12-0) (northdavidsonathletics.org)
The Mustangs were on the verge of missing the playoffs in the season finale at home. Down 10 to Newton-Conover with 5:21 to play, East Lincoln rallied to defeat the Red Devils and claimed the South Fork's second state playoff berth. Three juniors top the scoring sheet for East Lincoln, with Evan Montanari (17 ppg), Drew Bean (12.9 ppg) and Jeremiah Jones (10.7 ppg) leading the way. Jones leads the team in assists (5.9 apg) with another junior Logan Craig leads in rebounds (6.9 rpg). The Mustangs have won at least one playoff game nine years in a row, including last year's win over East Burke. Hendersonville ended their season in the second round.
North Davidson won the Central Carolina 2A Conference with a hectic final week of the season. They defeated second-place Salisbury on the road, then outlasted Ledford in overtime to win the league outright. Senior two-sport star Jamarien Dalton, who signed to play football at Elon, leads the Black Knights with 28.2 points per game average. After a long playoff win drought that stretched back to at least 2006 (the last brackets published by the NCHSAA.), North Davidson advanced to the third round the last two seasons.
Next up: No. 14 Forbush (9-3) or No 3 North Lincoln (12-2)
No. 10 Shelby at No. 7 Patton (8-0) (web link at "Robert Logan Patton High School" Facebook page. Registration required at the website)
As it turned out, Patton's Northwestern Foothills 2A Conference championship was won on a buzzer-beater at West Caldwell on the second game of the season. When COVID-19 quarantines ravaged the conference season, the playoff seeds were decided on a seven-game schedule, based on first-game results only against all opponents. The Panthers swept West Caldwell, but only the first game counted for playoff seeding. In that format, Patton was 7-0, while West Caldwell went 6-1. Junior forward Waylon Rutherford led all Burke County players in scoring with 20.3 points per game, while sophomore Jayden Powell and senior Caleb Castle each cleared 17 a game. After losing the program's first seven playoff games, the Panthers have at least one win over the last three seasons.
The Panthers hope to continue that streak but will need a better result than they had in a second-round matchup last year with eventual 2A state co-champion Shelby. The host Golden Lions opened a 28-8 lead en route to an 82-63 win. Shelby won the 2A West Regional but had to settle for sharing the state title with Farmville Central after COVID-19 responses canceled the state final. This year, Shelby split the Southwestern Athletic 2A Conference title, but lost a draw to R-S Central and was handed a lower seed.
Next up: No. 15 Forest Hills (10-2) or No. 2 R-S Central (12-1)
No. 13 West Caldwell (7-2) at No. 4 Ashe County (10-3) (NFHS Network, subscription fee)
West Caldwell took the second seed out of the Northwestern Foothills 2A Conference. This is the second season in a row for the Warriors in the playoffs after going 5-19 back in 2018-2019. However, with two sophomores leading the scoring, more postseason success could be on the horizon. Malek Patterson put up 17 points and 6.3 rebounds a game, while Jakobe Hood averaged 15 points a game. The Warriors lost to North Lincoln in the first round last year and their last postseason win came in 2017.
Ashe County won the Mountain Valley 1A-2A Conference outright after enduring eight straight losing seasons. The Huskies are making their first playoff appearance since 2016 and looking for their first win in the postseason since 2012. Seniors Austin Poe (13.6 ppg) and Dawson Cox (12.5) are the leading scorers with Cox pulling down 9 rebounds a game.
Next up: No. 12 Salisbury (8-4) or No. 5 Mountain Heritage (11-0)
No. 14 North Buncombe (10-4) at No. 3 Hickory (9-1) ("Hickory High Boys Basketball" on Facebook)
It looked bleak at the start of the season under new coach Daniel Willis. After losing their two leading scorers to graduation, the Red Tornadoes lost the opener at McDowell and faced a possible 0-2 start at the hands of defending 3A state co-champions Freedom. The game never happened because of a weather postponement and then COVID quarantines for the Patriots. Hickory ran off nine straight to win the Northwestern 3A-4A Conference and now carries the banner as the only league school in the tournament. The Red Tornadoes are best when they can create offense from defensive pressure, but they're a team that can start slow and take a while to heat up. A pair of sophomores from the football team led the team's balanced offense in scoring with Rico Walker putting in 12.6 points per game and Jayden Maddox adding 10.9. Hickory is looking to reach the "Sweet 16" for the sixth time in seven seasons.
The Blackhawks were third in the Western Mountain Athletic 3A Conference, which allotted three tournament teams. Caleb Lominac leads the team with 15.8 points and 11 rebounds a game. Walker Corbin and Bryce Payne each score over 13 a contest. North Buncombe is hoping to snap a four-game losing streak in the postseason dating back to 2017.
Next up: No. 11 Charlotte Catholic (11-2) or No. 6 Mt. Tabor (11-2)