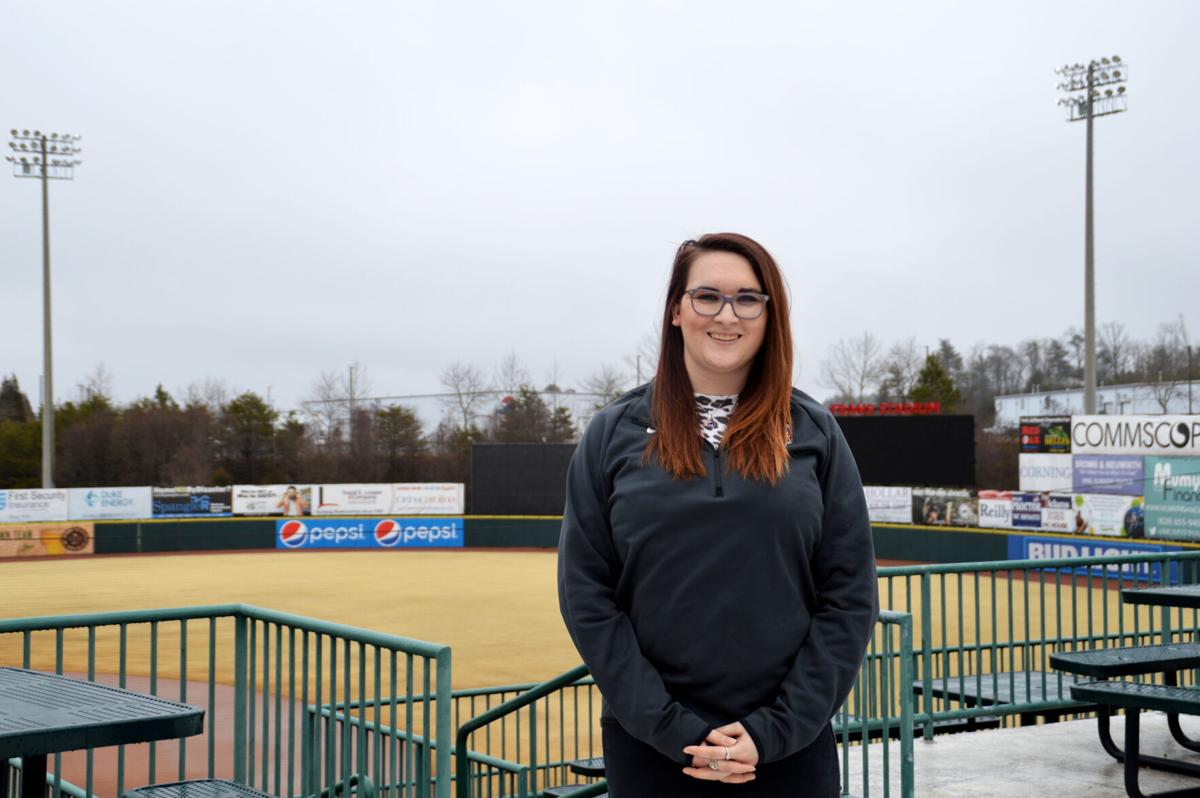 My name is Amanda Height and I am excited to introduce myself as the new director of promotions and community relations. I am originally from Clayton, North Carolina, a small town outside of Raleigh.
I graduated from Campbell University (go Camels!) with a Bachelor of Arts in broadcast communication and sport management. I am currently working on obtaining my master's degree in sport management to further my knowledge in the industry.
Before starting college, I knew I wanted to work in sports but I wasn't exactly sure in what aspect that would be. Growing up, I was a cheerleader and went to all my school's sporting events including baseball. That helped me know I wanted to spend my career in the sports industry.
While attending Campbell, I worked in the ticket office, getting my first experience working on the inside of the sports industry and I loved it. Over my last few years at Campbell, I transitioned into the production side of things, hosting the sports show called Camel Cam. My passion sparked working with the show. I was over the school filming, editing, and broadcasting. I had a blast being involved with the show.
During the summers at Campbell, I got a job working for the Carolina Mudcats in Zebulon. I started as a waitress and worked my way onto the field as a member of the promotions team. After graduating, I continued my work with the Mudcats and became the assistant to the on-field host and the merchandise manager in 2018.
The 2018 season is one that will stand out to me forever as we got to host the High-A All Star Game. More things go into planning and executing an All Star Game than I could have ever imagined, but I got to learn so much from helping coordinate it. After this experience, I knew that my passion was in baseball. From Minor League Baseball all the way up to Major League Baseball, I want to experience it all and learn as I go.
My focus for this season is to get to know the Hickory Crawdads. With my role here, I will get to play a huge part in how we interact with the community and spend a lot of time making connections with people. The other part of my job will include planning our theme nights and coming up with new fun ideas for our between innings games. Growing up in a baseball community, I know what it is like to all gather on a summer night at a ballgame and I'm excited to be a part of that here with the Crawdads.
Moving to Hickory less than a year ago, I have started to learn how great this town is and I cannot wait to continue to explore it. I got the opportunity to work my first event with the Crawdads this past weekend as we hosted a Valentine's Date Night at the park. I hope to meet more of you all in the coming months as we ramp up our events and get ready for the Crawdads season. If you see me walking around the ballpark or out and about, please don't hesitate to introduce yourself and say hi!