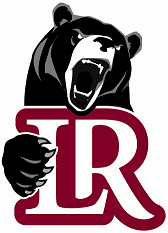 On Friday, the Lenoir-Rhyne football team reminded Wingate which university fields the dominant team in the South Atlantic Conference.
The Bears built a 30-0 halftime lead in Wingate's home stadium and cruised to a 44-21 win.
How completely did the Bears overwhelm the Bulldogs? Let's look at the numbers:
Zero — the number of first downs Wingate managed in the first half.
Five — the number of sacks the LRU defense recorded and the number of touchdowns the team scored.
20 — Lenoir-Rhyne's current South Atlantic Conference winning streak.
30 — The number of points the Bears put on the board before the Bulldogs made a mark.
Minus-43 — Rushing yards for Wingate in the game.
The game was a showcase for Lenoir-Rhyne on both sides of the ball.
L-R quarterback Grayson Willingham completed 16 passes for 288 yards and two touchdowns in the game. Dwayne McGee ran for 94 yards and a touchdown on 30 carries. Deondre Lester was the leading receiver, with four catches for 77 yards and a score. Kicker Chase Allbaugh chipped in with three field goals. And the Bears defense intercepted two passes and recovered two fumbles while snuffing out any hopes for the Bulldogs in the running game.
The bright spot for Wingate was the partnership of quarterback Shaw Crocker and receiver Kamal Desor. The two hooked up for two touchdowns in the second half. Crocker threw for 217 yards in the game. Desor finished with three catches for 43 yards.
Did you know?
Both teams were unbeaten coming into the game.
Lenoir-Rhyne extends its streak with at least one sack to 42 straight games.
Lenoir-Rhyne has won four straight head-to-head against Wingate and owns a 23-13 lead in the all-time series.
LR is 11-7 in games at Wingate.
The Bears have now won 20 straight games against South Atlantic Conference opponents.