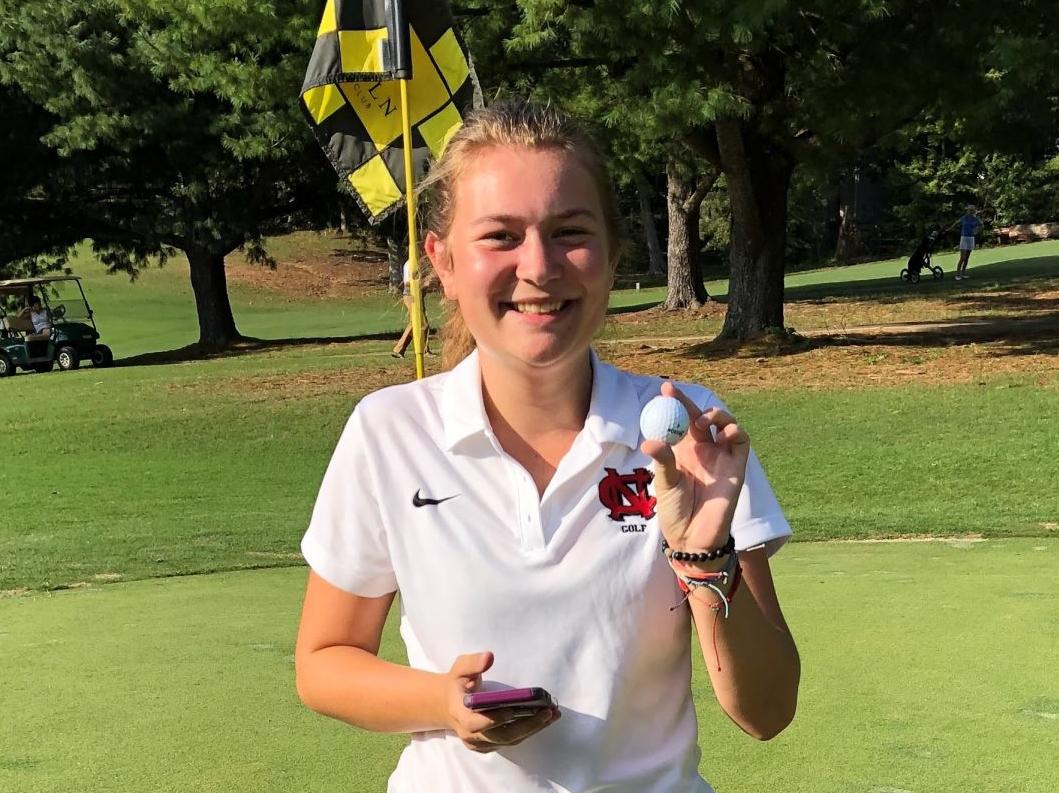 The North Carolina High School Athletic Association will host regional rounds in girls golf throughout the state on Tuesday. A total of 27 golfers from 12 schools in the three area conferences will compete in the West Regional. Among those schools, five will vie for team championships in their respective classifications, and the right to advance to the state tournament next week.
A total of 45 players are assigned for each regional. The championship team from each conference, made up from the top three scorers on that team, advanced to play on Tuesday. The remainder of the field is made up of players with the top nine-hole scoring averages from around the region. Conference champions, as well as schools with at least three players to advance to the tournament, compete for the team championship.
The top two teams from Tuesday's regional will advance to next week's state tournament, as well as the top nine players not on the qualifying teams, for a total of 15 golfers.
Here is a preview of the teams and golfers expected to compete. (Coaches were invited to submit comments on their players and teams.)
1A/2A WEST REGIONAL
Lincolnton Country Club, 8:30 a.m.
Players (9-hole scoring avg., tee time): Camryn Lamp, Sr. (37.6, 8:30 a.m.), Sondra Uon, So. (40, 8:40 a.m.), Celeste Little, Fr. (42.3, 8:50 a.m.), Hailey Hicks, So. (45.6, 9 a.m.)
Coach's Comments: Camryn Lamp (Lenoir-Rhyne commit): Three-time state qualifier. In 2019, she finished third in the 1A/2A State Championship. Four-time all-conference. Conference player of the year 2019. Hope to have a strong finish to her high school career. Sondra Uon: Qualified for the NCHSAA state championship as a freshman. All-conference. Hailey Hicks: This is Hailey's first year of playing golf. Was a competitive gymnast up until last year. Twin brother Hatley Hicks will play in the boys regional. Celeste Little: Great young player with a lot of potential.
Patton (Northwestern Foothills 2A Conference champions)
Players: Allie Witherspoon, So. (47), Katie Riebel, Fr. (49), Kailey Buchanan, Jr. (54)
Comments from Coach Baker: The team we are sending to regionals is very young. With that being said, I don't have specific expectations for my girls as far as the outcome at regionals. I do want them to enjoy the moment and play to the best of their abilities. They are all gifted and have the capabilities of producing a good round. They will represent Patton very well. Being so young, I look forward to what we can accomplish moving forward.
West Lincoln (South Fork 2A Conference Champion)
Leah Matney (37.3, 9 a.m.), Laycee Hoffman (38, 9:10 a.m.), Reese Coltrane (40.3, 9:20 a.m.), Rae Watson (42.3, 9:30 a.m.), Brooke Beddingfield (49.3, 9:40 a.m.)
Coach's comments: Back-to-back conference champions. The Lady Rebels shot a team score of 244 in Tuesday's conference championship. The Rebels were led by conference individual champion Laycee Hoffman, who shot a 78. Hoffman, Leah Matney and Reese Coltrane were selected as all-conference players. My expectation for the regional is that my team will continue to play like they have all season, if they do, the results will take care of themselves. These are great young ladies and great golfers and I have the utmost confidence they will play to the best of their ability.
Players: Lindsey Hodge, So. (48, 9:30 a.m.)
Coach comments: This will be her second year of qualifying. She began playing golf at the start of her freshman year and has continued to work and improve her game. She is a very focused athlete who continues to improve all aspects of her game. She drives the ball well and is a very good with her iron play. Last season she was nine strokes from qualifying to advance to state championships. Hopefully with an improved game she will make that cut this season.
Player: Kyla Callahan, Fr. (38.6, 9:10 a.m.), Sophia Laliberte, Sr. (41.3, 9:20 a.m.)
Player: Virginia Anders, Jr. (49.3, 9:40 a.m.)
Coach's comments: Girls finished second in the conference. Had five on the team, two juniors, two sophomores, and one freshman.
Players: Georgia Chapman, Jr. (40, 8:30 a.m.), Tess Palmer, Jr. (42.3, 8:40 p.m.)
Player: Regan Smith (49.3, 8:50 a.m.)
3A WEST REGIONAL
Highland Creek Golf Club, Charlotte, 8:30 a.m.
Freedom (Northwestern 3A/4A Conference Champion)
Players: Albany Bock, Sr. (37, 8:40 a.m.), Christina Fisher, Sr. (37, 8:50 a.m.), Anna Czarkowski So. (38.3, 9 a.m.)
Coach's Comments: This group of young ladies, when they play well, can be as good as any team around. They've put in a tremendous amount of work over the last few years to get to this point. The school is proud and excited to see what they can do on Tuesday.
Player: Chelsey Arney, So. (48, 10:20 a.m.)
4A WEST REGIONAL
Salem Glen Country Club, Clemmons, 11 a.m.
McDowell (Northwestern 4A team qualifier)
Players: Ashton Kirkland (45, 11:30 a.m.), Kaylin Durvaux (50, 11:40 a.m.), Ryleigh Burnette (50, 11:50 a.m.)
Lana McCall, Jr. (49, 1:20 p.m.)