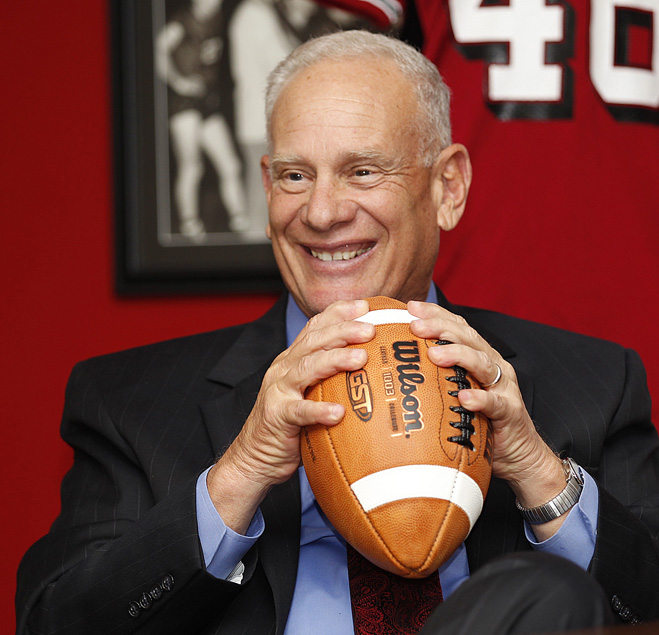 A chapter in Lenoir-Rhyne University football history and one of the most well known coaches in NCAA history came to an end on Tuesday afternoon when Fred Goldsmith announced his retirement from coaching.
Goldsmith, 67, led the Bears to their first winning season in 16 years last year with a 7-4 mark and just felt like now was the best time to step aside.
"I just didn't feel the motivation to X and O like I used to," Goldsmith said. "As a coach, I've written on every napkin, tablecloth and even church bulletins when I wasn't supposed to be. But when you stop doing that, your desire to scheme things is gone.
"My desire was continuing to be around our football team, which I've enjoyed and our coaching staff. But I know it is time. In Ecclesiastes it says, 'There's a time for everything,' and so it's time for me to stop coaching."
Current Lenoir-Rhyne assistant head coach and defensive coordinator Mike Houston has assumed the role as acting head coach.
Goldsmith compiled a 17-27 record as the Bears' coach and holds a 57-97-1 college career coaching record that spans through 15 seasons.
Goldsmith was hired on November 28, 2006, becoming the 17th head football coach in Lenoir-Rhyne's history.
"I can't tell you how much this team means to me," Goldsmith said. "And to go out with pleasant memories and not having to look back and say, 'Well if this had happened or that had happened.
"You look back now and say, we stayed healthy and we got guys like Gaston Miller, who joined our team and Chandler Reardon, who comes back from a knee injury and makes All-American.
"You look back at all the great memories and everything was positive and so to me, they've always said you die with your boots on and well, I'd rather go out with happy memories with my golf shoes on."
From 2001-2005, he was head coach of Franklin High, compiling a 47-15 mark, while leading the team to its most wins in school history and earning Coach of the Year honors in 2001.
Goldsmith's early career included coaching positions at several high schools and universities.
Goldsmith has twice been voted national coach of the year at the Division I level.
He served as head football coach at Duke (1994-1998) and Rice (1989-1993).
While at Duke, he led the nation in football graduation rates four times and was named ACC Coach of the Year and Bobby Dodd National Coach of the Year in 1994. He also led the team to the Hall of Fame Bowl on January 2, 1995, one of Duke's two bowl appearances in 40 years.
In 1992, Rice had its first winning season in 29 years and Goldsmith was named Sports Illustrated National Coach of the Year.
He has been married to the former Pamela Penland for 44 years. They have two daughters, three granddaughters and one grandson.
Goldsmith plans to spend time speaking for the Fellowship of Christian Athletes, where he has been an active member for many years, and spend more time with his family.
"My plans will be whatever Pam tells me to do," laughed Goldsmith. "She's been a big part of this, the way she's prayed for these kids and everything, she's been a special partner.
"I also hope to spend some time watching my granddaughter run. She's fast and I haven't had many opportunities to watch her, so now I can spend some time doing that."
Goldsmith attended Western Carolina University for two years on a football scholarship and transferred to the University of Florida, where he earned a bachelor's degree in health and physical education in 1967 and a master's degree in education administration in 1972.
Be the first to know
Get local news delivered to your inbox!