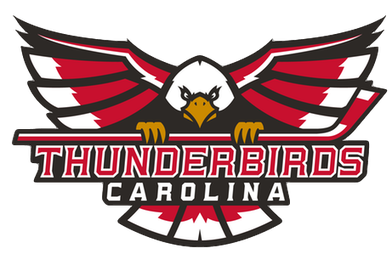 In his three seasons with the Carolina Thunderbirds Coach Andre Niec has been suspended for various infractions, but this latest suspension will cost him eight games.
The Federal Prospects Hockey League doled out plenty of suspensions for the brawl that took place on Sunday between the Thunderbirds and the Columbus River Dragons where 35 penalties were called at the Winston-Salem Fairgrounds Annex.
Niec and Coach Jerome Bechard of the River Dragons both ended up on the ice during the brawl that cleared both benches with six minutes left in the game. Bechard was given a three-game suspension for his part in the brawl.
Also suspended for the River Dragons was Nick Wright, who challenged Niec to a fight on the ice and ended up in a fight with Mike Baker of the Thunderbirds. During that part of the brawl it was Niec who stood up for Baker and tried to get in the middle of it and in the process had his dress shirt ripped off.
Baker wound up with three-game suspension while teammates Dominik Fejt and George Holt each got two games.
Also receiving suspensions for the River Dragons were M.J. Graham (three games), Will Laporte (one game) and Cody Karpinski (one game).
According to the Federal Prospects Hockey League, Niec was originally suspended for 12 games but it was reduced to eight games that includes a probation period.
"This organization wishes to express its utmost remorse for what happened on Sunday," said co-owner Cary Ross of the Thunderbirds on the team's website. "It was outside the framework of the game of hockey and is something that must be taken seriously and dealt with accordingly."
Niec defended his actions.
"I was only acting in defense of my player," he said in a statement. "I did not intend for anything to escalate to that level and I apologize for the incident's effect on the league and its member teams."
The first-place Thunderbirds, who are the defending league champions, will play three games at Port Huron this weekend.
(336) 727-4081
@johndellWSJ
Be the first to know
Get local news delivered to your inbox!