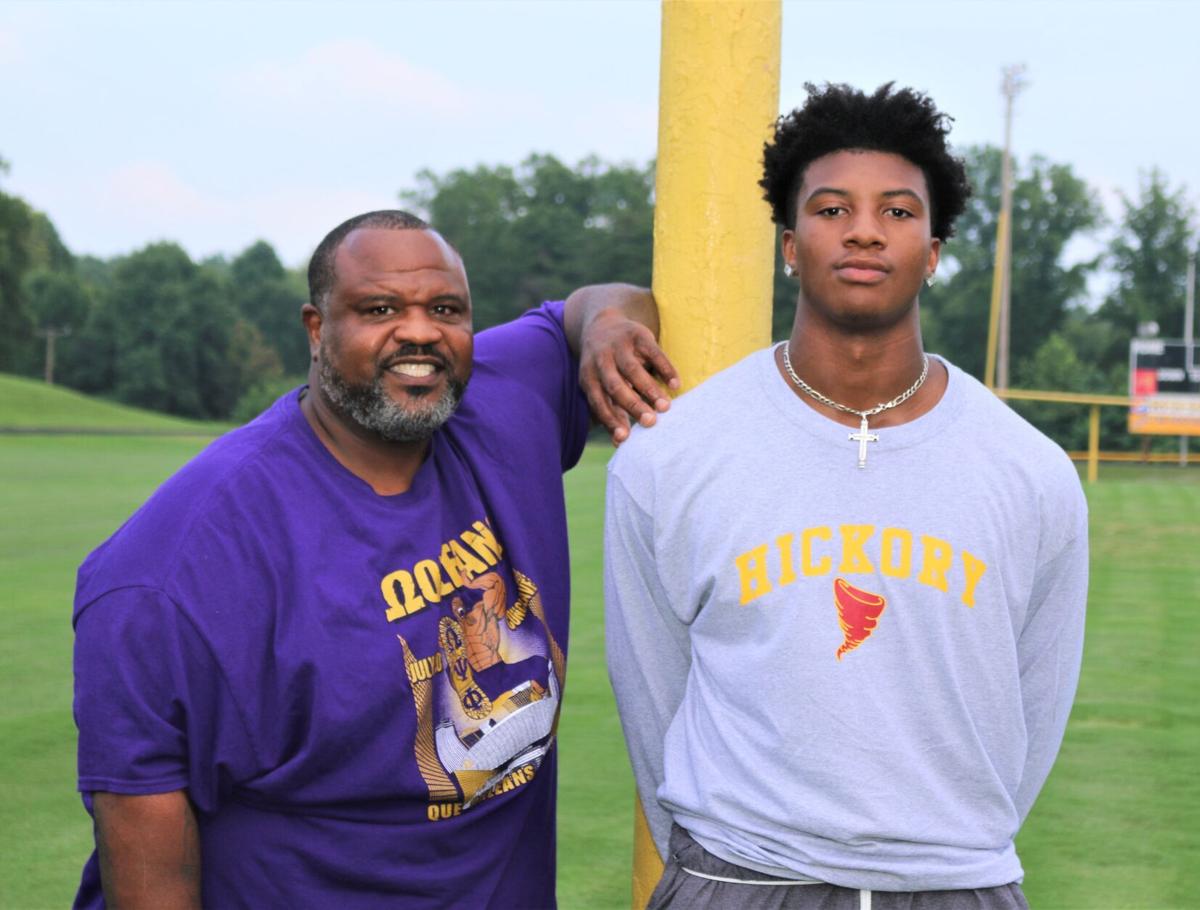 Part genetics and part passion. Those seem to be the two primary factors contributing to the early recognition of 15-year-old Hickory High sophomore Rico Walker.
He's not just getting noticed. Walker, who has only played high school football for one season, has received offers from four universities to play football upon high school graduation. Those four institutions of higher education with strong athletic programs include the University of North Carolina at Chapel Hill, the University of South Carolina, Mississippi State University and Virginia Tech.
"I've been coaching football for 41 years, and I have never had a sophomore to receive offers like this," said Hickory High head football coach Russell Stone.
At 4 years old, Walker watched his brothers playing football. He joined in and picked up the ball with a natural ability, as it didn't take long for him to grasp tackling, catching and running with the ball.
A chip off the old block, Walker proudly shares that it's all in the genes. After all, his father attended high school in Darlington, South Carolina, was the MVP of the 1991 Shrine Bowl of the Carolinas and was recruited to play at Auburn University.
Through the years, Walker played with Hickory Parks and Recreation and he continues to play for AAU teams. And though the Hickory High football season has been postponed until February 2021 due to COVID-19, the team will soon start practice and he can't wait.
"I'm doing some sit-ups, push-ups, football drills, but I am looking forward to being back with my team," said Walker.
The son of Ricardo and Darnessia Walker, Rico Walker also enjoys spending time with his siblings, a brother and two sisters. Unfortunately, he lost one older brother just a few years ago.
"He passed away the day before a middle school scrimmage," said Walker. "It was very hard to move forward, but I learned a lot about people who really care for you and the meaning of self-discipline. It's important to get back on your feet, face the challenges and never give up. I don't buy into the bad stuff and the parties. I am trying to keep level-headed for my future."
Walker was recently recognized by the Prep Redzone of North Carolina as the No. 1 recruit on the Watch List for the Class of 2023. He was also interviewed during the VTO Elite 100 Camp at the Matthews Sportsplex about his early offers.
So what does his future hold?
Walker is excited about the current offers, and Stone hints at the possibility of quite a few more, names he is reserving until they become official. However, Walker is considering his major in college, too — realizing that football might be the means to achieve a career.
"I really love the outdoors, the mountains and nature, and I would like to see what programs are available with outdoor studies. Perhaps even archaeology," said Walker, who currently stands 6-foot-4 and weighs 215 pounds.
"I appreciate all of my coaches and I am grateful for the conversations I've experienced with the college coaches," he added.
According to Stone, Walker finished with 42 tackles and four sacks as a defensive end during his freshman season. On offense, he had 23 receptions for 327 yards and eight touchdowns.
"He is working to get stronger and faster, and I believe watching Rico play during this coming year will be a real treat for everyone who loves Red Tornado Football," said Stone.
Be the first to know
Get local news delivered to your inbox!