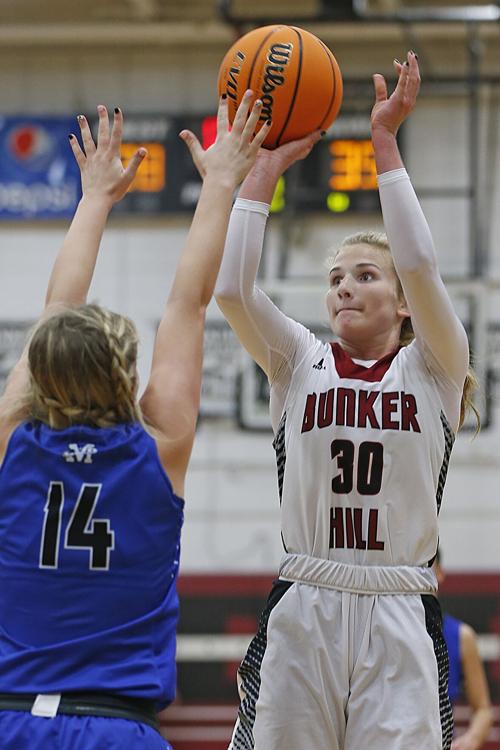 CLAREMONT — The Bunker Hill girls basketball team began the season firing on all cylinders by dominating East Burke 65-41 on Wednesday night at home. The Bears' impressive win against East Burke snapped a 60-game conference win streak for the Cavaliers dating back to 2016.
"East Burke has had some injuries and some tracing issues really hurt their team. They will be much more prepared the next time around," said Bunker Hill coach Lee Swanson. "They haven't lost a conference game since the inception of the Northwestern Foothills 2A (Conference). That is an incredible run by them, they do it right." 
Both teams looked to knock off the rust of an unprecedented offseason due to a global pandemic. At the end of the first quarter, Bunker Hill (1-0, 1-0 Northwestern Foothills 2A) held a 13-8 lead over East Burke, but the Bears put on a clinic for the remaining three quarters.
Momentum swung toward Bunker Hill as it began to implement a full-court press to disrupt East Burke's offense. The Cavs (0-1, 0-1) looked to try to slow the tempo down and feed the ball into the post, but Bunker Hill sophomore Alaysia Hewitt and freshman Damireona Burch were a force to be reckoned with on the inside. Burch dominated by disrupting shots and cleaning up the glass, making it seemingly impossible for East Burke to get comfortable in its offensive system.
Bunker Hill's defense looked elite as it limited the Cavs to single digits again in the second quarter. Most of the Bears' offense came from strong defensive play that led to easy transition points. When it was in its half-court set, Bunker Hill had great ball movement, which would open up the lane for star point guard Addison Wray to attack the rim or pass the ball out for an open shot. The Bears ended the first half with junior guard Olivia Ellis driving the lane for a contested layup, leaving the Cavs no time to answer as Bunker Hill led 33-17.
The third quarter started with an East Burke turnover and a Wray bucket as the Bears continued to dominate. Junior Faith Isenhour had several offensive rebounds that led to second-chance points for Bunker Hill and demoralized the Cavs. Bunker Hill had a 21-point quarter with Wray leading the way, while East Burke was held to six.
The fourth quarter saw East Burke's best offensive production with 18 points. It still was not nearly enough due to Wray's game-high 24 points, as the prolific scorer showed her ability to drive the lane to draw contact while also knocking down shots from 3-point range. Ellis and Isenhour also reached double figures for Bunker Hill with 11 points apiece, while East Burke's lone double-digit scorer was Aubree Grigg with 15 points.
"I thought we were pretty good in the second and third quarters," said Swanson. "We have to fix some things on our pressure, our half-court defense, and maintain our focus some. We have a great group of young ladies and I enjoyed watching them compete tonight."
Bunker Hill is scheduled to host West Iredell on Friday, while East Burke entertains Fred T. Foard on Tuesday.
East Burke: 08 09 06 18 — 41
Bunker Hill: 13 20 21 11 — 65
East Burke — Aubree Grigg 15, Marabeth Huffman 6, Kamiah Lawing 5, Ally Moore 5, Maya Chrisco 4, Chloe Cook 3, Allie Cooke 3.