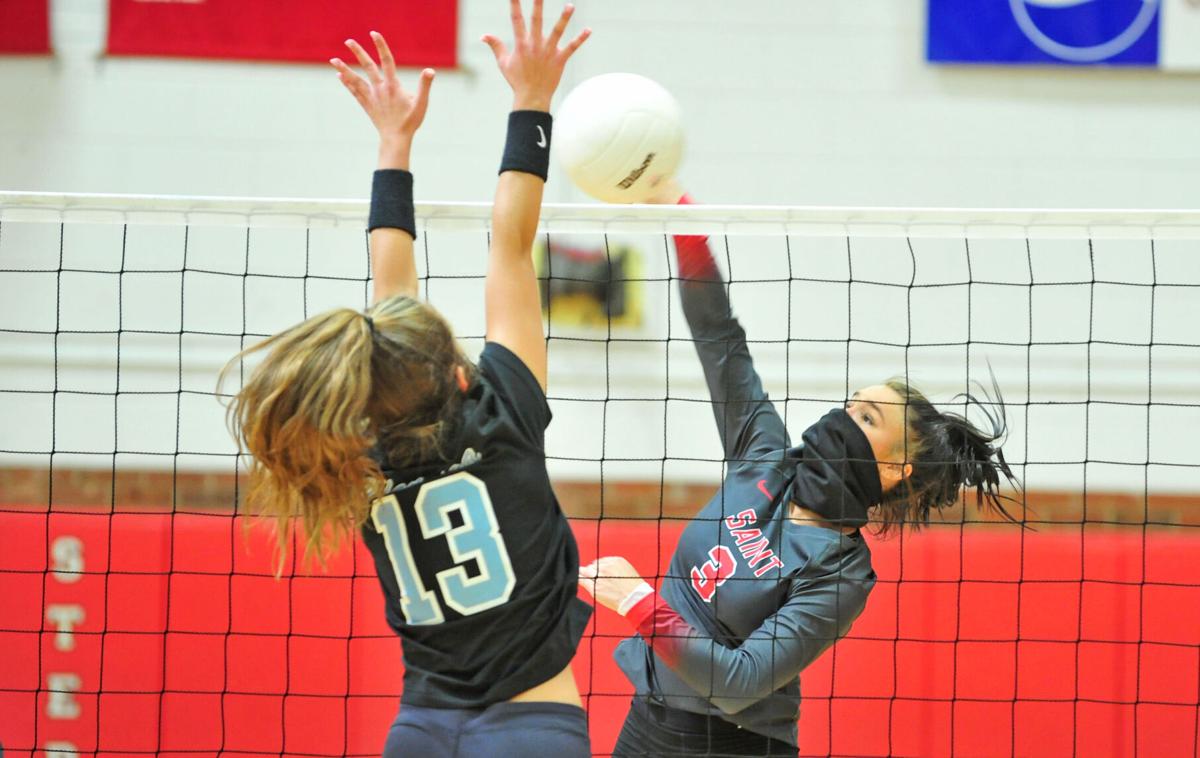 After eight months, high school varsity sports under the North Carolina High School Athletic Association returned for the first time on Monday. St. Stephens had the honor of hosting the first event held in Catawba County as the Indians' volleyball team took on Watauga in a Northwestern 3A/4A Conference match.
After a year off the floor and a change of their head coach, it was business as usual for the Pioneers, as they continued their dominance over the conference with a 3-0 sweep of St. Stephens by scores of 25-12, 25-12, 25-16. The win for Watauga was its 56th straight in conference play, dating back to a loss at Hickory in October 2015.
Overall, the Pioneers have not lost a regular season match since 2017 and have now won 51 in a row. The win was the first for Kim Pryor in her return to the program following the departure of Kris Hagaman after nine seasons. Pryor was the Pioneers' coach from 2001 to 2010.
St. Stephens head coach Julie Harris knew the season opener would be a tough one.
"We open against them every year," said Harris after the match, resigned to the task her team faced. "It's tough."
The Pioneers (1-0, 1-0 Northwestern 3A/4A Conference) never trailed in the match, as setter Brelyn Sturgill fed pass after pass to a talented front line that found open floor space often with kills. Unofficially, Sturgill had 23 assists, spread out among five hitters. A pair of sophomores led the attack at the net as Brook Scheffler had 11 kills and Caroline Farthing backed her up with eight. Watauga also riddled the Indians' back line with 13 aces, including four of the last five points in set two, and five of the final seven in the finale.
Harris said her team was glad to finally get back onto the court in competition after the lengthy layoff.
"We've had so many roadblocks to get to this point," she said. "We're going to play, then we're not going to play. We're going to have this date, then it gets pushed back. We've had to adjust to a lot to get here."
Although the Indians (0-1, 0-1) lost four seniors off the 2019 team, they returned with a young squad that gained a lot of experience during a third-place finish in the conference and a playoff berth.
The Indians' leader said the next goal is to compete, something she stressed to the team in the post-match huddle.
"We're finally glad to get here," said Harris. "But then we played like we were just glad to be here."
Unofficially, Rylee Upton led the Indians with seven points, including three blocks and two aces. Carter Leatherman accounted for five points for St. Stephens.
St. Stephens returns to action Wednesday night at Alexander Central, while Watauga hosts McDowell.
Get in the game with our Prep Sports Newsletter
Sent weekly directly to your inbox!