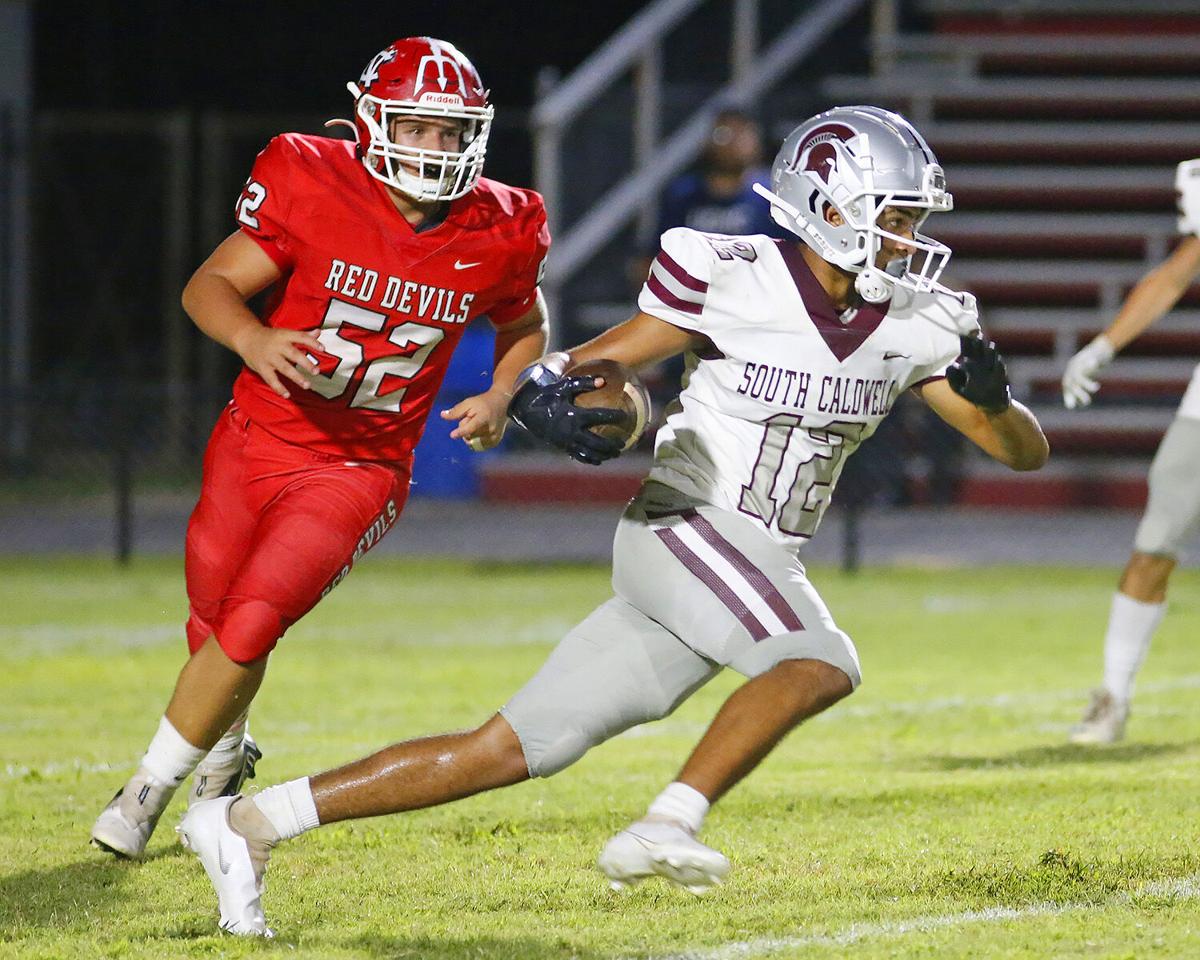 NEWTON — In a football game that featured a torrential downpour of yellow flags, visiting South Caldwell squeaked past Newton-Conover by a 16-13 final on Friday night at Gurley Stadium to remain unbeaten.
"We'll take that," Spartans coach Casey Justice said of being 3-0. "We've just got to get healthy now and get some kids back, and get back to a full team."
The contest had a little bit of everything: a touchdown called back, touchdown runs, a touchdown pass, a defensive touchdown, scintillating broken field runs, an onside kick recovery and interceptions. It even had a disappearing down. But more than anything else, the game featured lots and lots of penalties — 31 in all costing the two teams a combined 290 yards.
To put that into perspective, neither team gained 290 yards on offense. Another way to put it is the five-man officiating crew outgained both teams.
The first quarter alone, which took 40 minutes to run 12 minutes off the clock, saw the officials throw seven flags against both the Spartans and the Red Devils.
The Red Devils found the end zone twice in the first quarter, although only one touchdown counted. Rakim Moore picked off a South Caldwell pass and reversed field, scampering 35 yards to the end zone. But the touchdown was disallowed because of a block in the back.
That didn't stop the Red Devils. Keyed by runs by quarterback Aiden Luangkhot and Ben Watson, Newton-Conover took advantage of the short field and scored on a hard-fought 1-yard plunge by Demarcus Beatty to take a 7-0 lead.
"We're still making mistakes on offense," admitted Newton-Conover coach Steven Pack. The Red Devils committed 18 total accepted penalties, 13 on offense. "But we have a sophomore quarterback who we think is going to be really good for us in the future. But he's going to make some mistakes."
South Caldwell responded with an 11-play, 56-yard drive of its own. Jaxson Wilkerson kickstarted the Spartans' ground game and went the final 5 yards for a touchdown in the final minute of the first quarter. Quarterback Joe Bolick ran in the 2-point conversion for an 8-7 lead for the visitors.
Bolick again figured in the Spartans' other touchdown, a 14-yard pass to JB Robbins with 13 seconds remaining in the second quarter. This time it was Will Connor who ran in the conversion from the QB spot for a 16-7 halftime lead for South Caldwell.
The second half was a collection of long drives by both teams that were thwarted by the opposing defenses and costly penalties.
Newton-Conover took the second-half kickoff and drove to the South Caldwell 6-yard line before going in reverse on an intentional grounding call and a Sylas Scruggs interception.
But it only took two plays for the Red Devils to score themselves when Jason Brawley recovered a fumble in the end zone. The extra point try was knocked out of sync by a troublesome snap to keep the score at 16-13 halfway through the third quarter.
"We're going to keep getting better on offense. Our offense is letting us down right now to be honest," Pack said. "We scored on defense. We only scored one touchdown offensively tonight. We've got to be better than that."
South Caldwell then drove the length of the field to the Newton-Conover 10 before penalties set them back and they turned the ball over on downs.
Taking over with 10:46 remaining, the Red Devils got a crucial first down on a 20-yard reverse to Zane Redmond. Seven consecutive runs by Caiden Rowe fueled the march towards a go-ahead score and another Redmond jet sweep gave the Red Devils a first down at the Spartans' 7.
Nonetheless, a first-down run by Rowe went for no gain and a second-down pass to Redmond in the end zone came up empty. There was contact on Redmond on the play and protests about being held earned a dead-ball, unsportsmanlike conduct call.
But instead of third down, the officials deemed it was fourth down after the penalty.
"We lost a down. It should have been third down and 20 and they're saying its fourth down," Pack said. "But you can't leave it in the hands of the referees. You've got to take care of business."
Following consecutive tackles for loss by Newton-Conover's Xavion Coulter, South Caldwell was faced with fourth-and-5 from its own 38 with 2:14 to go. Rather than punt formation, the Spartans came out and drew an offside call on the Red Devils' defense with a hard count. That resulted in a first down, and Newton-Conover was unable to get the ball back.
Justice was pleased with his defense.
"They competed. Brady (Stewart) made three incredible plays," Justice said. "He's been playing safety for us and made three big plays at outside linebacker."
Justice also praised his team for its resilience.
"We've had more adversity than anybody around with COVID and injuries to key players," Justice noted. "They keep fighting. That's something I am so proud of them for. The penalties we've got to clear up. We've got to get better in a lot of areas. But they keep fighting."
Connor led the Spartans' rushing attack with 88 yards on 17 carries and Wilkerson added 76 yards on 13 carries. Tyler Eggers was the top receiver for South Caldwell with three catches for 39 yards.
Redmond totaled 72 yards on just six rushing attempts for Newton-Conover.
Both teams play next week. Newton-Conover, now 0-2, will be at West Caldwell to open its Catawba Valley 2A Conference slate, while South Caldwell travels to Hibriten for a nonconference matchup between teams that will meet again later this season in a Northwestern 3A/4A Conference contest.
South Caldwell;08;08;00;00;–;16
Newton-Conover;07;00;06;00;–;13
NC – Demarcus Beatty 1-yard run (Dax Shannon kick), 3:24
SC – Jason Wilkerson 5-yard run (Joe Bolick run), :08
SC – JB Robbins 14-yard pass from Bolick (Will Connor run), :13
NC – Jason Brawley fumble recovery in end zone (kick failed), 6:03
First Downs: South Caldwell 16, Newton-Conover 12
Rushes-yards: South Caldwell 39-177, Newton-Conover 42-218
Comp-Att-Int: South Caldwell 8-17-1, Newton-Conover 3-13-1
Passing yards: South Caldwell 81, Newton-Conover 24
Fumbles-Lost: South Caldwell 1-1, Newton-Conover 1-0
Penalties-yards: South Caldwell 13-130, Newton-Conover 18-160
RUSHING – South Caldwell: Suan Moore 6-3, Sylas Scruggs 2-10, Will Connor 17-88, Jaxson Wilkerson 13-76 and 1 TD, Joe Bolick 1-0. Newton-Conover: Ben Watson 11-34, Zane Redmond 6-72, Aiden Luangkhot 7-41, Caiden Rowe 13-48, Jason Brawley 1-2, Demarcus Beatty 3-0 and 1 TD, Aquan Cauthen 1-21.
PASSING – South Caldwell: Connor 4-11-1 for 49 yards, Bolick 4-6-0 for 32 yards and 1 TD. Newton-Conover: Luangkhot 3-13-1 for 24 yards.
RECEIVING – South Caldwell: Tyler Eggers 3-39, JB Robbins 3-21 and 1 TD, Wilkerson 1-19, Moore 1-2. Newton-Conover: Redmond 2-16, Cauthen 1-8.