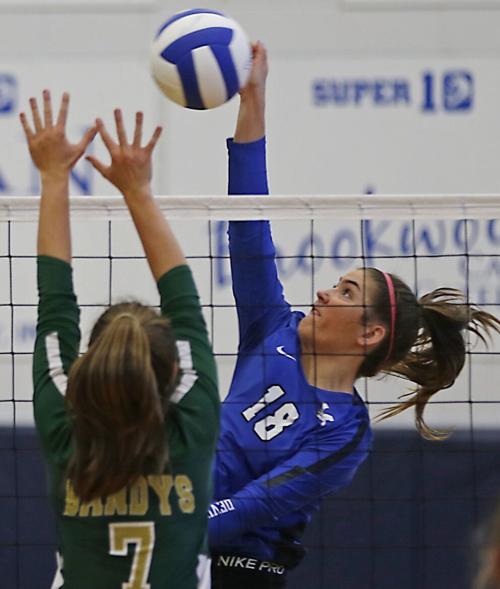 The Fred T. Foard volleyball team grabbed headlines in 2019 by finishing 32-1 and capturing the seventh state title in program history. But the Tigers weren't the only Catawba County team to turn heads, as Maiden won the South Fork 2A Conference regular-season championship with a 13-1 record before capturing a conference tournament title and advancing to the second round of the state playoffs.
The Blue Devils finished 23-5 overall last year, and will look to win 20-plus matches for the sixth straight season when play begins next month. Maiden has a large senior class that includes middle blocker Anna White, who has been playing volleyball since elementary school.
Here's a look at what White recently told the Hickory Daily Record as part of its returning "Senior Spotlight" feature:
How long have you been playing volleyball?
I've been playing since around the fifth grade.
What is your favorite thing about playing volleyball?
I love how fast-paced and competitive the game can be and how one play can change the momentum of an entire set.
What other sports do you play, if any?
On top of school ball, I've played club since freshman year and have been on the varsity soccer team all four years of high school.
Who has been your biggest personal influence (coach, family member, etc.) in the game of volleyball?
I would have to say my travel coach Lacy Goodson. She knows so much about the game and always expected a lot from myself and my teammates at both tournaments and practices. It is exactly the type of environment I like playing in.
What is your favorite volleyball memory?
If I had to choose I would say beating Lake Norman Charter my junior year to win the conference tournament championship. Our school got a spirit bus and drove a lot of the students all the way to Lake Norman to support us. The energy in the gym was crazy.
Who is your favorite professional sports team?
I used to visit Boston a lot, so I've become a big Red Sox fan over the years.
Why should more people play volleyball?
Volleyball is all about having strong connections and being able to communicate with your team. The sport has provided me with so many close friendships throughout the years that I wouldn't have had if it wasn't for volleyball.
What are your favorite hobbies outside of volleyball?
If I'm not playing volleyball or doing schoolwork, I'm almost always out with my friends.
What are your future plans (college, work, etc.)?
I plan on attending a four-year university somewhere, maybe the University of South Carolina.
Josh McKinney is the sports editor for the Hickory Daily Record. 
Get in the game with our Prep Sports Newsletter
Sent weekly directly to your inbox!