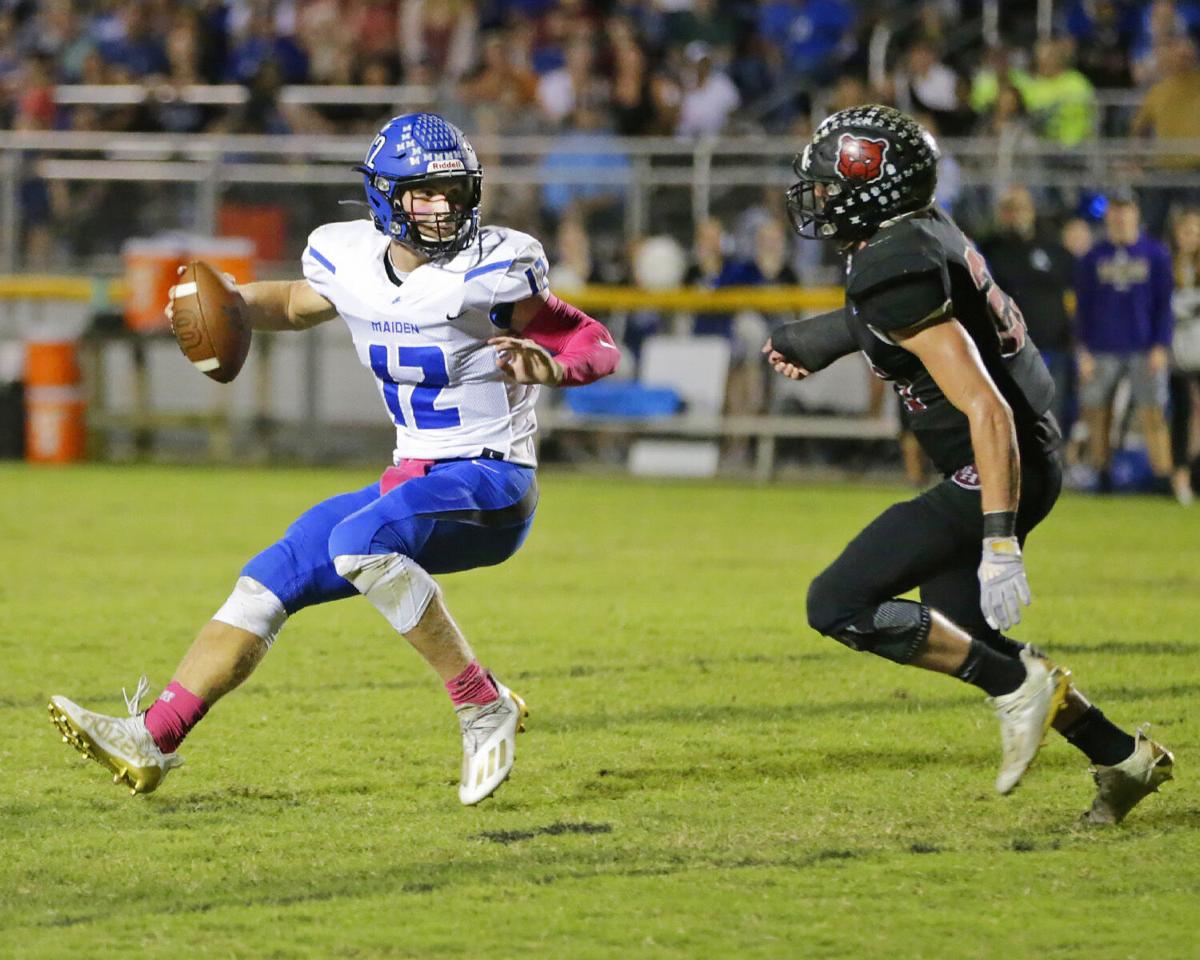 CLAREMONT — Friday was the sort of night that has come rarely to Bunker Hill High. An overflow crowd that spilled from the stands with fans completely encircling the fence in anticipation of one of the biggest football games on the campus, arguably in decades.
Fifteen seniors were recognized, seniors that had brought the program from a 6-49 stretch (2014-18) to an unbeaten showdown in the Catawba Valley Athletic 2A Conference with a chance to exorcise a demon — a Blue Devil more specifically — that had beaten the Bears 30 straight times. But reality set in quickly as to how much further the Bears have to go.
Maiden put together a complete performance and routed Bunker Hill 62-13. The Blue Devils scored the first 20 points of the game, led 48-13 at the half, and when Ben Gibbs scored the last of his three rushing touchdowns with 10:23 left in the third quarter to make it 55-13, the remainder of the game was played under a running clock.
Bears coach Albert Reid, complimentary of Maiden in a postgame interview, understood the reality of the moment.
"Usually, you see teams like this and they give you a gauge of where you are and where you want to be," said the first-year head coach, who lost his first game after winning his first seven. "We knew coming this was going to be a tough one. We knew it was going to be a playoff atmosphere. We knew they are a playoff level team and they're ranked where they are for a reason. This is a gauge of where we are. We'll get back together in the lab and evaluate ourselves."
Unofficially, Maiden ran up 438 yards of total offense with big play after big play. But the night belonged to the defense, which created four turnovers and played a big role in establishing field position in favor of Maiden. For the game, the average starting field position for Maiden was the Bears' 49-yard line. Bunker Hill's was at its own 23. Bunker Hill was held to 97 yards of total offense, including minus-four on the ground
Listing the litany of assistant coaches — Fore Rembert, Mark Herman, Hugh McCall, Keith Henry, Derrick Ikard and Greg Pound — Blue Devils head coach Will Byrne termed his defensive unit's night as unbelievable. It's a squad, he said, that gets lost among the glitter of the offense.
"I mean, people talk about our offense," said Byrne. "But I think our defense is the best part of our football team. I think our offense is pretty good, too, but our defense, and we preach it, defense is going to win championships. And the best defense is going to win the league."
Maiden took the opening kickoff to the Bunker Hill 5, but Preston Workman gave the Bears the first big break with an interception that he returned to midfield, which had the fans on the home side smelling blood. However, on the first play, a Maiden defender stripped the ball from Chadz Stevenson and returned the ball to the Bunker Hill 40. Six plays later, Ethan Rhodes (14-for-21, 306 yards, 3 TDs) competed a 16-yard pass to Alec Hall, who made the back shoulder catch in the end zone for the score.
"At that point," said Reid of the momentum-killing fumble, "they drove down and we got a turnover and then the first play you give the ball back. It takes a lot out of you."
A three-and-out plus a short punt set up Maiden at the Bears' 44. A catch and tackle-breaking run by Chris Culliver for 20 yards set up Gibbs' first score from the 16. On the second play after the ensuing kickoff, Carson Elder was hit on a pass with the ball flailing to Aaron Lefevers, who returned the interception 29 yards for the TD to make it 20-0.
As two of the first three scores were set up by the defense, Byrne said the tone was set for what kind of night it would be for both teams. Elder was sacked three times and of the 15 rushes by Bears, seven went for negative yardage.
"We preach to our guys," said Byrne, "if we can get on them early and just knock the wind out of their sails and let them know we're here to battle and we're here to be physical. Our kids responded to that. It just feels great to be able to get up and everybody's excited."
Bunker Hill showed a little life on the first play of the second quarter, as Elder and Elijah Boston hooked up for a 78-yard bomb between the hash marks. But it took only three plays for Maiden to respond when Culliver (3 catches, 138 yards) got open down the left sideline and caught Rhodes' pass in stride for a 52-yard score.
Gibbs added a 3-yard run for a score before Rhodes and Culliver connected on another long play along the left sideline, a 66-yard completion, for another TD.
"You just can't just give up big plays," Reid said in regret. "It kind of kills momentum. It kills everything you've got going, just giving big chunk plays up. So that's what kind of got us. They live by the big play, and we knew that coming in and we just couldn't bring it."
Boston halted the onslaught for a moment with a 95-yard kickoff return, but Maiden used up the final 2:24 of the half with a 63-yard drive, which ended on Rhodes' keeper from the 3 as time expired.
Any hope Bunker Hill had for an unlikely comeback ended when it fumbled the second-half kickoff. Gibbs ran all three plays from the 16, the last from 3 yards out for a score.
Maiden's kicker Carson Foard got into the action, catching a 20-yard pass from Rhodes for the final score of the night late in the third quarter.
Maiden (8-0, 5-0 Catawba Valley 2A Conference) will have a final showdown for the conference title when it travels to Lincolnton (4-4, 4-1) next week. The Wolves set up the chance at the league's top spot with a 35-20 win at East Burke.
With its win over Lincolnton earlier this season, Bunker Hill (7-1, 4-1) still has the edge on the league's second automatic bid, but will have to sew it up on the road the next two weeks. The Bears go to Newton-Conover next week and then Bandys to close out the regular season. A win by Bunker Hill and a loss by Lincolnton would give second place to the Bears.
Bunker Hill 00 13 00 00 — 13
M – Alec Hall 16-yard pass from Ethan Rhodes (Foard kick), 5:26
M – Ben Gibbs 16-yard run (Foard kick), 1:48
M – Aaron Lefevers 29-yard interception return (pass failed), :52
BH – Elijah Boston 78-yard pass from Carson Elder (kick blocked), 11:46
M – Chris Culliver 52-yard pass from Rhodes (Foard kick), 10:56
M – Gibbs 3-yard run (Foard kick), 5:08
M – Culliver 66-yard pass from Rhodes (Foard kick), 2:42
BH – Boston 95-yard kickoff return (Alan Behena Soto kick), 2:24
M – Rhodes 3-yard run (Foard kick), :00
M – Gibbs 3-yard run (Foard kick), 10:23
M – Foard 20-yard pass from Rhodes (Foard kick), 1:42
First Downs: Maiden 20, Bunker Hill 3
Rushes-yards: Maiden 32-132, Bunker Hill 15-(-4)
Comp-Att-Int: Maiden 14-21-1, Bunker Hill 6-15-2
Passing yards: Maiden 306, Bunker Hill 101
Fumbles-Lost: Maiden 1-0, Bunker Hill 3-2
Penalties-yards: Maiden 3-15, Bunker Hill 3-15
RUSHING — Maiden: Ben Gibbs 16-105 and 3 TDs, Isaiah Thomas 5-15, Ethan Rhodes 5-2 and 1 TD, Jalen Robinson 3-22, Chris Culliver 1-(-3), Josh Stover 1-(-4), Team 1-(-5). Bunker Hill: Chadz Stevenson 6-23, Kaden Robinson 4-4, Carson Elder 3-(-26), Nick Herman 1-(-2), Redek Robinson 1-(-3).
PASSING — Maiden: Rhodes 14-21-1 for 306 yards and 4 TDs. Bunker Hill: Elder 6-14-2 for 101 yards and 1 TD, Redek Robinson 0-1-0.
RECEIVING — Maiden: Culliver 3-138 and 2 TDs, Jacob Sigmon 3-48, Alec Hall 2-30 and 1 TD, Chayson Bass 2-29, Carson Foard 2-23 and 1 TD, Gibbs 1-22, Thomas 1-16. Bunker Hill: Xavier McCleave 2-19, Devin Brice 2-1, Elijah Boston 1-78 and 1 TD, Brady Speaks 1-3.