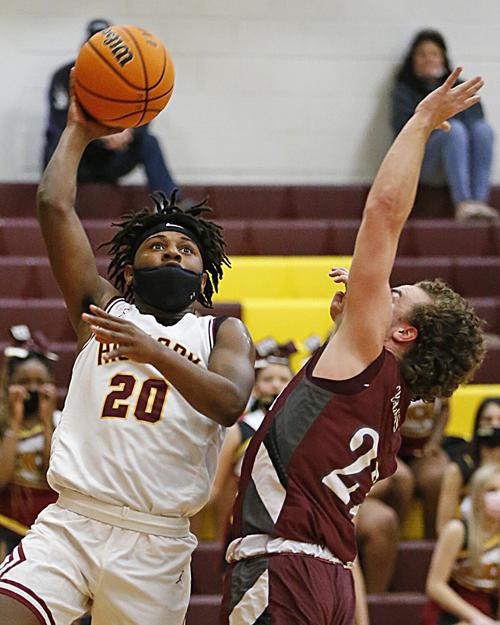 The Hickory boys basketball team survived an opening salvo by visiting South Caldwell on Wednesday night and then counterpunched and punched and punched some more. The Red Tornadoes rolled past the Spartans by a final of 56-32.
Hickory evened its record at 1-1, both overall and in Northwestern 3A/4A Conference play. South Caldwell is now 1-2 overall and 1-1 in league action.
"We have a lot of guys that haven't played in a lot of varsity games, so we're going to get better day by day," said Hickory coach Daniel Willis. "The second half we came out with a little more energy. Rico Walker was real, real aggressive and Nick (Everhart) made a couple of shots inside and we had a couple of 3-pointers go down."
South Caldwell had all the emotion and all the energy in the early going. Riding the play in the paint of Jaggar Carr, the Spartans built a quick 9-2 lead thanks in part to three consecutive Hickory turnovers.
However, Hickory began to turn the momentum around with back-to-back treys by Walker and Britt Rumbaugh late in the first quarter and trailed the visitors by a single point, 11-10, heading into the second period.
It took the Red Tornadoes about a minute of the second quarter to grab the lead, one they never surrendered the remainder of the night. Jayden Maddox's short jumper put Hickory up by a point and Josh Fisher followed that with a 3 for a 15-11 advantage for the Red Tornadoes.
Maddox and Fisher were the workhorses for Hickory in that second period that ended with the home team leading 21-16 at the half.
"We started getting the ball inside and our defense was creating some turnovers," Willis said. "And then we made a couple of shots which is what we struggled with in game one."
South Caldwell threatened to take back the lead early in the third period when Kaleb Reese and Jordan Bentley each scored to get the Spartans within a point at 21-20. But the Red Tornadoes responded with three free throws and a trey by Maddox to push the lead to 27-20.
Then the Red Tornadoes heated up on the offensive end and turned the pressure up on the defensive end, outscoring the Spartans 15-6 over the final five-plus minutes of the third quarter. A close game at the half had suddenly become a commanding 42-26 lead with just eight minutes to play.
"We'll get better. We're going to see a lot of zone. We know that," Willis said. "We've just got to work on it, get a little better ball movement and hit some shots.
In addition to hitting seven 3s for the game, the Red Tornadoes also split the seams of the South Caldwell zone to work inside as well.
"We started getting in some creases in the zone," Willis said, noting that he though his team's offense was stagnant in the first quarter. "Ball movement created some of that. That was much better in the second half."
The other half of the momentum shift came at the defensive end, where Hickory forced 19 South Central turnovers.
"We've got some guys that can really guard the ball, and luckily they like to defend," said Willis. "We would like for that to create some more of our offense. We just kept them out of rhythm."
That lack of rhythm kept the Spartans from making any kind of a fourth-quarter charge.
Maddox and Walker each had 13 points for the Red Tornadoes and Fisher added 10 more. The Spartans were led by Reese who finished with 13 and Carr who had 12. However, no other Spartan had more than four points.
Both teams return to action Friday on their respective home courts — Hickory against nonconference Forestview and South Caldwell versus league foe Freedom.
South Caldwell: 11 05 10 06 — 32
Hickory:           10 11 21 14 — 56
South Caldwell — Kaleb Reese 13, Jaggar Carr 12, Jordan Bentley 4, Seth Brown 2, Isaiah Kirby 1.
Hickory — Jayden Maddox 13, Rico Walker 13, Josh Fisher 10, Britt Rumbaugh 7, Nick Everhart 4, Landan Maddox 3, Jhorri Byrd 2, Jordan Harshaw 2, Wyatt Jean 2.