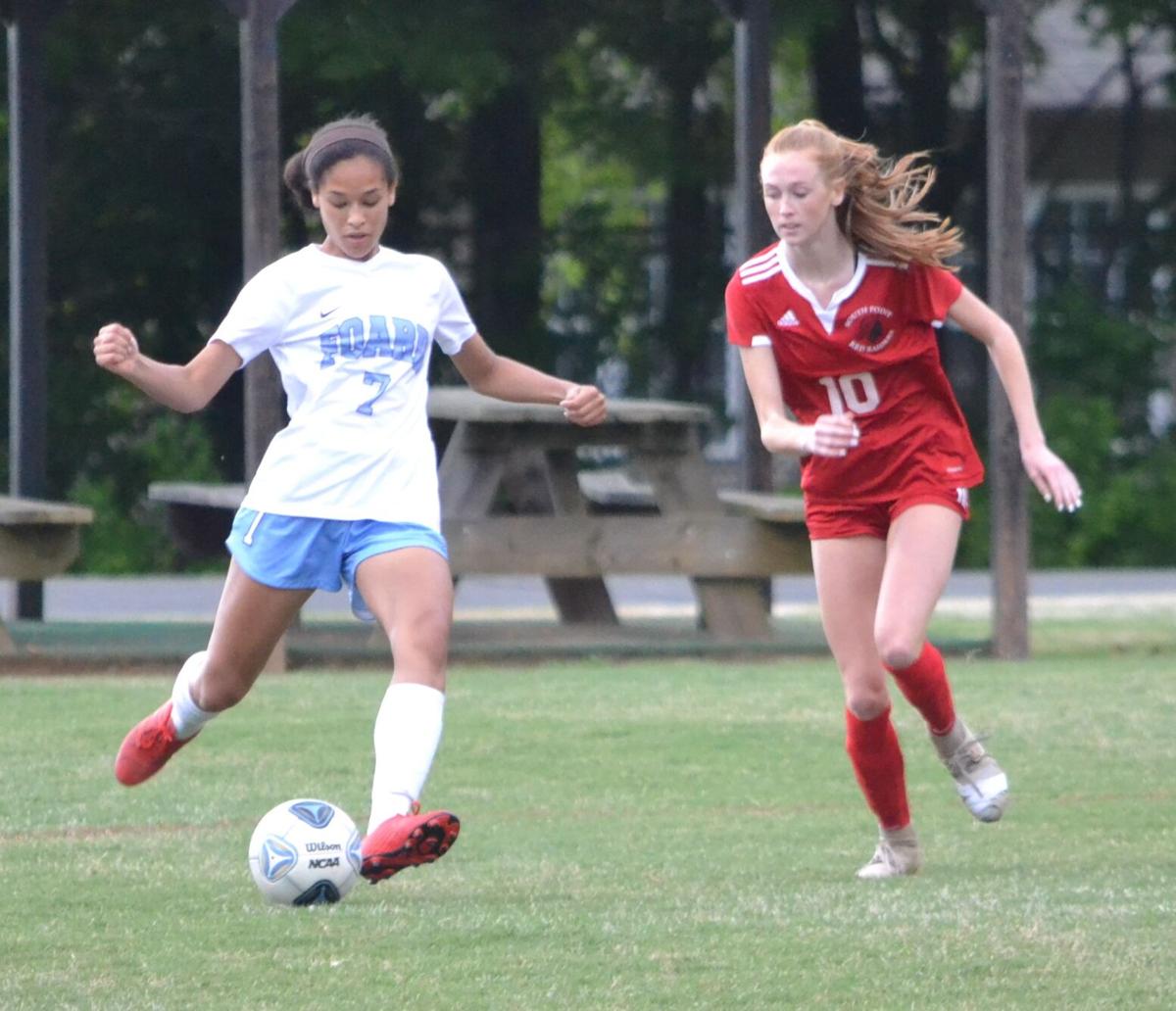 BELMONT — Something had to give when a pair of undefeated girls soccer teams faced off in the second round of the 2A state playoffs on Wednesday night. Ultimately, it took quite a while for that something to give.
Host South Point entered averaging 7.1 goals per contest, while visiting Fred T. Foard came in having allowed only two goals in 14 matches. Both squads scored once during regulation, but the outcome wasn't decided until the teams had played 110 minutes and a penalty shootout that the Red Raiders won 4-3 to advance to the state quarterfinals.
Tigers goalkeeper Alexis Wolgemuth got her hand on almost every shot taken by top-seeded South Point — much like she did en route to a 17-save performance in eighth-seeded Foard's 1-0, triple overtime victory over No. 9 Hendersonville in the opening round — and she even got a mitt on the deciding PK before it found its way into the left corner of the net. Following the match, Foard coach Stan Elliott again lauded the performance of his junior keeper.
"She's a special player," said Elliott. "She's wired differently than anybody else I've ever coached. She keeps us in games, and that's what you want from your goalkeeper."
Playing with a condensed bench for the second time in three nights, the Tigers put forth another herculean defensive effort. Every player played a vital role for Foard, which started five underclassmen — sophomores Brianna See, Samaria Tipps and Natigan Crutchfield and freshmen Julia Chesson and Monse Sanchez — along with seniors Bianca Tamas, Alexis Lor and Chloe Sain and juniors Brianna McClough, Anna Schmidt and Wolgemuth.
"It's just amazing, these girls are amazing," said Elliott. "Nobody gave us any shot and these girls believed in each other, and I'm just so proud of the efforts today. They've done everything we've asked them to do as a coaching staff and I hated that it had to end tonight, but my goodness, what a game.
"We had to do some unorthodox things today out there in our style of play, but it's what we had to do and these girls executed it to perfection," he added. "I just hate that we're going home like this."
In the ninth minute, South Point junior Jordan Villemagne went down in the box and Foard was whistled for a foul. Sophomore Grace Smith converted the ensuing PK, giving the Red Raiders (16-0) a 1-0 advantage.
The Red Raiders mostly controlled possession in the early going, but failed to clear a ball in the 17th minute. Junior keeper Caitlyn Federation came off her line to try to make a play, but Foard's Schmidt was able to softly guide the ball into the empty net with exactly 23 minutes remaining in the first half, tying things at 1-all.
South Point peppered the net with shot after shot throughout both halves, but Wolgemuth and the Tigers' backline were continuously up to the task. Among the dazzling saves made by Foard's keeper were back-to-back stops against senior Brooke Villemagne in the 49th minute, the first of which she had to dive for, and another diving effort against Smith in the 75th.
The teams then played a pair of 10-minute overtime periods, but the match remained knotted at 1-all. The same was true of the two five-minute "golden goal" sessions, which resulted in the match going to a penalty shootout.
South Point converted its first three PKs as junior Sydney Foley, Brooke Villemagne and Smith all placed the ball into the left corner of the net. Wolgemuth's put in her PK attempt to start the proceedings, but Foard (13-1-1) missed its next two tries to fall into a 3-1 hole.
Following a successful PK by Foard's Chesson that cut the deficit to one, Wolgemuth punched out the Red Raiders' fourth attempt to keep the Tigers alive. Then Tamas scored to even the PK battle at 3-all before senior Catherine Carr's attempt deflected off the hand of a diving Wolgemuth and into the left corner of the net for the match-ender.
Although Foard's season ended in disappointing fashion, Elliott is proud of what his squad accomplished. The Tigers captured a Northwestern Foothills 2A Conference title and advanced to the postseason's round-of-16, where they lost to the same team that eliminated them in 2019.
"I feel like with COVID and everything, things were a little bit different, but we made the best of it," said Elliott. "We were happy to have a season and the girls just wanted to come out here and compete.
"Last year we felt like we had a very, very good team and we hate that we didn't get to finish last year, but this year they made the best of it," he continued. "... We would have liked to have still been playing, but it is what it is."
South Point advances to the third round, where the Red Raiders will host No. 5 North Davidson (13-1) on Friday at Lineberger Stadium after the Black Knights defeated fourth-seeded Central Academy 2-0 in Round 2.
Josh McKinney is the sports editor for the Hickory Daily Record.