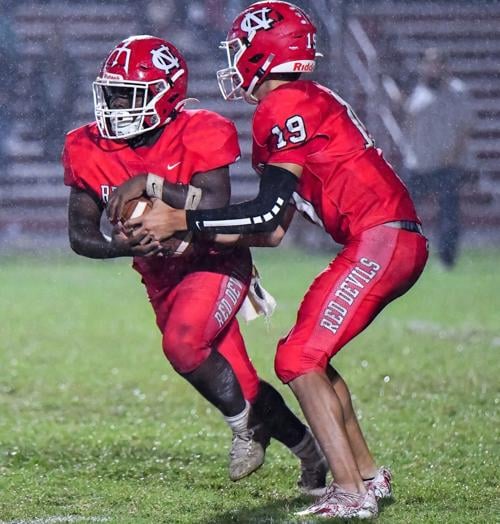 NEWTON — The glitter and shine of homecoming night at Newton-Conover was bookended by the muck and mire of a defensive struggle during Friday night's Catawba Valley 2A Conference football game against West Lincoln.
The visiting Rebels broke a scoring dearth when Mason Avery scored a touchdown in the first overtime for a 13-7 win on a soggy, rainy night.
The victory snapped a two-game losing streak for West Lincoln (5-2, 2-2 Catawba Valley 2A) and provided the Rebels their second road overtime win of the season. Avery also scored the winner at Bandys three weeks ago.
Friday's game also continued a theme of tight games this season for West Lincoln, as six of its seven games have come down to one possession. The win was also the first for the Rebels at Gurley Stadium since 2013, and it snapped a stretch of six seasons during which the teams have alternated wins.
Newton-Conover (2-4, 2-2) had hoped to win its second in a row after sneaking away from East Burke last week with a victory on a "Hail Mary" play. Instead, the Red Devils suffered their third loss in as many games at home by a combined margin of 13 points.
Friday night's game will be remembered more for the defensive dominance, along with the occasional offensive ineptitude. The Red Devils' defensive front dominated the line of scrimmage, holding West Lincoln, which entered the game averaging 260 yards per game rushing, to just 73 yards on 43 carries.
The Red Devils especially keyed on stopping Avery, who came in averaging 151 yards per game on the ground. On Friday, the junior running back earned 58 yards on 23 tough carries, and his winning touchdown run of 9 yards was tied for the Rebels' longest run of the night.
Meanwhile, the Rebels held Newton-Conover to 23 yards rushing on 20 carries. In the second half, the Red Devils punted five of the seven times they had the ball and accumulated 23 yards of total offense on 23 plays.
Zane Redmond of Newton-Conover had the longest run of the game for either side when he reversed field on an end around while deep in his own backfield, shifted twice more, then picked up an escort of blockers to turn a 10-yard loss into a 12-yard run. It was the only carry of the game to gain double-digit yards.
The two scores in regulation came 56 seconds apart in the first quarter. A bad snap in punt formation set up West Lincoln at the Red Devils' 14-yard line. Newton-Conover stuffed the first two running plays before Jordan Truesdale used a play-action fake to roll left and find Zach Daigler for a 15-yard TD pass. Trista Primmer's kick made it 7-0 with 1:56 left in the quarter.
Newton-Conover answered on the second play of the ensuing drive when Aiden Luangkhot found Redmond among a draped defender along the left sideline for a 61-yard scoring play. Dax Shannon's kick tied the game with 52 seconds left in the first quarter.
As strong as the defenses played, both teams hindered their own chances to create a lead. An ill-advised keeper on a punt in the second quarter put West Lincoln at the Red Devils' 28. However, West Lincoln picked up just 4 yards over four plays to give the ball back. Newton-Conover's ensuing drive got to the Rebels' 22, but a holding penalty nullified a first down and an interception followed that snuffed out the scoring opportunity.
Newton-Conover intercepted a Truesdale pass to start the second half, but failed to take advantage of the momentum due to three straight dropped passes.
The Red Devils smelled out and stopped a fake punt at their 46 late in the third quarter, but ran just four plays and punted.
Demarcus Beatty's fumble in the fourth quarter put the Rebels in business at the Newton-Conover 36 with 9:03 left, but a false start and a sack ended West Lincoln's hopes for a score.
With 5:33 left, Trent Goins intercepted a Luangkhot pass near midfield and returned the ball to the Red Devils' 17. West Lincoln eventually worked into first-and-goal at the 6, but another false start penalty plus two losses on running plays set up a 32-yard field goal try by Primmer. Her kick with two minutes to go was on target, but short.
The Red Devils' two-minute drill got to their 47 in the final minute, but no further.
In overtime, Newton-Conover got just 3 yards over four plays, with Luagkhot's pass to the back of the end zone on fourth down getting tipped away.
Avery's game-winner came on the second play for the Rebels, as he ran through a gap over right tackle to cap the contest.
West Lincoln returns home next Friday to play West Caldwell, while Newton-Conover hosts Bandys next Saturday.
West Lincoln;07;00;00;00;06;—;13
Newton-Conover;07;00;00;00;00;—;07
WL — Zach Daigler 15-yard pass from Jordan Truesdale (Trista Primmer kick), 1:52
NC — Zane Redmond 61-yard pass from Aiden Luangkhot (Dax Shannon kick), :56
WL — Mason Avery 9-yard run (no PAT)
First Downs: West Lincoln 10, Newton-Conover 11
Rushes-yards: West Lincoln 48-73, Newton-Conover 20-23
Comp-Att-Int: West Lincoln 6-11-1, Newton-Conover 17-38-2
Passing yards: West Lincoln 68, Newton-Conover 151
Fumbles-Lost: West Lincoln 2-0, Newton-Conover 4-1
Penalties-yards: West Lincoln 7-55, Newton-Conover 7-60
RUSHING — West Lincoln: Mason Avery 23-58 and 1 TD, Jordan Truesdale 11-(-2), Jaylen Winnex 6-13, Trace Gilmore 6-4, Charles Winnex 2-0. Newton-Conover: Demarcus Beatty 12-17, Aiden Luangkhot 5-6, Zane Redmond 1-12, Ben Watson 1-3, Team 1-(-15).
PASSING — West Lincoln: Truesdale 6-11-1 for 68 yards and 1 TD. Newton-Conover: Luangkhot 17-38-2 for 151 yards and 1 TD.
RECEIVING — West Lincoln: Zach Daigler 3-30 and 1 TD, Avery 2-25, J. Winnex 1-13. Newton-Conover: Redmond 4-65 and 1 TD, Beatty 4-12, Aquan Cauthen 3-29, Javon Barber 3-29, Jordan Henze 2-19, Mason Abernathy 1-(-3).