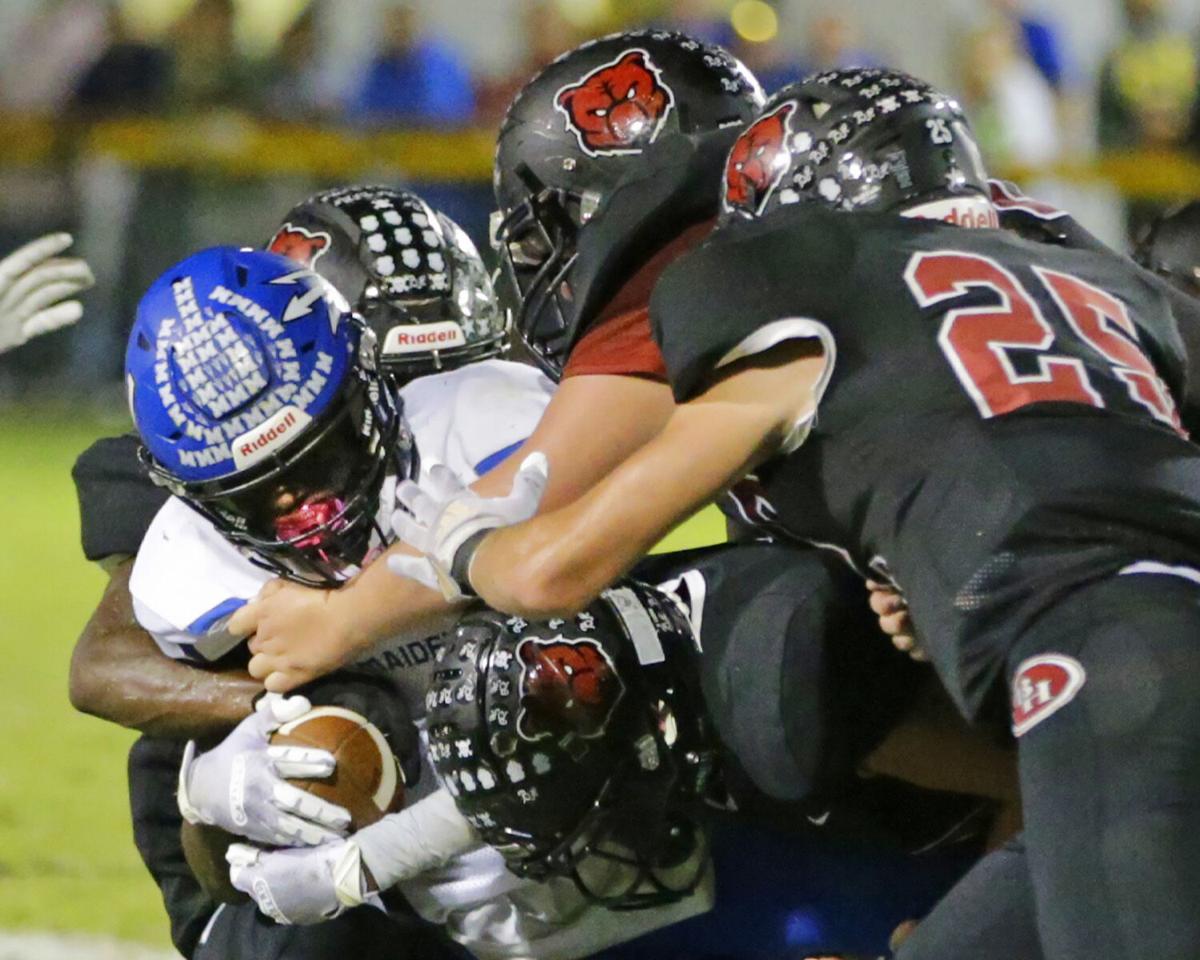 The end of the 2021 high school football regular season is approaching, and all 11 teams in the Hickory Daily Record's coverage area spanning Catawba, Caldwell and Alexander counties have something to play for over the final two weeks. Conference titles and state playoff berths are in reach for some, while other squads are just looking to build momentum heading into next season.
Here's a quick glance at what's on tap for each team in Week 10:
CATAWBA VALLEY 2A CONFERENCE
Bunker Hill (7-1, 4-1 in league play) at Newton-Conover (3-4, 3-2), 7:30 p.m.
The Bears are coming off their first defeat of the season, losing to Maiden for the 31st consecutive time last Friday in a game that may end up determining who wins the Catawba Valley 2A championship. And while the Red Devils have a losing record, three of their losses were by six points or less, so they will not be an easy out for Bunker Hill. Nevertheless, the Bears haven't dropped back-to-back games in a single season since starting 0-3 in 2019, and they are 19-6 since.
Maiden (8-0, 5-0 in league play) at Lincolnton (4-4, 4-1), 7:30 p.m.
All but two of the Blue Devils' wins this season have been by 37 or more points, as they have outscored opponents 350-60 thus far. Last week's 62-13 victory over Bunker Hill was huge, but Maiden still has a few more hurdles to clear in order to capture a league title, beginning with tonight's trip to Lincolnton. The Wolves are the only other Catawba Valley 2A team currently on a winning streak of more than two games, as Lincolnton has won four in a row since starting 0-4.
Bandys (2-4, 0-4 in league play) at West Caldwell (0-7, 0-5), 7:30 p.m.
The Trojans and Warriors are both in need of a victory, as Bandys has lost seven consecutive conference games dating back to last season and West Caldwell is on a nine-game losing streak that began this past spring. The Trojans are only averaging 7.5 points per game during their current four-game losing streak, while the Warriors have scored 6.2 points per contest in league play this fall. One losing streak will end when these teams face off tonight in Lenoir.
WESTERN FOOTHILLS 3A CONFERENCE
Fred T. Foard (0-7, 0-5 in league play) at Hickory (5-3, 4-1), 7 p.m.
The Red Tornadoes know what it's like to be in the Tigers' shoes, as they finished 0-7 this past spring, the same record Foard sports entering tonight's meeting between the Catawba County foes. But Hickory has turned things around in its first season under head coach Joe Glass, defeating the teams the Red Tornadoes were expected to beat and remaining competitive against higher-level competition — Hickory even shocked East Lincoln 22-21 on Sept. 17 at home. As for the Tigers, they kicked a field goal last week for their first points all month, but have been outscored 317-17 overall.
Statesville (7-0, 5-0 in league play) at St. Stephens (1-6, 1-4), 7 p.m.
Since first-year head coach Kyle Lowman earned his first win as the Indians' leading man last month, St. Stephens has lost four games in a row by a combined total of 126-27. Now St. Stephens will do battle with a Greyhounds squad that has six wins by double digits, including victories of 56-0, 56-7 and 44-0 over Fred T. Foard, West Iredell and North Iredell, respectively, this month. No team in the conference has scored more points than Statesville (37.3 points per game), and no team has allowed fewer points than the Greyhounds either (8.9 points per game).
NORTHWESTERN 3A/4A CONFERENCE
Alexander Central (4-4, 1-2 in league play) at Hibriten (4-3, 2-1), 7:30 p.m.
The Cougars and Panthers each moved up in classification this season — Alexander Central from 3A to 4A and Hibriten from 2A to 3A — and both teams have certainly taken their lumps. The Cougars are currently tied with Freedom for fourth place in the six-team Northwestern 3A/4A, while Hibriten is tied with South Caldwell for second but has already lost more regular-season games this fall than the previous five seasons combined (the Panthers only suffered one regular-season loss between 2016-20). Alexander Central has dropped back-to-back games at the hands of Watauga and South Caldwell after outlasting Ashe County 42-36 in overtime on Oct. 1, while the Panthers took it on the chin against Watauga last week, falling 49-13 to snap a 35-game winning streak in conference contests.
South Caldwell (6-1, 2-1 in league play) at Ashe County (1-6, 0-3), 7:30 p.m.
Arguably the biggest surprise team in the area, the Spartans are off to their best start since beginning the 2015 season with seven consecutive victories. South Caldwell has proven it can win close games, with four of its wins coming by eight points or less, but the most recent victory for the Spartans was a 51-27 road triumph over Alexander Central last Friday. On the other side, the Huskies have a couple of close losses and a one-point win, but have been blown out in the most of their games.
Josh McKinney is the sports editor for the Hickory Daily Record.