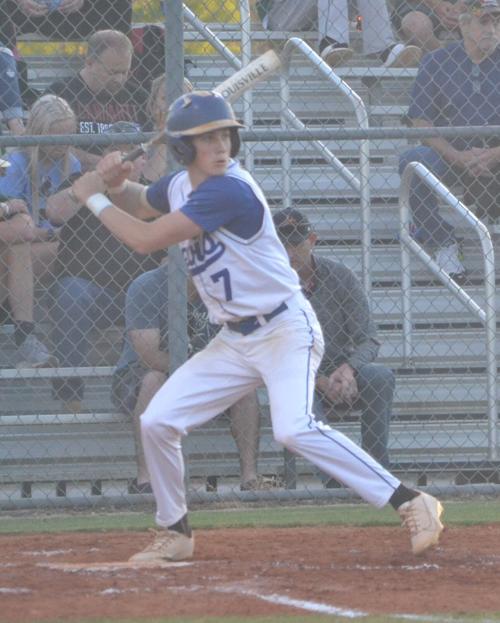 MAIDEN — Friday night's matchup between Maiden and Bandys wasn't the cleanest baseball game ever played, as the teams combined for seven errors and numerous passed balls and wild pitches. But the contest certainly involved some dramatic moments, with the Blue Devils ultimately topping the Trojans 5-4 in eight innings for their second win of the week over their Catawba County rivals.
Maiden improved to 2-0 both overall and in South Fork 2A Conference play, while Bandys fell to 0-2 in both after also falling by a 7-3 final during Tuesday's season opener at home. The Blue Devils have now won three of the past four meetings between the squads dating back to the 2019 season.
"I thought we came out a little flat. Even some of our other coaches said it early on, we just didn't look like our heads were really in it," Maiden coach Dustin Hull said. "We pitched good enough, but we struggled at times, put some runners on and then didn't execute when we had some runners on which caused us to give up those runs early. But the one thing I can say is these guys never quit ... and that's something we talk about too is the game's never over until that third out is made in the last inning, so I've got to give kudos to them.
"Kudos to Bandys, they played their tails off, they executed," he added. "Any time they had a chance to score a run I felt like they put a run across, so they did that very well. They're a very well-coached team and both teams battled all the way to the end. It was a good ballgame to watch."
After Bandys was retired in order in the top of the first, Maiden's Dalton James walked with one out in the bottom half of the inning. After advancing to second on a passed ball and moving to third on a stolen base, James scored on an RBI groundout from Spencer Floyd to put the Blue Devils up 1-0.
Following two quick outs to begin the third, the Trojans scored a pair of runs thanks to defensive miscues by the Blue Devils. Cade Spencer and Alex Robinson both walked and later scored on throwing errors by the Maiden catcher, giving the visitors a 2-1 advantage after two-and-a-half innings.
Maiden tied things at 2-all during its next at-bat. After Seth Williams worked a leadoff walk, he moved to second on an error and made his way to third on a wild pitch before scoring on a two-out passed ball.
Two runs crossed the plate for Bandys in the fifth, both on wild pitches. The Trojans also recorded their second and final hit of the night — Nolan Jones reached on an infield single with two outs in the fourth to account for the other — when Robinson ripped a one-out triple over the right fielder's head. Robinson scored on a wild pitch shortly thereafter, while Keelan Henrickson did the same to extend Bandys' lead to 4-2.
Maiden finally found its hitting stroke in the bottom half of the fifth after being held hitless by Bandys starting pitcher Terick Bumgarner through four innings. Ethan Hedgepeth led off with an infield single and was replaced on the base paths by courtesy runner Brennan James, who advanced to second on a throwing error and scored on Williams' single up the middle. The Blue Devils added the tying run on a wild pitch later in the inning.
From there, Maiden's Floyd took over for Dalton James on the mound and kept the Trojans' bats at bay. He struck out the side in both the sixth and seventh innings, and after the Blue Devils failed to score in their half of the seventh, he recorded another 1-2-3 inning in the eighth.
Austin Hoyle walked on a 3-2 pitch to start the Blue Devils' eighth, moving to second on a sacrifice bunt from Brenden Harrison. An intentional walk to Quinn Rembert followed, and after a wild pitch advanced the runners to second and third, Hedgepeth was also intentionally walked to load the bases. Following a fielder's choice that resulted in the lead runner being thrown out at home for the second out, a passed ball with Jacob Cauble at the plate allowed Kadin Frye to score the game-winning run for the hosts.
"Every game matters and we've preached that from the beginning," said Hull. "Not having any nonconference games to kind of get tuned up and work out any of the kinks, it's really trial by error. You get out here and you're just trying to make sure you've got everything covered in practice, you've got to make sure you're ramped up and everything and then you're gonna see what you've got when you get in a game.
"It's definitely high-pressure situations I feel like every week, every game, because they're only taking two teams out of this conference (for the state playoffs)," he continued. "So if you're not in one of those top two you're definitely not guaranteed anything, so it's definitely a different year."
The Blue Devils outhit the Trojans 4-2 behind one hit apiece from Hedgepeth, Williams, Floyd and Dalton James, the latter of whom earned a no-decision before giving way to Floyd, the eventual winner. On the other side, Bumgarner, Robinson and Trey Shearer saw time on the mound with Robinson being saddled with the loss after allowing two of the first three batters to reach in the eighth before being replaced by Shearer.
"He's (Floyd) kind of in our closer role right now," said Hull. "He threw Tuesday night as well but he comes in, he's been very reliable early on so far, that's good. He's got good stuff, he's very confident on the mound, so we are really gonna go to him throughout the season in that closer role. And then depending on how the season plays out, once we get more games in a week he's definitely one of our third starters too, so we're very fortunate to have a guy like that we can throw in and use in both roles."
Maiden travels to West Lincoln on Tuesday, while Bandys hosts Newton-Conover.
Bandys: 002 020 00 — 4 2 3
Maiden: 101 020 01 — 5 4 4
Josh McKinney is the sports editor for the Hickory Daily Record.