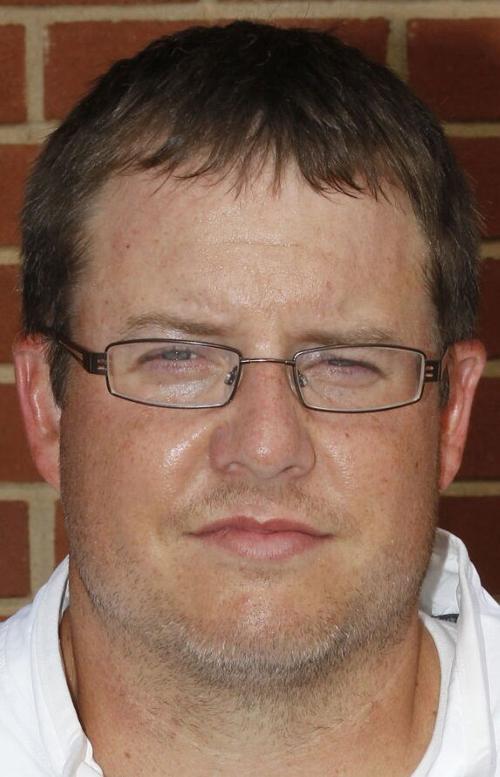 Coaching football is in Kyle Lowman's blood.
His father, Randy, was the head coach at Bandys High for 26 years before retiring following the 2012 season. His younger brother, Trent, coached the Trojans for the next five seasons before accepting the head coaching job at East Surry High, where he is 35-6 in three seasons with state championship appearances the past two seasons including a 1AA state title in 2019.
Now Kyle Lowman, who has been an assistant at Bandys since 2000 including 12 years as offensive coordinator (2005-14, 2016, 2017), will get his first head coaching opportunity at another Catawba County school. The 1998 Bandys graduate was approved by the Catawba County Schools' Board of Education as St. Stephens High's next head coach during a meeting Monday night.
Also a 2002 graduate of Lenoir-Rhyne University where he majored in math education, Lowman replaces Wayne Hicks, who stepped down in April after eight seasons as St. Stephens' head coach. The Indians were 30-56 overall and 18-36 in conference play during Hicks' tenure, winning a 3A state playoff game in 2015 while finishing with a 7-6 record.
Lowman didn't coach during the COVID-shortened 2020-21 season following the birth of his third daughter last year, but was an assistant under his father, brother and Tom Eanes during his two decades at Bandys. He was also the interim head coach prior to Eanes' arrival for about a month in 2018, although he never coached a game.
During his time as an assistant at Bandys, Lowman helped the Trojans win four conference titles, reach the third round of the playoffs eight times and make two appearances in the 2A state title game. He also played for Bandys in the 1996 2A state championship game and the 1997 2A West title contest.
A three-sport athlete at Bandys — football, basketball and baseball — Lowman takes over a St. Stephens football program that finished 2-5 overall and 1-5 in Northwestern 3A/4A Conference play this past season. The Indians have averaged 3.5 wins per season since 2010, with their lone winning season coming during the aforementioned 2015 campaign.
When the North Carolina High School Athletic Association's conference realignment goes into effect beginning with the 2021-22 school year, St. Stephens will compete in the new Western Foothills 3A Athletic Conference. Other schools in the Western Foothills 3A include Fred T. Foard, Hickory, East Lincoln, North Lincoln, Statesville, North Iredell and West Iredell.
Speaking of the aforementioned Red Tornadoes, St. Stephens has defeated its crosstown rivals in three of the past four seasons. The Indians were 5-3 against Hickory during Hicks' eight years at the helm, including a 27-19 road victory this past season.
Josh McKinney is the sports editor for the Hickory Daily Record.