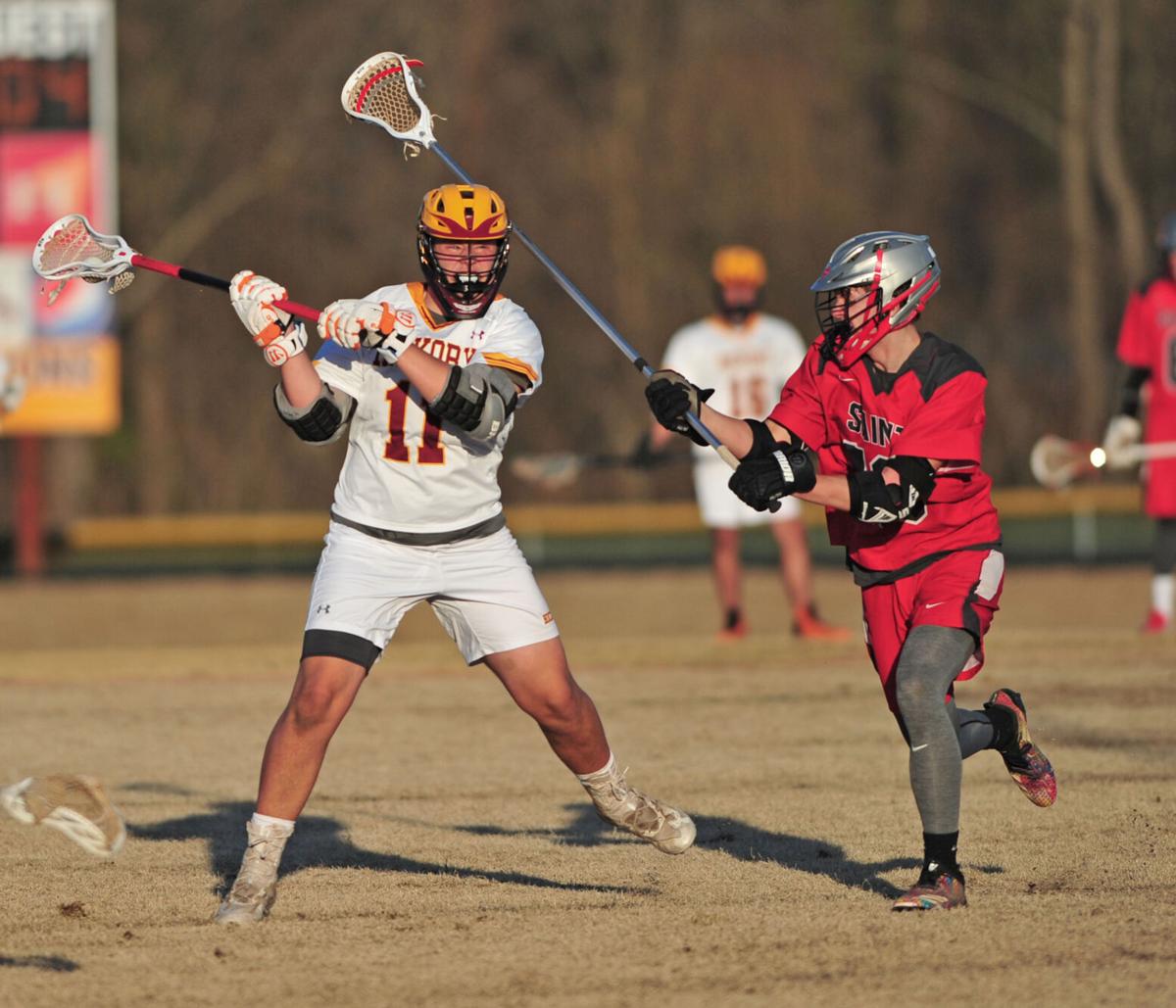 It's been a while since the Hickory boys have bested St. Stephens on the lacrosse field and that's what made Wednesday night's 10-6 home win for the Red Tornadoes over the Indians even sweeter.
"It's been at least four years since we've beat them (St. Stephens), maybe five," said Hickory coach Doug Knowles. "It's a great win. These kids are happy and they're pumped. They're ready to play."
The Red Tornadoes certainly came out ready to play. Hickory's Caden Paradine scored the game's initial goal less than 90 seconds after the opening faceoff. But St. Stephens answered twice within the following three minutes on goals by Gavin Lewis and Daniel Thomas to take a 2-1 lead.
Hickory needed about four minutes to tie the score on Paradine's second goal of the quarter and then took the lead, 3-2, with just nine seconds remaining in the first period on a strong slap shot by Drew O'Malley.
The Red Tornadoes continued to pepper shots at the St. Stephens net and scored first in the second quarter for a 4-2 lead on a short-range goal by Paul Fogleman.
But the Indians, who came into Wednesday's game with a mark of 0-3, found life thanks to Tryston Sylvester. Sylvester found space in close quarters right in front of the Hickory net on back-to-back goals within a span of 30 seconds.
"He's a sophomore. He got his first taste last year," Indians coach Eric Mendel said of Sylvester. "We've been working with him to be more aggressive. He finally stepped it up and was aggressive out there. It paid off for him, so hopefully he'll continue to do that as we move forward."
With the score tied at 4-all, Britt Rumbaugh launched a rocket for Hickory from the top of the circle to put the Red Tornadoes back in front. But as they had the entire first half, the Indians responded. Jacob Sierzenga took a pass in stride from Thomas and scored three minutes before intermission for a 5-all score that lasted until the third period.
"I think offensively we have a lot of young kids and even some new kids. We continue to work every day on just catching and throwing," Mendel said. "They try so hard to make a perfect pass. Sometimes you just need to relax and throw the ball."
Spearheaded by goalkeeper David Pritchard, the Red Tornadoes' defense controlled one end of the field during a third-quarter shutout and Miles Schramm handled the offense with three consecutive Hickory goals for an 8-5 lead heading into the final period.
"He started placing the ball very well, shot placement was great," Knowles said of Schramm. "We tell our kids to shoot low and he listened. That's why he came out looking good."
Midway through the fourth quarter, Parker Beiland made it a two-score game and kept St. Stephens' hopes alive with a goal from the right front of the net. But Schramm scored his fourth goal of the night with 3:40 to play to up the Red Tornadoes back to three and Paradine ended all doubts about the outcome with his third goal just 20 seconds later.
Unofficially, Hickory outshot St. Stephens 36-24. Pritchard stopped 12 shots for the Red Tornadoes.
"We work on a lot of passing," Knowles said. "The continuity is starting to get better. They're starting to know each other and what they're going to do, and listening to the coaches."
While Hickory improves to 1-1, St. Stephens is still in search of the Indians' first win after four games.
"I think there were things we didn't pick up on we normally do," Mendel said of his team's defensive struggles on Wednesday. "We really haven't been able to have the best of practices the last five days and its just simple things we need to get better at."
Both teams were scheduled to play on Thursday, but Hickory's road game at Watauga and St. Stephens' home contest against Asheville were both postponed. The Red Tornadoes visit Patton on Tuesday, while the Indians host Watauga.