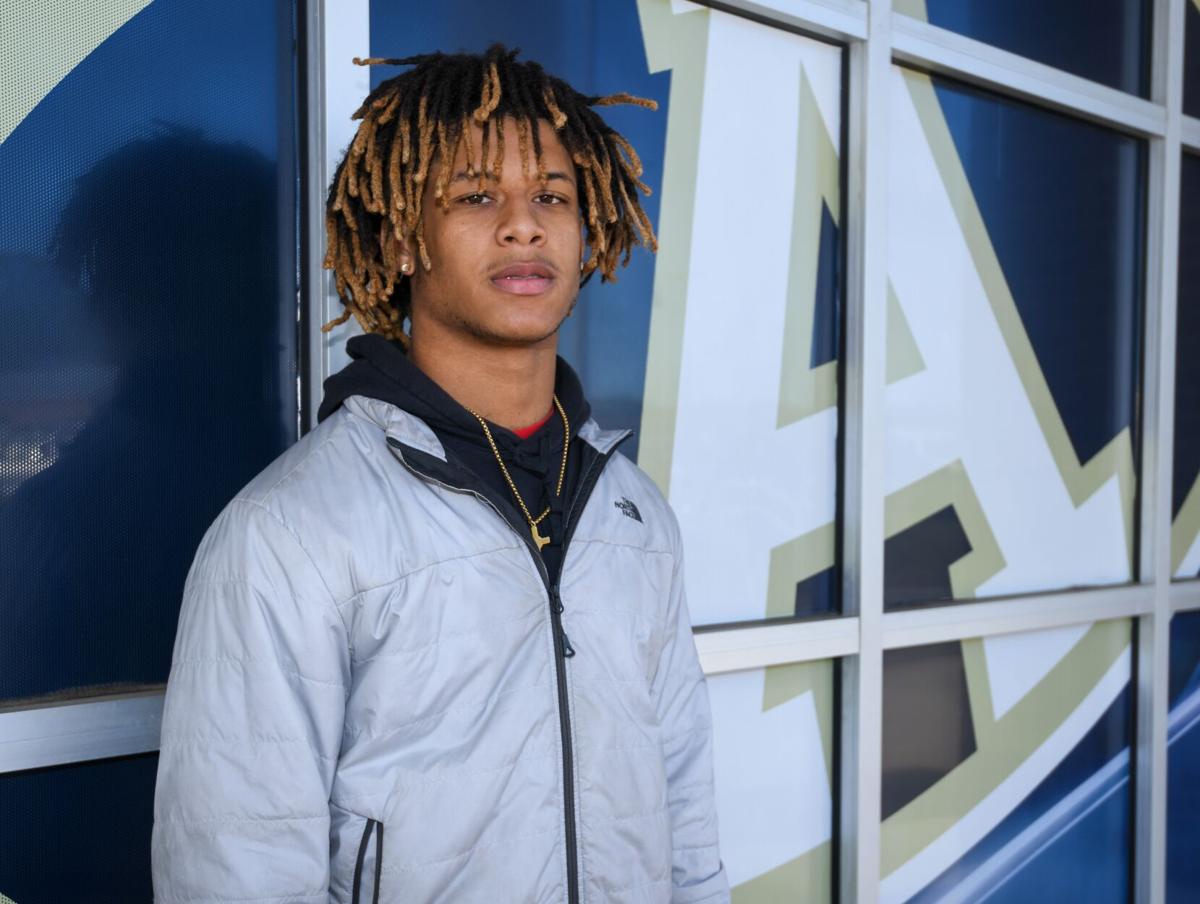 Ryheem Craig wasn't going to let anyone stop him from becoming a Division I football player. And no offensive line can seem to stop Alexander Central's senior defensive end from hitting its quarterback either.
Craig racked up 10.5 sacks last year and is sure to be a special pass rusher once he hooks up with University of Louisville head coach Scott Satterfield in 2021 for the Cardinals. For the time being, he is every offensive tackle's worst nightmare and is hoping to help Alexander Central contend for a state championship in the spring of 2021.
Hickory Daily Record sports correspondent Jackson Shoe recently sat down with Craig to discuss several different topics. Here's a transcript of their interview:
How does it feel to be one of the few players to make it to a Division I school out of such a small town?
It gives all of the other kids around me hope and the kids coming up, it gives them hope as well. And it doesn't have to stop with just me; they can do it too. I feel like I can be a role model around here for a bunch of kids.
Do you think your success will convince more kids to play football that might have ruled it out?
Oh yeah, I feel like now kids might feel more inclined to play because a lot of scouts don't come to this town very often, and with a big rush of scouts coming to look at myself and my team, it will give kids hope that they can get a chance at the next level.
You are originally from Taylorsville and growing up in this town I'm sure you watched Alexander Central football growing up and watched seasons where they weren't as successful. How has coach Butch Carter come in and changed the program?
I feel like Coach Carter has changed the program a lot, especially because of how hard he is (on us). He just wants to win and he will push you to your limits whether it is the classroom, the weight room or the film room, and there is no joking around when we are on the field. We have times where we laugh and joke around, but it's all seriousness here because we all want to get better and win.
You're ranked No. 61 overall in North Carolina and were one of the most coveted prospects in this class. What made you commit to a school out of state and what sold you on Louisville?
(Louisville assistant) Coach (Mark) Ivey sold me to the University of Louisville. Me and him had a strong bond and it feels like a family to me and that was what I was looking for, and here at Alexander Central it's a family so I guess I was looking for a team that was gonna be a family for me.
How has your training changed due to the COVID-19 pandemic?
It has affected my training a little bit. It has affected how often I can work out with certain people and with certain machines and stuff like that. But my brother and I train at home with whatever we can get, and I can lift weights at school and I have a weight bench at home. I try to get a workout in any way I can.
Normally we would be at the end of the regular season, headed towards the playoffs if the season had started in August, but it was delayed due to the COVID-19 pandemic. Did the thought of more time before the season encourage or discourage you?
It's been kind of weird. I was pumped to play in August. I feel like starting later has given me more time to get bigger, stronger and faster, and it'll help me with my stats this year.
I've had the pleasure of watching you play since you were a freshman at St. Stephens and since you've moved to Alexander Central. In that time you've bulked up tremendously and grown as a player. How has the AC coaching staff helped you mature as a player and as a person?
As soon as I came into AC they pushed me to my limits. Coach Carter wanted the best for me so he tried me out at defensive line as a sophomore on varsity. And Coach (Chris) Marshall, our offensive line coach, put me out there on the defensive line as well and I didn't like it at first, but I figured I'd get used to it and I started to figure it out my junior year and just ran with it. And every day my coaches push me to my limits to get stronger, faster and become a better player.
In your past three years you've ran track as well as playing football. How has track complimented your football game, if it has at all?
It hasn't complimented my game a lot, but the training and conditioning with Coach (Jonathan) Winkler, who is also our defensive coordinator, has helped me a lot to make sure I'm in shape and conditioned all year around.
You said in an interview that your goal at the next level is to be Atlantic Coast Conference Rookie of the Year, which no defensive lineman has done since 1986. How do you plan to make an impact early on for Louisville?
To be a dog. That's what you have to be when you are on the defensive line, you have to show them that you are better than everybody else. It really motivates me that nobody has won the award since then at defensive line and I feel that the defensive line should get more recognition because we have a big part in the defense. There is a lot to playing on the defensive line and I feel that if I train hard enough and get bigger I don't see why I couldn't win the ACC Rookie of the Year.
If there were any player you would compare yourself to, whether it is college or the NFL, who would it be and why?
(Washington Football Team's) Chase Young. He's a pass rushing defensive end. I don't have his size, but I feel like with hard work I'll get to that size. People have compared me to Chase Young because of his speed off the edge. He is quick and has a long reach, which are things I also possess. I feel that I'm a great pass rusher and I'm good at getting in the backfield.
In this last season you had 10.5 sacks. It seems you have the pass rushing thing down. What other areas of your game are you looking to improve? What needs the most work?
Me and defensive line coach (David) Foster have been working on me squeezing down gaps for the pull plays. I feel that I get too deep sometimes on pass rushing too. I've been watching lots of film and have been working on my first step and I try to work on everything to become a more well-rounded player. I am mainly working on pass rushing because that is what I am getting in college and I have to work on not getting too deep, and practicing the basic stuff and keeping my fundamentals.
In high school you've been a dominant defensive end, but you also have the profile to play linebacker in college. Louisville runs a 3-4 defensive system, similar to what is ran at AC. Would you be open to a position change at Louisville and how do you think you would adapt if you were to do so?
I don't care where I play, honestly. It would be nice to play defensive end, but I'm trying to help the team first and win a bowl game. For me I feel like playing linebacker I could do well, I read defenses well and I'm not afraid of contact. I will meet anyone in that hole to make the play.
Clemson has dominated the ACC in the past decade and has won the conference five years in a row. Would you say it's a goal for you to get at least one win over Clemson during your time at Louisville, something that has never been done in Cardinals history?
I feel like we will get a win over Clemson. This 2021 class is different. I feel that all of us have the same mindset to come in and change the program. We have a bunch of good kids coming in this year. I don't see another 2021 class that has the heart and courage like us.
Recently there have been high school and college guys opting out of the season due to the COVID-19 pandemic. Did that thought ever go through your head?
It kind of went through my head, but after discussing it with my coaches and my cousin Keenan Boston they said that you can't get your senior year back. College will be great and it'll be a different time in your life, but you can never get that senior year back. So I decided to stay and play my senior season, and to help out the team and make it to states.
How do you want your legacy to be remembered at AC?
I want to be remembered as somebody that's always laughing, a good guy, someone who's always in a good mood. And also someone when it's time to get serious he gets serious and when it's time to go to work isn't afraid to get dirty to get the job done.
Throughout your football career, starting as a kid who would you say pushed you the most to get you to where you are today?
My mom and my dad, my aunts, my grandmas, my uncles — all of them. My entire family pushed me, my mom and dad's side. They pushed me by coming to my rec league games and paying me a dollar for every tackle I would make and it pushed me to be great, and they didn't want anything but the best for me. I always felt that they were hard on me because they wanted to see me succeed.
What is the message for you this last season? AC has been eliminated in the first round the past four years. What is the goal to end your run here at Alexander Central?
The goal is to make it past the first round, make it to the state finals really. I don't see why not. Last year I felt like we should have made it farther than we did, but we made simple mistakes. But as long as my team has courage, which they do, there's no reason we can't succeed. I feel that we are going to have that mindset going into the game that the opponent is going to have to show that they are better than us and that we aren't going out without a fight.