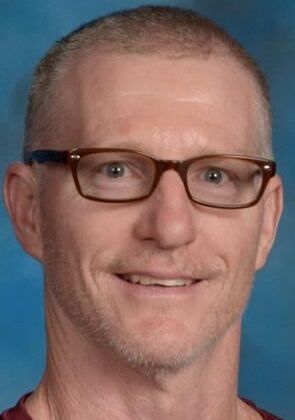 HUDSON — After leading South Caldwell High's football team to three 4A state playoff appearances in four seasons, Marc Kirkpatrick is stepping down as the Spartans' head coach. South Caldwell athletic director Jeff Parham shared the news in an email sent to media members on Friday morning.
Kirkpatrick, 55, is a 1984 South Caldwell graduate who was the school's starting quarterback during his junior and senior seasons. He retires after guiding the Spartans to an overall record of 11-30 and a Northwestern 3A/4A Conference mark of 7-17 since taking over in 2017.
Before becoming head coach, Kirkpatrick was a longtime assistant at his alma mater. He is currently in his 22nd year as a health and physical education teacher at South Caldwell, and will continue to serve in that capacity going forward.
The Spartans finished 3-3 overall and 3-1 in league play during the COVID-shortened 2020-21 season, falling to Hillside in the opening round of the postseason. South Caldwell posted a winning record for the first time since finishing 11-3 overall and 5-2 in the Northwestern 3A/4A during the 2015 campaign.
According to Parham, South Caldwell's administration will soon begin accepting applications for its next head football coach. The individual will be the Spartans' eighth head coach since the school opened in 1977.
"We at South Caldwell are very grateful for Coach Kirkpatrick's 22 years of service to this school's football program," said Parham. "Throughout his time with our program, Kirkpatrick has always been a consummate professional in teaching players both the game of football, but more importantly lifelong lessons that they will carry with them the rest of their lives."
Kirkpatrick's father, Don "Red" Kirkpatrick, was South Caldwell's head football coach for its first seven seasons, followed by Tommy Pursley, John Mackey, Dan Hardee, Butch Carter and Sean McMenomy. Carter, who is the current head coach at Alexander Central, is the Spartans' all-time winningest coach with 104 victories during his 15 seasons at the helm.
Prior to retiring, Marc Kirkpatrick was voted as the Northwestern 3A/4A's coach of the year for the 2020-21 season. He is the third league coach to step down since the season ended, joining St. Stephens' Wayne Hicks on April 15 and Hickory's Russell Stone this past Tuesday.