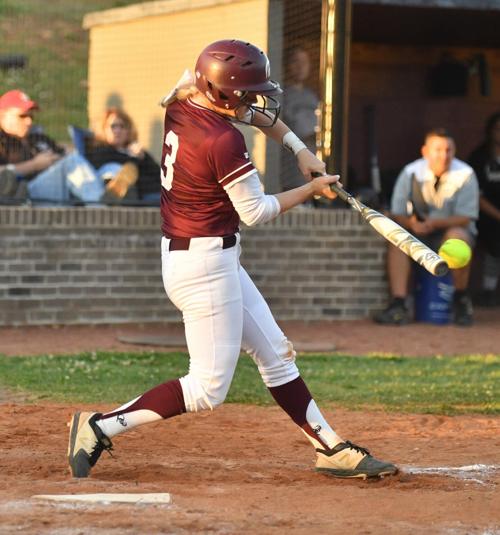 HUDSON — The South Caldwell softball team trailed Thursday night for only the second time since suffering its lone loss of the season against nonconference West Stanly over a month ago. But the Spartans quickly erased that deficit in a big way, trouncing visiting Providence 12-2 in five innings in the second round of the 4A state playoffs at Brandon E. Church Softball Complex.
With the win — their ninth straight — the fourth-seeded Spartans improved to 14-1 entering tonight's third-round game at top-seeded Hickory Ridge (14-2), which defeated eighth-seeded Lake Norman 8-3 earlier Thursday. Meanwhile, the fifth-seeded Panthers finished the season at 11-2 after having a seven-game winning streak snapped by the 2019 state champions.
"That's a pretty good ball team over there," South Caldwell coach Casey Justice said of Providence, "and I thought we did a very good job of just really competing and wanting it."
Following a groundout to begin the game, Providence's Ashley Vohra singled to right. Macy Akia followed with an RBI double, advancing to third on the throw home, before scoring on an RBI groundout from Lauren Cope.
From there, South Caldwell pitcher Kadie Becker completely shut the Panthers down, limiting them to the two first-inning runs and hits while striking out two and issuing no walks. Of the 15 outs she recorded in the contest, eight came on groundouts.
"She did a really good job of just staying in there," said Justice of Becker's performance. "That's something we talk with her about all the time. She's a young kid and with the COVID situation didn't really get to have a freshman year, so all these things are new for her.
"Her teammates did a very good job of battling through things with her, just staying calm and keeping her collected," he added. "And once she settled in, she did a really good job for us."
On the other side, the Spartans' offense went to work on the first pitch in the bottom of the second, which Addison Blair blasted over the right-center field fence to cut the deficit in half. Providence also committed three errors in the inning, with their second dropped fly ball of the frame allowing both Zoey Shatley and Jasmine Hall to scamper home with two outs.
Armed with a 3-2 lead, Becker quickly retired the Panthers in the third to turn things back over to her offense, which added two more runs on a single from Kaylee Anderson that scored Blair and a sacrifice fly from Shatley that scored Anderson. South Caldwell also put up a two spot in the fourth on a one-out bunt single from Ciara Hanson that plated Maddie Carpenter and a two-out single from Blair that allowed Hanson to come across.
In the fifth, the Spartans loaded the bases with no outs on a double from Shatley, a dropped fly ball that allowed Hall to reach and a walk to Carpenter. Regan Weisner ripped a triple down the left-field line to empty the bases, while an RBI double from Hanson made it 11-2 before a wild pitch and a passed ball plated her to invoke the 10-run mercy rule.
Blair was 3-for-3 with a home run, a double and a single to lead South Caldwell's 12-hit attack, while Weisner was 3-for-4 with a triple and two singles. Hanson added a double and a single to go with doubles from Shatley and Carpenter and singles from Anderson and Kenley Jackson.
"It's all about approach," said Justice of his team's success at the plate. "I've talked all year — we've really not played a complete game yet to this point and we still have levels that we can get better at, and we want to do those things — but our approach was key. We did a really good job of working middle and working backside, laying off changeups when we could."
Providence:     200 00 —   2   2 5
South Caldwell 032 25 — 12 12 0
Josh McKinney is the sports editor for the Hickory Daily Record.