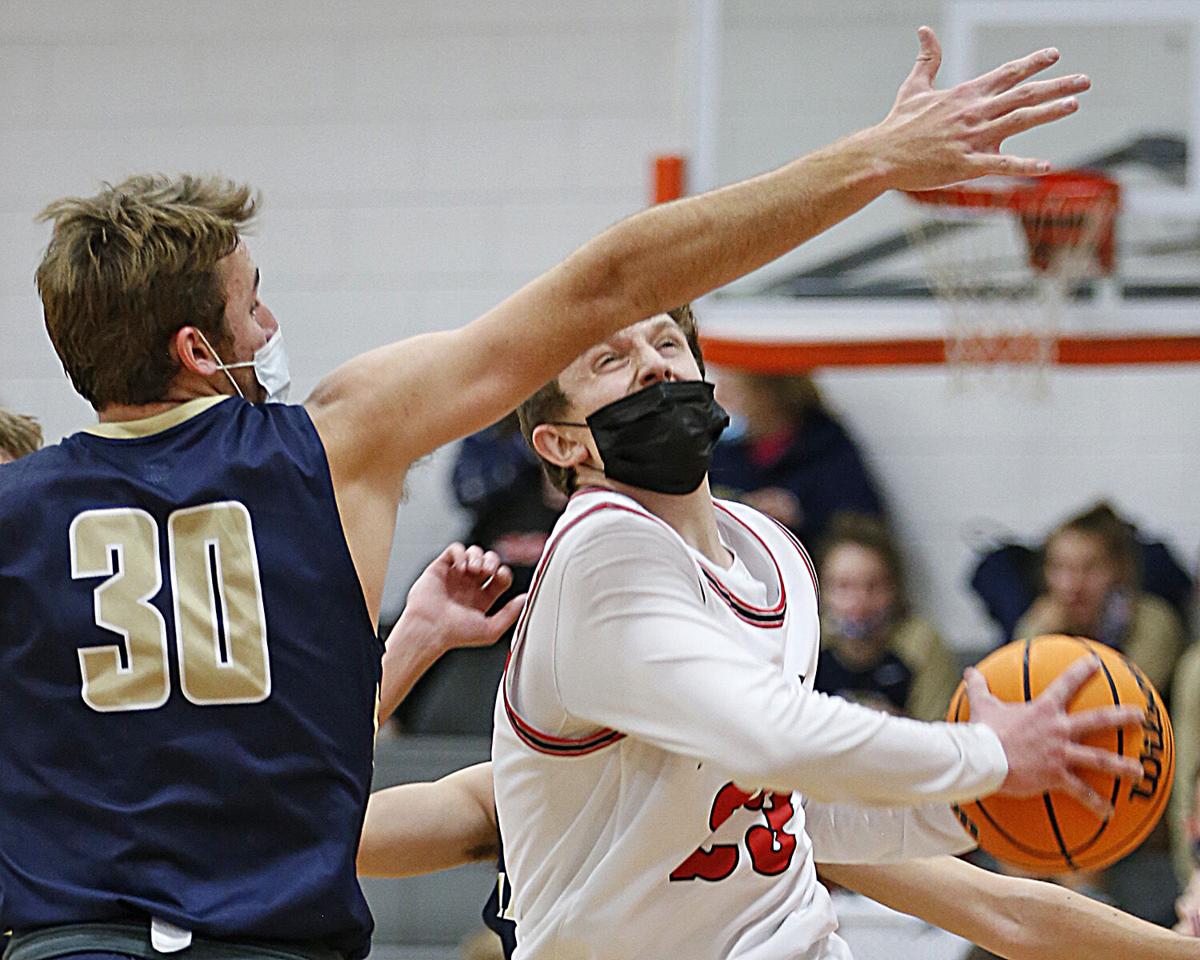 When you're hot, you're hot, and the St. Stephens boys basketball team was blazing on Tuesday night. The Indians torched Alexander Central with 18 3-pointers on the way to a 64-44 home win.
Both squads are now 2-1 overall. St. Stephens is 2-1 in Northwestern 3A/4A Conference play, while the Cougars are 1-1.
After hitting 13 three-pointers the previous night on the road at McDowell, St. Stephens continued its torrid long-range shooting by hitting 18 of 30 from behind the arc against the Cougars.
"That's us, we're going to shoot them," St. Stephens coach Patrick Smith said, noting it was about all his team could do over the summer under COVID-19 restrictions. "We know that's going to be our calling card. We've got to shoot it well. The good news for us is that we've got seven, eight guys that can really shoot the ball."
Six different Indians connected from behind the arc on Tuesday, led by Zane McPherson who hit 8 of 12 3s and Charlie Woy who was 5-of-8.
"They came to me today and said, 'We're ready to roll,'" Smith said of McPherson and Woy. "Everything they did tonight was spot on."
Although Alexander Central staked a quick 8-3 lead, it didn't take the Indians' sharpshooters long to wipe that out.
The Cougars' Evan Presnell hit a 3 to break a 14-all tie and give Alexander Central a 17-14 advantage at the first-quarter break. But McPherson nailed a game-tying trey to begin the second quarter and Luke Reid followed with one of his own moments later to put the Indians in front for good.
St. Stephens outscored Alexander Central 21-7 in the second quarter to take a 35-24 lead to the locker room. All of the Indians' points in the period came from behind the 3-point line.
"They (St. Stephens) did a great job getting in the lane, creating help, getting each other open shots. Really unselfish and they made a bunch all night," said Alexander Central coach Ed Wills. "They did a good job defensively too. We didn't get into rhythm. They played great. They played really, really well."
The Indians continued the 3-point barrage in the third quarter and took their lead to 20 points, 51-31, by the quarter's end.
"I think we got impatient more than anything. I think we tried to 'save the day,'" Wills said. "We're inexperienced and we weren't as disciplined as we need to be. That's to their (Indians') credit. They made us that way."
Smith was especially happy with how his team executed against an opponent known for its stingy defense.
"They (Alexander Central) have one of the best match-up zones — maybe in the state," Smith said. "Constant movement, penetrate and move as our shooters move with the ball. Just kick it to open shooters and see what they've got."
St. Stephens only shot nine times inside the arc and made four.
McPherson led all scorers with 28 points and Woy had 15 to go with five assists.
"Tonight we stepped up as a family and we just absolutely listened to the scouting report. We did everything to a 'T,'" said Smith. "I couldn't be prouder of these guys. This is probably the best win we've had since I've been here at St. Stephens."
Zach Herman was the lone Cougar in double figures with 16 points and also led Alexander Central in rebounds with five.
Both teams will be in action at home on Friday — St. Stephens against Watauga and Alexander Central against McDowell.
Alexander Central: 17 07 07 13 — 44
St. Stephens:        14 21 16 13 — 64
Alexander Central — Zach Herman 16, Evan Presnell 8, Colby Abernathy 6, Avery Cook 4, Peyton Payne 3, Grayson Presnell 3, Grove Lowrance 2, Garrett Barnes 1, Dusty Sigmon 1.
St. Stephens — Zane McPherson 28, Charlie Woy 15, Luke Reid 6, Josh Barkley 4, Dayton Anderson 3, Mason Buff 3, Colby Edwards 3, Peyton Young 2.