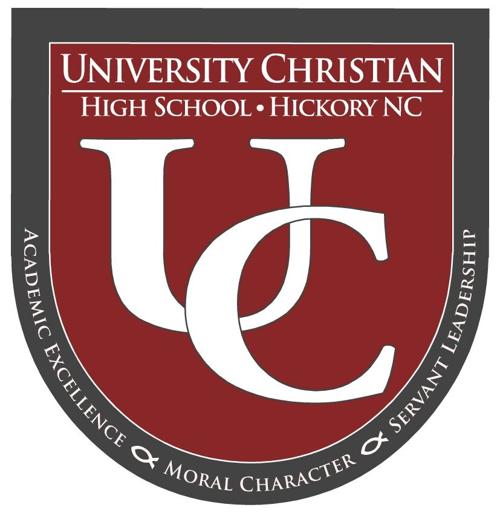 CONOVER — The University Christian volleyball team remained undefeated during the 2020 season thanks to victories over Lake Norman Christian and Statesville Christian this week. Following a nonconference win over Lake Norman Charter on Monday, the Barracudas added a Foothills Athletic Conference triumph over Statesville Christian on Tuesday.
Both contests took place at Tri-City Baptist Church, where University Christian plays its home matches. The Barracudas won 3-1 (23-25, 25-19, 25-14, 25-15) on Monday before earning a 3-0 victory (25-16, 25-20, 25-15) on Tuesday.
Against Lake Norman Christian, University Christian received seven kills, nine assists and two blocks from Megan McNeely, while Maddie Smith had 13 kills and two blocks and Alyssa Drendle and Macy Cannon finished with nine and six blocks, respectively. Sarah Wilson added 34 assists and three digs for the Barracudas, who also got two blocks from Rachel Jacobs.
In the win over Statesville Christian, University Christian's Smith had 12 kills and five aces, McNeely tallied seven kills and Drendle registered six kills. Macy Cannon supplied four kills and three aces, with Sophie Deese notching 11 digs and Wilson chipping in 28 assists.
The Barracudas are now 3-0 overall and 2-0 in the Foothills Athletic Conference.
University Christian 9, Statesville Christian 0
The Barracudas shut out the Lions on Tuesday at Catawba Country Club in Hickory. With the win, University Christian is now 2-0 both overall and in Foothills Athletic Conference play.
Singles winners for the Barracudas included London Fidler (6-0, 6-0 over Ashleigh Mathis), Lydia Gerrard (6-1, 6-0 over Samantha Keever), Olivia Jarman (7-5, 6-1 over Ava Hughes), Ainsley Richardson (6-0, 6-0 over Ariel Howard), Adrienne Fidler (6-0, 6-1 over Marley Weatherman) and Ava Blair (6-1, 6-0 over Ruby Walker).
In doubles action, University Christian received victories from the teams of Lizzie Sain and Frannie Zagaroli (8-5 over Mathis and Keever), Caroline Congro and Bella Hazboun (8-4 over Howard and Weatherman) and Langley Parker and Virginia Crooks (8-1 over Walker and Emma Shelton).
University Christian 2, Statesville Christian 1
Following a scoreless first half, the Barracudas outscored the Lions 2-1 in the second half on Tuesday at St. Stephens Lutheran School in Hickory. University Christian's second win over Statesville Christian in as many weeks moved the Barracudas' record to 2-0 both overall and in the Foothills Athletic Conference.
Adam Gerrard got University Christian on the board with an unassisted goal from 30 yards out midway through the second half. Ten minutes later, Eli Gobelbecker was fouled inside the box and scored on the ensuing penalty kick to double the Barracudas' lead.
The Lions recorded their only goal with 10 minutes remaining, but the Barracudas were able to hold them off for the 2-1 victory.
Get in the game with our Prep Sports Newsletter
Sent weekly directly to your inbox!