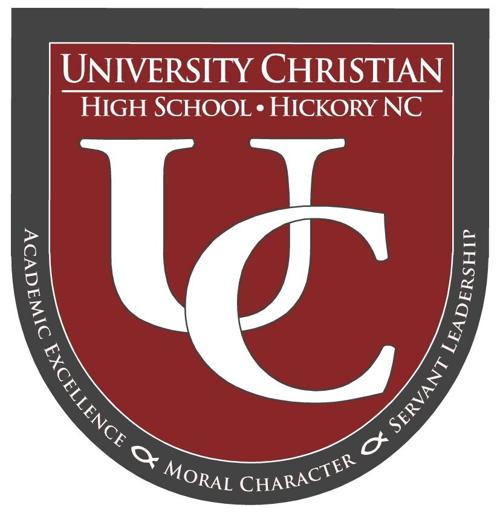 CONOVER — The University Christian volleyball team knocked off in-town and Foothills Athletic Conference rival Hickory Christian Academy (HCA) on Tuesday at home to move to 4-0 overall and 3-0 in conference play. The Barracudas won in straight sets (25-19, 25-16, 25-13) to drop the Knights to 0-4 overall and 0-3 in the Foothills Athletic Conference.
Maddie Smith had 19 kills, seven aces and three blocks for University Christian, which also received 10 kills, one ace and one block from Megan McNeely. Additionally, the Barracudas got four kills and two blocks from Rachel Jacobs.
Sophie Deese finished with 12 digs and four assists for University Christian, while Sarah Wilson recorded 36 assists, three kills and one block.
University Christian 8, HCA 1
The Barracudas collected victories in all six singles matches during Tuesday's home match against the Knights. London Fidler won 6-0, 6-2 over Sarah Puryear; Lydia Gerrard won 6-3, 6-0 over Emily McEwen; Olivia Jarman won 6-0, 6-0 over Amelia Chapman; Ainsley Richardson won 6-0, 6-1 over Liza Robertson; Frannie Zagaroli won 6-3, 6-4 over Perri Pate; and Ava Blair won 6-0, 6-1 over Callie Caldwell.
University Christian (3-1 overall, 3-0 Foothills Athletic Conference) also received doubles wins from the teams of Lizzie Sain and Adrienne Fidler (8-2 over Puryear and Robertson) and Bella Hazboun and Caroline Congro (8-4 over Pate and McEwen).
The duo of Mary Alice Bowman and Caldwell (8-6 over Virginia Crooks and Langley Parker) earned the only victory for HCA (0-4 overall, 0-3 Foothills Athletic Conference).
HCA 8, University Christian 2
The Knights captured a road win over the Barracudas on Tuesday, scoring four times in each half to improve to 5-1 overall and 3-0 in the Foothills Athletic Conference. University Christian scored twice in the second half as it fell to 2-1 overall and 2-1 in conference play.
HCA has won three straight contests, and the Knights are 8-0 all-time against the Barracudas according to MaxPreps.com. University Christian established a soccer program in 2015.
Get in the game with our Prep Sports Newsletter
Sent weekly directly to your inbox!