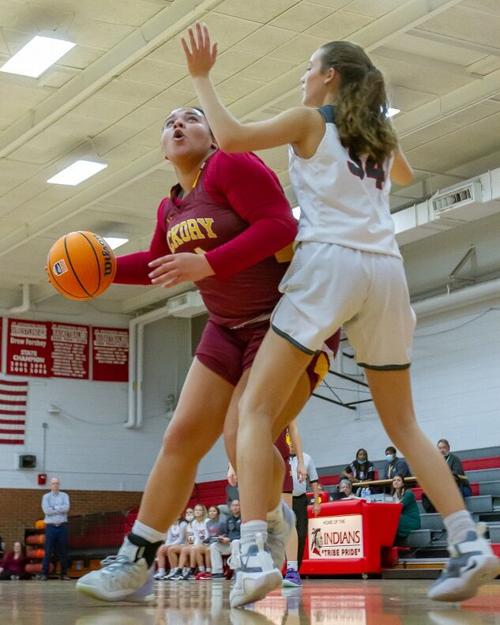 The Hickory girls basketball team celebrated its return to the court after an illness-related hiatus with a stirring fourth-quarter comeback to hand host St. Stephens its first conference loss, 60-52, on Tuesday night.
"They've had a tough layoff because (of) girls sick with COVID. We've been battling through," Hickory coach Barbara Helms said following an emotional postgame meeting with her team. "Our motto right now is it's 2022, fresh, get after it. Let it right its course now and make it the season now."
The Red Tornadoes moved to 6-6 overall and 3-1 in Western Foothills 3A Conference play, while the Indians dropped to 8-4 and 2-1. 
Tuesday's backyard battle featured 14 lead changes and eight ties. Three of the lead changes and four of the ties came in the final quarter.
"It was just a hard-fought game both ways," said St. Stephens coach Andy Bennett. "It was a fun game to be part of, to be honest."
Both teams came out pressing and putting pressure on the ball at every opportunity. The physicality of the game took its toll and created a frenetic pace that saturated all 32 minutes of play. Unofficially, the teams combined for 49 turnovers, with 26 being charged to Hickory and 23 to the Indians.
"It's kind of what we expected. We know they're physical, they're going to be aggressive, they're going to get up and attack you. They're going to put pressure on you," Bennett said. "I thought we did a pretty good job most of the time. But there were sometimes, you know, we lapsed a little bit. Then we started throwing the ball away which we didn't need to do."
Thanks to an 8-0 run at the back end of the first quarter, Hickory took a 16-13 lead into the second eight-minute session. But St. Stephens' Molli Harris led a second-quarter charge with seven points including a 3-pointer as the Indians came back and grabbed a 26-23 advantage with 2:50 to go before the half.
Then the Red Tornadoes regrouped at both ends of the floor to score the final five points before the break behind Gabriela Greenard and Laken Powe. At halftime, Hickory led 28-26. 
The third period of play was the most one-sided of the game with St. Stephens outscoring the Red Tornadoes 14-9 to claim a 40-37 lead going into the final quarter.
"We just talked about playing our game and playing without anything to lose. Just getting out there and playing hard," Bennett said of his halftime message to the Indians. "Really, all it was was playing hard, play the game, keep attacking and be smart with the basketball."
Kennedy Blevins took advantage of a Hickory defense that appeared to have a difficult time picking up the pace after the break. Blevins, who came off the bench, notched seven of her 18 points in the third quarter, highlighted by a three-point play on a fast break that broke a 32-all tie.
Helms admitted her team looked a bit leg weary in the third quarter.
"We did (lose our legs). People haven't been in practice," Helms said. "My goodness, they stuck together through it, though. They did a really good job."
Trailing 40-37 entering the final quarter, Hickory surrendered another point at the free-throw line before beginning its rally in earnest. Addison Sisk cashed in on a fast-break layup off an assist from Gabby Bryant. Then Bryant scored in the lane to knot the score at 41 apiece.
Powe then gave the lead back to the Red Tornadoes, 43-41, on a nice step-through move with 6:35 to go.
But St. Stephens was not finished as Blevins once again got a three-point play the hard way to put the Indians back in front, 46-45, with 4:55 to go.
From that point Hickory took the game over at the foul line, where the Red Tornadoes found their touch. After going just 5 of 14 at the charity stripe through three quarters and missing all four attempts in the third stanza, Hickory dropped in 11 of 16 free throws in the final quarter.
An 11-0 run by the visitors overcame the final St. Stephens lead and gave Hickory a 57-48 edge with 1:20 to go. Lea Boyens was especially effective at the line in the final period as she hit six straight to help the Red Tornadoes extend their lead to as many as 10 points.
"Everything at the free-throw line. Lea Boyens went up there and iced it. That's big," Helms said. "We wanted the ball in her hands. Thinking about it and doing it is a whole different thing. She did it."
Bennett admitted the Indians may have worn down in the final minutes.
"Probably. We've had some days off and we don't have the biggest rotation either," Bennett said. "So, when we compete like we were, sometimes playing full court, that's kind of the risk we have is being tired in the fourth quarter. But I feel like for the most part we can usually sustain it."
Greenard led a balanced Hickory offense with 14 points. Sisk had 11 points and Joselin Turner finished with 10.
Harris and Blevins shared scoring honors for St. Stephens with 18 points apiece.
Hickory hosts Fred T. Foard on Friday, while St. Stephens visits Draughn tonight before hosting Statesville on Friday.