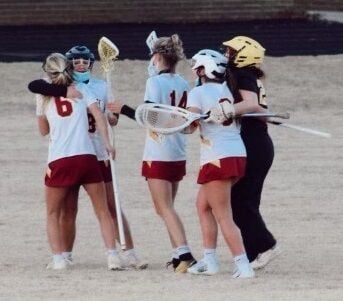 The Hickory girls lacrosse team finally got to take the field on Wednesday evening and made the most of it with a 12-8 home victory over crosstown rival St. Stephens in the Red Tornadoes' season opener.
"It was very well deserved," said Hickory coach Doug Knowles. "The girls have been working hard and finally got a game in."
Hickory senior Ellie Rumbaugh was certainly working hard with seven goals and a pair of assists — and that was before she sprinted up to the high school as soon as the lacrosse match was over where she changed uniforms to play basketball for that Red Tornadoes squad.
"She's a very good player," Knowles said. "She's going on to play in college. All-around defensively she's good, ball control very well. She's just a great athlete."
St. Stephens began the night undefeated in four outings and as the game started it looked as though the Indians would make it five straight. Kaylee McGlamery scored the first of her three goals and Peyton Beiland followed with another St. Stephens goal thanks in part to an assist from Ella Brannock for a 2-0 Indians lead less than six minutes into the game.
Hickory got on the board with a goal from Mebane White, but McGlamery scored again to keep the Indians' lead at two goals, 3-1.
Then the Red Tornadoes made an adjustment.
"We wanted to get Delaney (Deffke) up there to midfield," Knowles said. "My assistant coach actually suggested we get her up there to handle the ball a little bit better."
The result was five consecutive goals by the Red Tornadoes and a 6-3 lead late in the first half. Five different Hickory players scored in the run.
"Gotta give a lot of credit to Hickory. They have a lot of experienced girls and they looked really confident moving the ball," said St. Stephens coach Emily Earp. "We just had a hard time keeping it on our end. Just chalk it up to some inexperience."
Katelyn McGlamery interrupted the Hickory run with a goal for the Indians to make the score at halftime 6-4 in the Red Tornadoes' favor.
Hickory put the ball and the game on Rumbaugh's stick after the break and she responded with six second-half goals. The Indians didn't quit, however. Brannock scored three goals in the second half to go with two first-half assists, and Kaylee McGlamery scored her third goal of the evening to keep the score close.
With 11:55 to go, Hickory held a narrow 9-8 advantage. Then Rumbaugh scored the final three goals of the game to secure the win.
But both coaches cited the Hickory defense as being a key to the outcome.
"I think we got some different looks," Earp said of Hickory's defense. "They were really communicative on defense and we had a hard time adjusting to them doubling the ball in certain situations."
Knowles was quick to praise goalkeeper Payton Rapisardi.
"Payton did a fantastic job," Knowles said. "This is probably the best game she's had since she became a goalkeeper."
Unofficially, Rapisardi was credited with 13 saves on 23 St. Stephens shots.
Both coaches were looking forward to the rest of the season.
"I believe in this team," Earp said of the Indians. "I think we can show up and play with anybody. We definitely had chances to get back in it. We let little mental mistakes get in our way, but we'll be back."
Knowles said there were things at both ends of the field he needed his team to focus on in the upcoming weeks.
"Defensively, we've got to get better and make sure we're getting the cutters," Knowles said. "Offensively, we've got to get more spacing. But I think we'll be OK."
Both teams were scheduled to play on Thursday, but Hickory's road game at Watauga and St. Stephens' home contest against Asheville were both postponed. The Red Tornadoes visit Patton on Tuesday, while the Indians host Watauga.