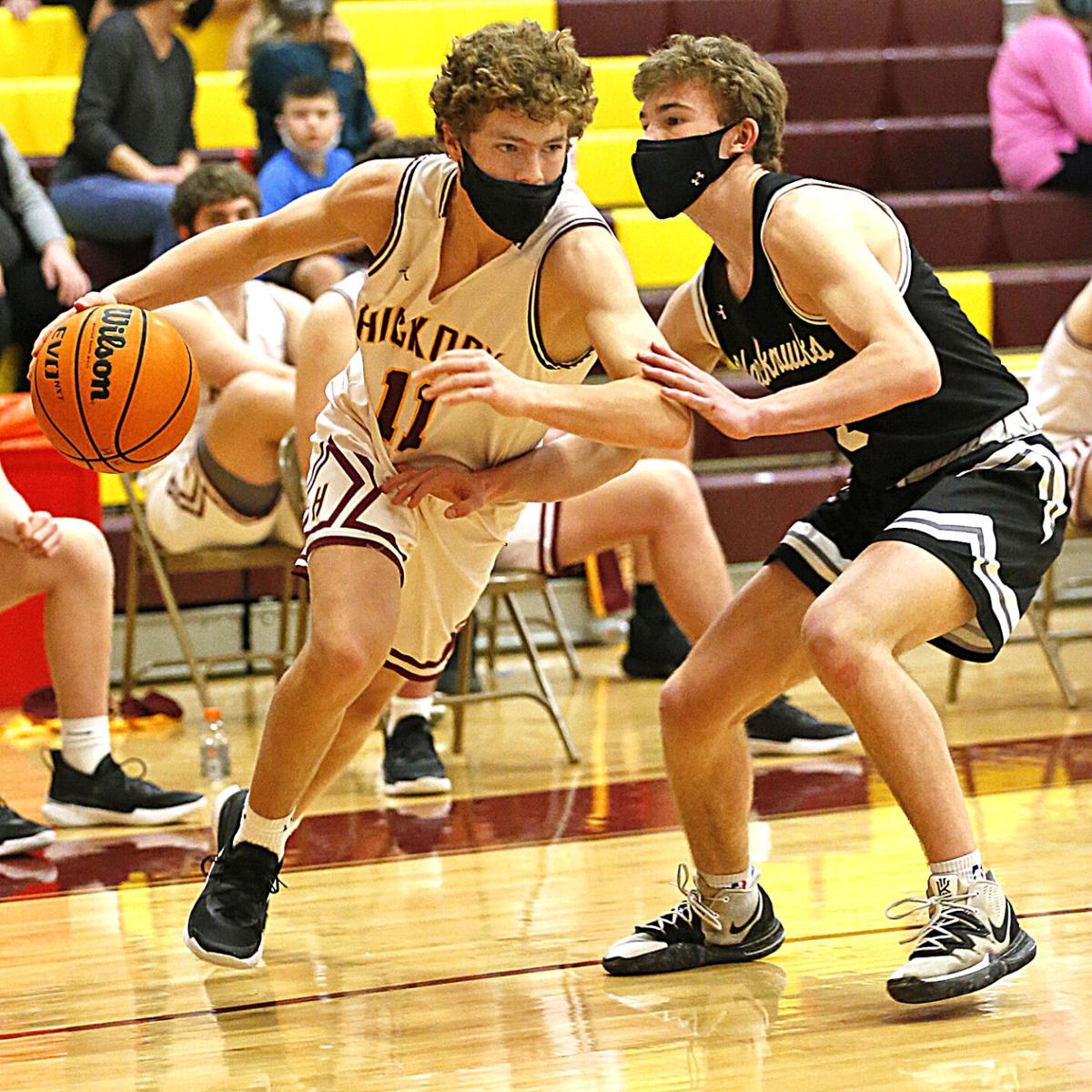 The Hickory boys basketball team starts two juniors and three sophomores, and on Tuesday night the youthful Red Tornadoes were tested in a major way. For the first time this season, Hickory played a game that was decided by single digits when it hosted North Buncombe in the opening round of the 3A state playoffs.
Four of the Blackhawks' five starters were seniors, with that experience allowing North Buncombe to rally from a double-digit deficit in the second half and nearly pull off an upset of the Red Tornadoes. In the end, Hickory was able to stave off the visitors for a 60-55 victory at David W. Craft Gymnasium.
"I'm proud of my guys," Hickory coach Daniel Willis said of his third-seeded squad, which hosts sixth-seeded Mount Tabor (12-2) in the second round on Thursday at 6 p.m. after the Spartans knocked off 11th-seeded Charlotte Catholic 64-56 on Tuesday. "... We've been doing some late-game stuff in practice, but it doesn't translate to when there's a crowd in a game. But I'm so proud of our guys, they stepped up, made enough plays down the stretch, got enough stops down the stretch, made a couple hustle plays, and these guys are young and haven't been in this situation, so I'm proud of them for that.
"It's about surviving," he added. "It doesn't matter how ugly it is, survive and advance."
After a layup from Rico Walker gave Hickory (10-1) a 2-0 lead to begin the night, North Buncombe scored the next five points on a right-wing 3-pointer from Walker Corbin and a driving layup from Charly Banks. Jayden Maddox and Britt Rumbaugh followed with back-to-back 3s for the Red Tornadoes, while a baseline jumper from Maddox helped the hosts double up the Blackhawks at 10-5 around five minutes in.
Rumbaugh made another trey shortly thereafter, while Nick Everhart converted 1 of 2 free throws to account for Hickory's remaining first-quarter points. At the end of the frame, the Red Tornadoes led 14-10.
Maddox made another jumper for the Red Tornadoes to start the second quarter, with Everhart adding a layup and a foul shot in the first minute of the period before Maddox answered a layup by North Buncombe's Chad Clark with one of his own. However, the next six points went to the 14th-seeded Blackhawks (10-5) on two free throws from Caleb Lominac and a pair of putbacks from Bryce Payne as North Buncombe grabbed the lead at 22-21.
Hickory quickly turned things around, outscoring the Blackhawks 12-4 over the remainder of the half to build a seven-point advantage entering the break. Rumbaugh nailed two foul shots and his third of four triples in the contest in the closing minutes of the second quarter, while a three-point play from Maddox represented another big play as the Red Tornadoes enjoyed a 33-26 halftime lead.
The Red Tornadoes led by seven again, 49-42, heading into the fourth quarter, but Walker fouled out with 7:43 remaining after Everhart had picked up his fourth foul late in the third. Nonetheless, despite allowing North Buncombe to battle back to within a single point at 51-50 with 3:35 left, Hickory ultimately won by five thanks in large part to Everhart's defensive play down the stretch.
Everhart, a 6-foot-5, 225-pound junior, had two of his six blocks in the final period. He also had a clutch layup off an assist from Landan Maddox and played every minute of the quarter notwithstanding the foul trouble he faced throughout the night. And while Hickory made just 13 of 31 (41.9%) free throws in the game — the Blackhawks also struggled to a 12-for-24 (50%) clip at the charity stripe — it was two foul shots from Rumbaugh with 3.3 seconds remaining that eventually sealed the win.
"Nick's impact on this team goes more than just on the court," said Willis. "He's our energy guy, he's our leader. He's the quarterback on the football team, so he played every snap at the scrimmage on Saturday, they practiced football yesterday. I had three guys at football practice, I had two guys at lacrosse yesterday, and then they come out here and try to play, so I'm just proud of the way they compete.
"Nick has come a long way this year and I'm proud of Nick, he comes in there and works hard and he made some plays," he continued. "He made some plays on defense that we've got nobody else that can make — big blocked shots, big rebounds — and he was pretty good on offense tonight, finishing around the rim. So I'm proud of Nick and he's developed a little bit this year."
Jayden Maddox was Hickory's leading scorer with 19 points, while Rumbaugh finished with 16 and Everhart had 12. Meanwhile, North Buncombe was paced by Lominac's game-high 21 points to go with 18 from Payne.
"This is good for us, this is really good for us," said Willis of Tuesday's tight victory. "We want to play as many games as we can, try to win and be able to get some experience in this playoff atmosphere."
North Buncombe: 10 16 16 13 — 55
Hickory:              14 19 16 11 — 60
North Buncombe — Caleb Lominac 21, Bryce Payne 18, Charly Banks 5, Chad Clark 4, Walker Corbin 3, Dyllan Barnwell 2, Spencer Roane 2.
Hickory — Jayden Maddox 19, Britt Rumbaugh 16, Nick Everhart 12, Landan Maddox 8, Rico Walker 4, Tyquan Hill 1.
Josh McKinney is the sports editor for the Hickory Daily Record.