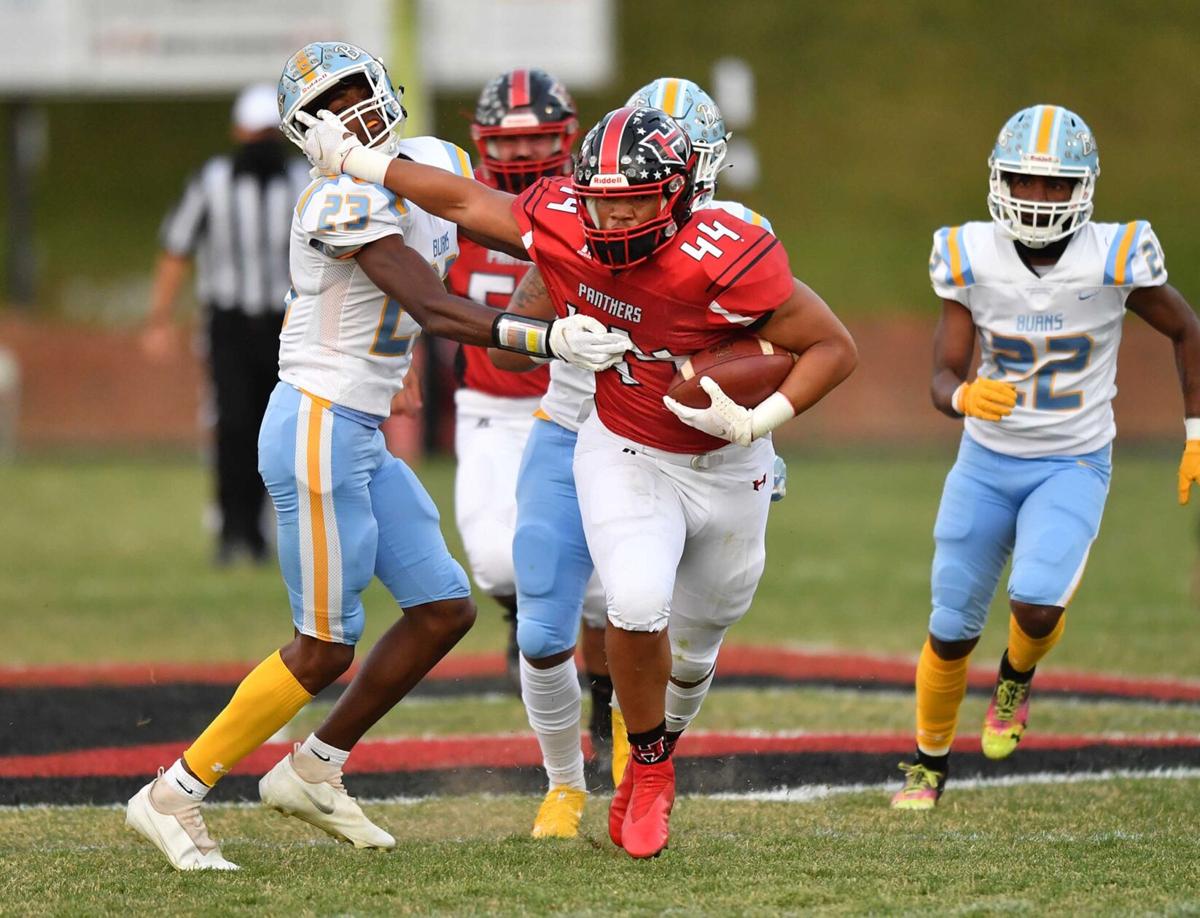 LENOIR — For the second straight season, Burns came into Hibriten's Jeff Storey Memorial Stadium as the lower seed in the playoffs and left with a victory. Friday's first-round game in the 2AA state football playoffs was a defensive struggle with the sixth-seeded Bulldogs making just enough big plays to escape with a 13-12 win to mar what had been a perfect season for the third-seeded Panthers.
"It was an absolute defensive game. If you're a defensive person, then it was one to watch," said Hibriten coach Sam Mackey. "It just hurts to be a part of it. You know in this game there's a winner and a loser. Burns is a great football team. But we're not too bad either."
Neither team came close to matching their gaudy regular season offensive numbers. Although the first half was a stalemate on the scoreboard, the Panthers had the upper hand except in the area that counted most.
Hibriten took the ball into the Bulldogs' territory on three of four first-half possessions, but only had a blocked field goal attempt to show for it.
"We got a team like that on the ropes a little bit, we've got to score," Mackey said. "In the first half we had multiple opportunities. We've got to put the ball in the end zone."
The Panthers did make it into the end zone after receiving the second-half kickoff. Starting at its own 35-yard line, Hibriten marched 65 yards. The Panthers got a big third-down run by Taylib Howell to keep the drive alive.
Howell struck again on a second down play from the Bulldogs' 26. Taking an option pitch around the right side, Howell broke into the clear to give Hibriten a 6-0 lead. But like the field goal in the opening half, the extra point attempt was blocked.
It was a crucial point that came back to haunt the Panthers.
On the ensuing kickoff, Burns' Ryan Thompson raced 59 yards through the heart of the Hibriten kickoff coverage all the way down to the Panthers' 35.
"We knew they were lightning quick. We've done fairly well on the kickoff coverage all year. That was a tough one," Mackey said. "We broke coverage a little bit downfield. Those plays like that ... in a game like this, they can really make a difference. "
It would make a difference moments later when Burns quarterback Cam'Ron Sweezy crossed the goal line from 6 yards out with 4:51 on the third quarter clock. The Bulldogs' extra point gave them a 7-6 lead. It was the first time all year the Panthers had trailed in a game.
Hibriten failed to move the chains and returned the ball to Burns via a 42-yard punt. The Bulldogs pushed through the stingy Panthers defense all the way to the Hibriten 19. But on third-and-1, freshman linebacker Dillan Earp cornered Sweezy deep in the backfield where he not only stripped the ball, but took it himself and sped 70 yards for the go-ahead score with just 21 seconds left in the third quarter.
"He (Earp) has had three games in a row he's had a strip-and-score like that," Mackey said of the freshman dynamo. "He's got a bright future."
The Panthers opted for a 2-point try, but the Bulldogs intercepted a hurried pass in the end zone to keep Hibriten's lead at 12-7.
Once again, the Panthers were denied points they would sorely miss.
After swapping punts in the final quarter, Burns took possession at its own 35 with 6:49 to go. On third-and-10 from the 35, Sweezy launched a deep pass down the right side that found LJ Allen 40 yards downfield to the Hibriten 25. It took the Bulldogs just three plays from there to retake the lead, the final 4 yards coming on Sweezy's second scoring run of the night with 4:04 remaining.
The Bulldogs opted for a 2-point try as well, but the Panthers' defense stuffed the power running attempt to keep the score at 13-12.
But the Panthers would only have the ball for three more plays. Needing six yards on third down, an option pitch between Daren Perry and Howell didn't have a smooth connection and Burns came up with the ball, as well as the ballgame.
The potent Hibriten running game, averaging nearly 240 yards per game and over 10 yards per carry during the seven-game regular season, managed just 166 yards on 47 carries.
"We watched film. We knew 18 (Alphonso Goodson) and 44 (Dorien Starnes), their two defensive ends, were lightning quick, strong and fast," Mackey said. "We knew coming in it was going to be struggle to block those guys. They're very talented and special."
Likewise, the Hibriten defense held the Bulldogs to 166 yards on 31 carries and surrendered another 94 yards in the air.
Sweezy led Burns with 73 yards and two touchdowns on 19 carries. Howell was the Panthers' leading ball carrier with 56 yards and a touchdown on eight carries.
Hibriten's season concludes with a record of 7-1. Burns (6-2) will face seventh-seeded Salisbury (6-2) in a second-round game after the Hornets defeated second-seeded Maiden 52-12 in the opening round.
Hibriten 00 00 12 00 – 12
H—Taylib Howell 26-yard run (kick failed), 6:17
B—Cam'Ron Sweezy 6-yard run (Garrett Geter kick), 4:51
H—Dillan Earp 70-yard fumble return (pass failed), :21
B—Cam'Ron Sweezy 4-yard run (run failed), 4:04
First Downs: Burns 9, Hibriten 15
Rushes-yards: Burns 31-166, Hibriten 47-166
Comp-Att-Int: Burns 4-13-0, Hibriten 3-5-0
Passing yards: Burns 94, Hibriten 57
Fumbles-Lost: Burns 2-1, Hibriten 4-1
Penalties-yards: Burns 10-80, Hibriten 8-50
RUSHING – Burns: Cam'Ron Sweezy 19-73 and 2 TDs, Jeremiah Norris 9-67, Ryan Thompson 2-25, Alphonso Goodson 1-1. Hibriten: Daren Perry 24-47, Noah Isbell 10-29, Taylib Howell 8-56 and 1 TD, Cedric Shuford 5-34.
PASSING – Burns: Sweezy 4-13-0 for 94 yards. Hibriten: Perry 3-5-0 for 57 yards.
RECEIVING – Burns: Thompson 3-54, LJ Allen 1-40. Hibriten: Isbell 1-31, Xavier Simon 1-15, Marcus Jones 1-11.