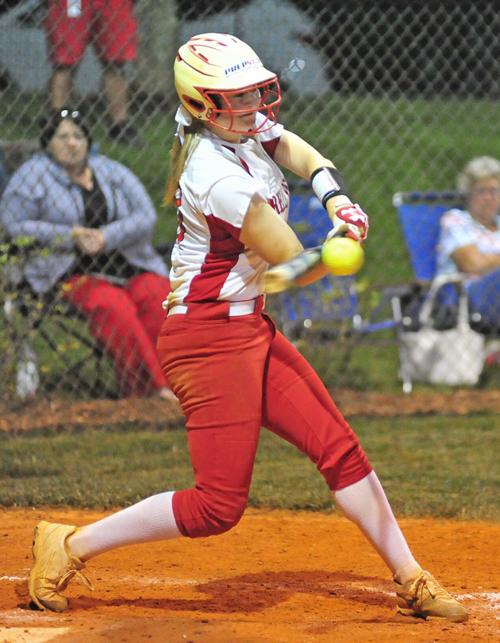 The Newton-Conover softball team picked up its third win in a row on the road Tuesday in Huntersville, defeating Lake Norman Charter 11-5 to improve to 4-2 both overall and in the South Fork 2A Conference. On the other side, the Knights remained winless at 0-7 in both and have now allowed at least 10 runs in every game this spring.
Newton-Conover scored twice in the top of the first inning before adding three runs in the third, five in the fourth and one in the sixth. The Red Devils had 13 hits, with Grace Loftin tallying four hits including a home run and four RBIs to go with four hits and two RBIs from Georgia Ingle, two hits and two RBIs from Jayla Woods, two hits from Sydney Stewart and one hit from Jaylyn Smith.
Loftin was also the winning pitcher after tossing 6 2/3 innings of five-run (one earned), two-hit ball with 17 strikeouts and one walk. Ingle recorded the remaining out for the Red Devils, who traveled to East Lincoln on Wednesday before hosting Lake Norman Charter today.
Fred T. Foard 11, Patton 0: The Tigers shut out the Panthers in five innings during Tuesday's home game in Newton, outhitting them 11-2 while also benefiting from five Patton errors. Fred T. Foard scored four runs in the bottom of the first, three in the second and four in the fourth.
The Tigers (4-2, 4-2 Northwestern Foothills 2A Conference) visit West Iredell tonight, while Patton (0-6, 0-6) hosts Hibriten.
East Lincoln 5, Bandys 0: The Mustangs outhit the Trojans 9-3 during Tuesday's road victory in Catawba, scoring a single run in the top of the first before adding two runs apiece in the third and fifth frames. Bandys received hits from Sydney Kale, Rylee Bost and Annie Andrews, but couldn't push across any runs.
The Trojans (5-2, 5-2 South Fork 2A) visit East Lincoln (6-0, 6-0) tonight.
Maiden quarantined, set to resume play next week
The Maiden softball team is currently quarantined due to two positive COVID-19 cases. The announcement was made by Blue Devils athletic director Caine Houser in an email sent to media members on Monday evening.
According to Houser, the Blue Devils will be able to resume play on Monday. No makeup dates have been announced for the contests Maiden (5-1, 5-1 South Fork 2A) has been unable to play this week.
Fred T. Foard 2, Patton 0: The Tigers blanked the Panthers at home Tuesday in Newton, improving their record to 7-0 both overall and in the Northwestern Foothills 2A while dropping Patton to 3-3 in both. Goal scorers for Fred T. Foard were Natigan Crutchfield and Anna Schmidt, while Brianna See and Lily Spangler had assists to go with two saves from goalkeeper Alexis Wolgemuth.
Foard travels to West Iredell today, while Patton hosts Hibriten.
Hibriten 9, Bunker Hill 0: The Panthers cruised past the Bears on the road Tuesday in Claremont, scoring six goals in the first half and three in the second half. Abby Kidder had four goals and two assists for Hibriten, which also got two goals from Charis Keen, one goal and two assists from Reagan Cline, one goal and one assist from Caiden Ingram and one goal from Sarah Raba.
Hibriten (6-1, 6-1 Northwestern Foothills 2A) goalkeepers Kelis Greene and Rylee Conard combined for the shutout. The Panthers visit Patton today, while Bunker Hill (0-3, 0-3) is at West Caldwell.