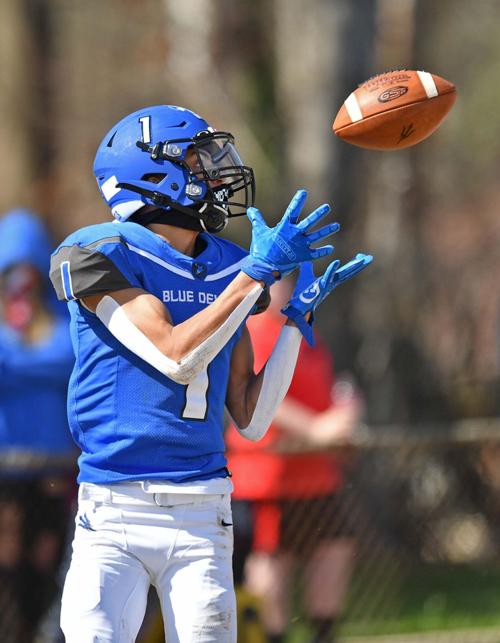 The Maiden football team captured its biggest win of the season on the road Friday, defeating East Lincoln 46-38 in Denver to remain perfect at 4-0 both overall and in the South Fork 2A Conference. Additionally, the Blue Devils handed the Mustangs their first loss, sending them to 4-1 overall and 3-1 in league play.
After the Mustangs scored on a 30-yard field goal from Jaxon Sellers midway through the opening quarter, Maiden scored the next three touchdowns on a 2-yard run from Amarion Craig, an 81-yard interception return from Jacob Sigmon and a 34-yard pass from Ethan Rhodes to Brennan James. Other TDs for the Blue Devils came on a 23-yard pass from Rhodes to Chris Culliver, a 30-yard run from Craig, a 30-yard pass from Rhodes to Culliver and a 10-yard run from Craig.
Rhodes completed 11 of 21 passes for 160 yards, while Craig finished with 15 carries for 69 yards and Culliver caught five passes for 86 yards to go with Ben Gibbs' four receptions for 55 yards. The Blue Devils visit Maiden next Friday, the same night East Lincoln travels to West Lincoln.
Newton-Conover 27, North Lincoln 16: The Red Devils remained in the 2A state playoff race with a road win over the Knights on Friday in Lincolnton, scoring in every quarter and never trailing on their way to an 11-point victory. Allan Shade ran for 203 yards and all four Newton-Conover TDs on 30 carries, while Justice Craig completed 12 of 15 passes for 108 yards.
Zane Redmond caught six passes for 57 yards to lead the passing attack for the Red Devils (2-2, 2-2 South Fork 2A), who also got four receptions for 36 yards from Quincey Spain. Newton-Conover linebacker Xavion Coulter finished with 20 tackles (10 solo), while Ben Watson had 11 tackles (eight solo) to go with one sack apiece from Shade and Hunter Carpenter.
Newton-Conover hosts Maiden next Friday, while North Lincoln (2-3, 1-3) is at Lincolnton.
Bunker Hill 44, West Iredell 0: The Bears continued to steamroll Northwestern Foothills 2A Conference competition on the road Friday in Statesville, surpassing the 40-point mark for the third consecutive week while winning their fourth straight contest overall. Bunker Hill was paced by Carson Elder, who completed 21 of 24 passes for 258 yards and three TDs.
Jay Abrams caught 10 of Elder's passes for 170 yards and two scores, while Kaliq Ramseur had 52 yards on six receptions. Bunker Hill (4-1, 4-1 Northwestern Foothills 2A) also received rushing TDs from Chadz Stevenson (seven carries for 24 yards and two TDs) and Kaden Robinson (six carries for 12 yards and a TD), with the latter adding three receptions for 21 yards and a TD.
Bunker Hill hosts Patton on Thursday, while West Iredell (0-5, 0-5) travels to Hibriten.
West Caldwell 24, Patton 15: The Warriors nabbed their third straight victory at home Friday in Lenoir, building a 14-0 advantage after the opening quarter and a 17-0 lead at the half before surviving the Panthers' second-half comeback attempt. West Caldwell's Jaylen Patterson completed 13 of 21 passes for 242 yards and a TD, while Kayvin Felder caught four passes for 117 yards and a score to go with four receptions for 88 yards from Mason Anthony.
Cameron Beaver added TD runs of 16 and 11 yards for West Caldwell (3-2, 3-2 Northwestern Foothills 2A), finishing with nine carries for 34 yards overall. The Warriors visit Draughn on Thursday, while Patton (1-4, 1-4) travels to Bunker Hill.
Draughn 25, Fred T. Foard 17: The Wildcats earned an eight-point win over the Tigers at home Friday in Valdese, holding them to 15 rushing yards and 118 passing yards. Meanwhile, Draughn finished with 140 yards on the ground and 148 through the air.
Draughn's Nigel Dula was the game's leading rusher with 18 carries for 150 yards and two TDs, while Desmond Hedrick completed 9 of 20 passes for 133 yards and the Wildcats' other two scores. Beckett Nelson added four receptions for 74 yards and a TD for Draughn (3-2, 3-2), which hosts West Caldwell on Thursday.
Fred T. Foard (1-3, 1-3) scored on Alex Fisher's 52-yard fumble return for a TD in the first quarter, Alexis Wolgemuth's 35-yard field goal in the third and Fisher's 1-yard TD run in the fourth. Fisher completed 8 of 19 passes for 118 yards and Blaine Duncan caught two passes for 61 yards for the Tigers, who host East Burke on Thursday.
Hibriten 49, East Burke 0: The Panthers led 7-0 after the first quarter, 35-0 at halftime and 49-0 through three periods on the road Friday in Icard, outrushing the Cavaliers 370-64 while adding 83 passing yards as compared to none for East Burke. Hibriten's Cedric Shuford recorded 205 yards and five TDs, while Daren Perry had two carries for 90 yards and a score to go with 83 yards on 6-of-11 passing.
Blane Fulbright had 20 carries for 36 yards for East Burke (3-2, 3-2 Northwestern Foothills 2A), which travels to Fred T. Foard on Thursday. Meanwhile, Hibriten (5-0, 4-0) hosts West Iredell on Thursday.
West Lincoln 27, Bandys 7: The Rebels collected a 20-point home win over the Trojans on Friday in Lincolnton. The score was tied at the half before West Lincoln outscored West Lincoln 20-0 in the second half thanks to a 22-yard TD run from Mason Huitt in the third quarter to go with a 15-yard scoring scamper from Mason Avery and a 7-yard TD run from Hunter Leonhardt in the fourth.
Bandys (1-4, 1-4 South Fork 2A) registered its only TD on a 5-yard pass from Trey Shearer to Parker DeHart in the second quarter, with Shearer completing 12 of 20 passes for 137 yards but also throwing two interceptions. He found Parker Styborski five times for 95 yards, while Dylan Thompson caught three passes for 39 yards.
The Trojans have a bye this week before hosting North Lincoln on April 9, while West Lincoln (3-2, 3-2) entertains East Lincoln next Friday.