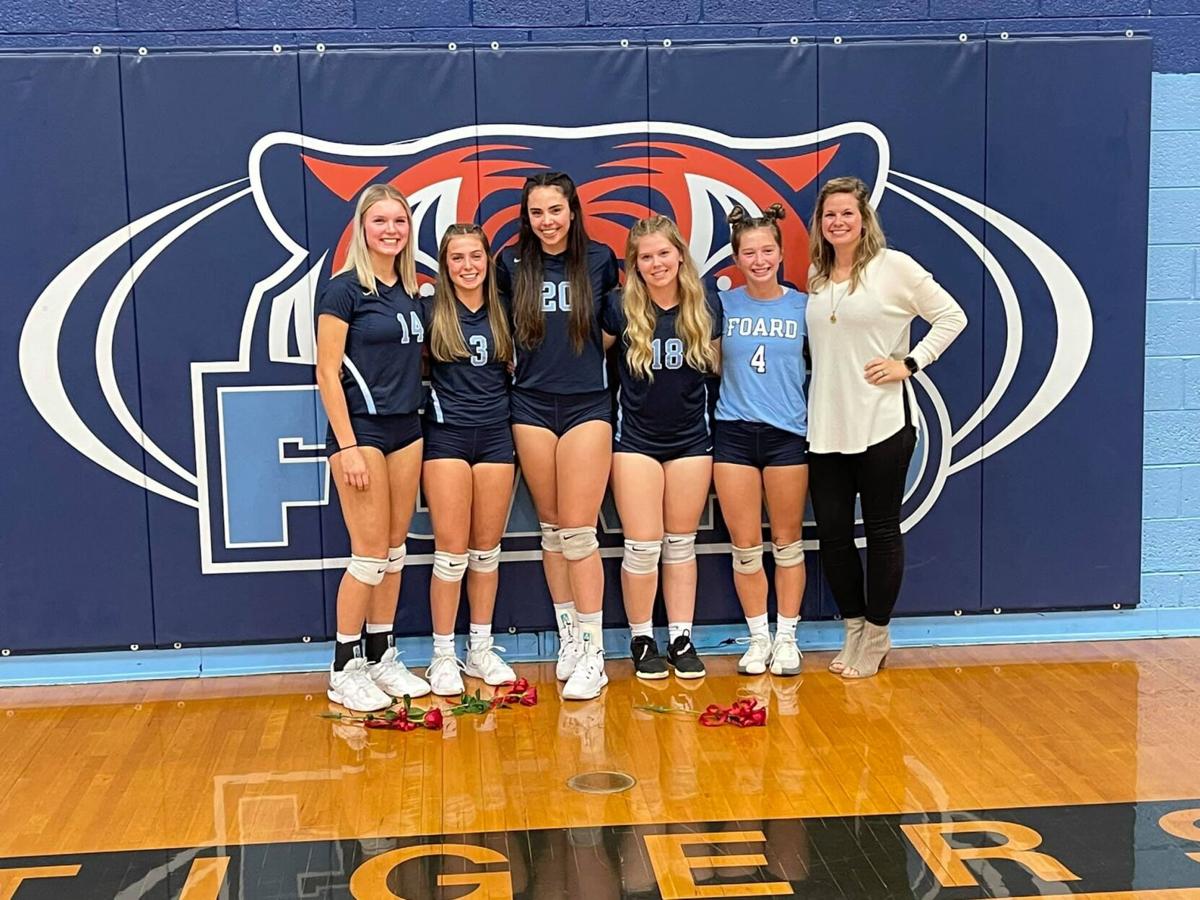 NEWTON — The Fred T. Foard volleyball team swept Hickory on Senior Night at Jerry Copas Gym, winning 25-11, 25-12 and 25-9 at home Tuesday to improve to 19-2 overall and 12-1 in the Western Foothills 3A Conference. The Tigers were paced by 11 kills, three aces and eight digs from Maya Beatty, while Martina Foster had 10 kills, five blocks and three aces to go with eight kills and two blocks from Laney Craig and five kills and four blocks from Averie Dale.
Trinity Tramel added six blocks for Foard, which also received three aces, eight digs and 20 assists from Haley Johnston, 13 digs from Lyndsie Warren and eight digs from Natigan Crutchfield. As for the Red Tornadoes (11-8, 7-6 Western Foothills 3A), they were led by 11 kills and six digs from Taylor Rose, with Ellie Eichman notching four kills, one block and five digs and Alexis Reese and Ali Rose tallying 13 and 12 digs, respectively.
Sami Gambill added 16 assists for Hickory, which caps the regular season with a home match against Statesville today before participating in the Western Foothills 3A tournament next week. On the other side, Foard finishes the regular season with a road contest at St. Stephens today before next week's conference tournament.
The Blue Devils topped the Wolves at home Tuesday, winning by set scores of 25-10, 25-17 and 25-10. Grace Kilby finished with 13 kills and three aces, while Savannah Lail had eight kills and 12 digs to go with seven kills from Kennedie Noble.
Maiden (14-7, 13-0 Catawba Valley 2A Conference) also got 10 digs and 29 assists from Annalee Smith, six digs from Parker Sweet and six assists from Aleah Ikard. The Blue Devils cap the regular season with a road match at Newton-Conover on Thursday, while Lincolnton (8-10, 4-9) hosts West Lincoln.
Bandys 3, West Caldwell 0
The Trojans swept the Warriors on the road Tuesday in Lenoir, winning 25-9, 25-7 and 25-9. Bandys improved to 14-6 overall and 11-2 in the Catawba Valley 2A, while West Caldwell fell to 0-18 and 0-12.
Bandys hosts Bunker Hill in both teams' regular-season finale on Thursday, while the Warriors host East Burke.
West Lincoln 3, East Burke 0
The Rebels defeated the Cavaliers in straight sets during Tuesday's road match in Icard, emerging victorious by set scores of 25-23, 25-23 and 25-17. Aubree Grigg notched five kills, two blocks and one ace for East Burke, which also received 13 digs from Catherine Hammack, eight digs and six assists from Jordan Newton and four digs and seven assists from Claire Cook.
East Burke (2-17, 2-10 Catawba Valley 2A) ends the regular season with a trip to West Caldwell on Thursday, while West Lincoln (12-10, 7-6) visits Lincolnton.
East Lincoln wins Western Foothills 3A match
The Mustangs finished first during Tuesday's Western Foothills 3A match at Cowen's Ford Golf Club in Stanley. East Lincoln also hosted the event, which it won after totaling 144 strokes as a team.
Hickory and North Lincoln tied for second with 153 strokes apiece, while St. Stephens was fourth with 167, North Iredell came in fifth with 170 and Fred T. Foard was sixth with 194. Statesville and West Iredell didn't have enough golfers to qualify for a team score.
East Lincoln's Kyla Callahan was the individual medalist with a score of 42, while West Iredell's Kennedy Gaulding came in second with a 45, Hickory's Lillian Bowman posted a third-place score of 47, East Lincoln's Aspen Greene was fourth with a 48 and Hickory's Claire Graham finished fifth with a 50.
The 3A West Regional meet takes place next Tuesday at Glen Oaks Golf Club in Maiden.