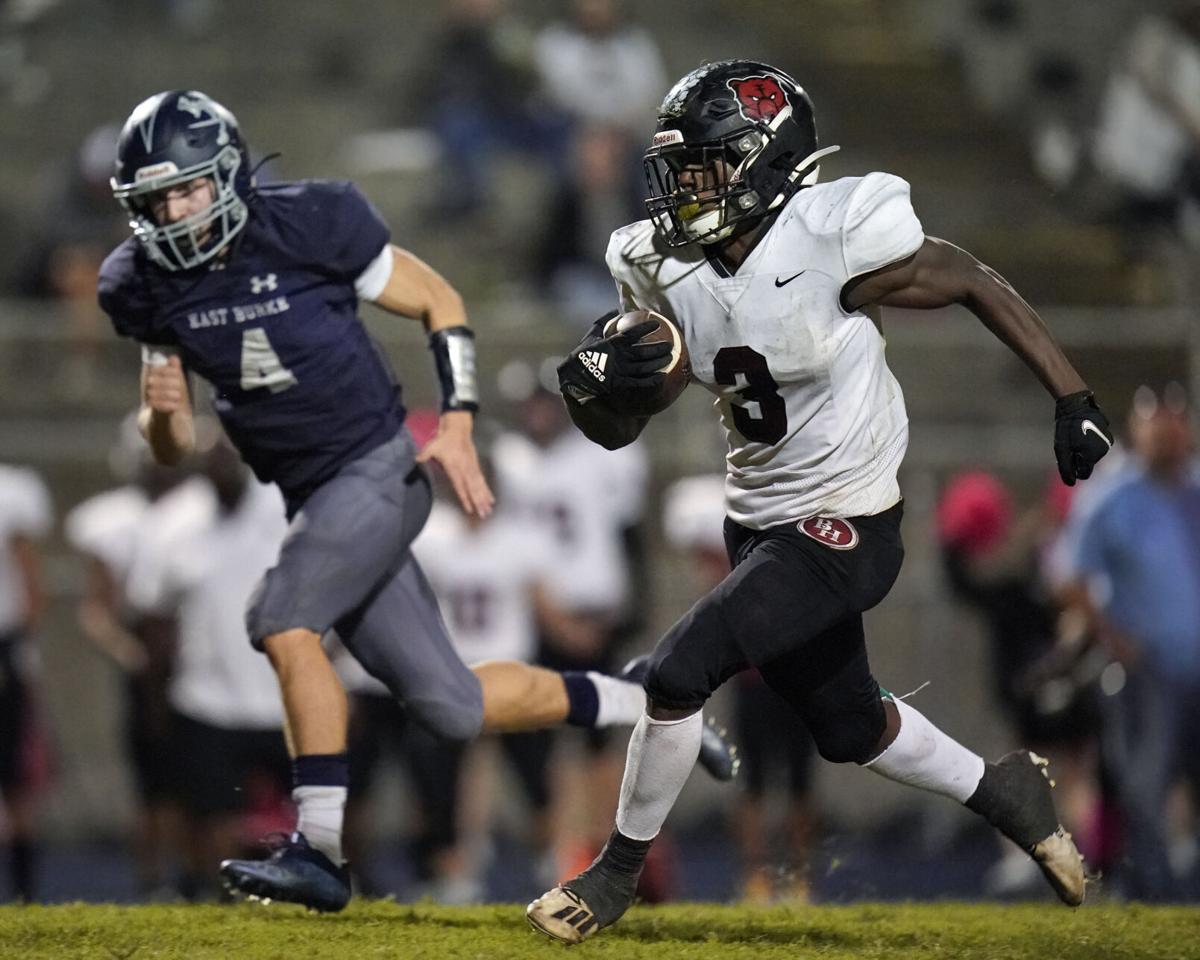 ICARD — The Bunker Hill football team made sure East Burke had an unhappy homecoming on Monday, defeating the Cavaliers 31-8 to remain perfect at 7-0 overall and 4-0 in Catawba Valley 2A Conference play. With the win, the Bears are now 7-0 for the first time since 1968 as they prepare for a home showdown with fellow unbeaten Maiden (7-0, 4-0 Catawba Valley 2A) on Friday in Claremont.
Following a scoreless opening quarter, Bunker Hill received a 34-yard field goal from Alan Bahena Soto and a 29-yard touchdown pass from Carson Elder to Jason Willis in the second period. Chadz Stevenson added a 41-yard TD run in the third quarter before Elder scored from 1 yard out to make it 24-0 entering the fourth.
Elijah Boston scored Bunker Hill's final TD, while the Cavaliers (1-4, 0-3 Catawba Valley 2A) notched their only score on a 6-yard TD run from Blane Fulbright. East Burke is at Lincolnton on Friday.
Hickory 2, East Lincoln 1
The Red Tornadoes doubled up the Mustangs at home Monday in Hickory, with Gabe Palencia scoring both goals for Hickory. Luis Juarez added an assist, while goalkeeper Will Braun had five saves.
Hickory (12-2-1, 6-1-1 Western Foothills 3A Conference) travels to North Lincoln on Wednesday before visiting Fred T. Foard on Thursday, while East Lincoln (7-6-2, 5-3-1) hosts Statesville on Wednesday.
Fred T. Foard 1, North Iredell 0
The Tigers blanked the Raiders on the road Monday in Olin, with Jeremy Carranza scoring the only goal for the visitors. Foard (9-2, 7-0 Western Foothills 3A) hosts West Iredell on Wednesday and Hickory on Thursday, while North Iredell (9-4-1, 6-3) travels to St. Stephens on Wednesday.
The Blue Devils topped the Rebels by a single goal on the road Monday in Lincolnton, getting one goal and one assist from Nymeir Ramseur to go with one goal apiece from Braeden Martin and Davis Higgins. Cooper Houser added four saves for Maiden in goal.
Maiden (5-8-1, 3-6 Catawba Valley 2A) hosts West Caldwell on Wednesday, while West Lincoln (2-14, 0-9) entertains Bunker Hill.
St. Stephens 3, Statesville 1
The Indians earned a four-set road win over the Greyhounds on Monday in Statesville, bouncing back from a 27-25 loss in the opening set to win the next three by scores of 25-13, 25-20 and 25-17. St. Stephens is now 7-13 overall and 4-9 in the Western Foothills 3A, while Statesville is 2-18 and 1-12.
The Indians host Fred T. Foard on Wednesday, while the Greyhounds visit Hickory.
Hickory defeats South Caldwell, St. Stephens
The Red Tornadoes collected a nonconference victory over the Spartans and Indians on Monday at the Fox Run Course at Catawba Springs in Hickory, totaling 161 strokes as a team. South Caldwell finished second with 166 strokes, while St. Stephens was third with 185.
Hickory's Lillian Bowman earned individual medalist honors with a score of 48. Teammate Claire Graham added a 49 to finish second, while South Caldwell's Lana McCall was third with a 52 and the Spartans' Rylee Farr and St. Stephens' Christa Swanner tied for fourth with 55s.