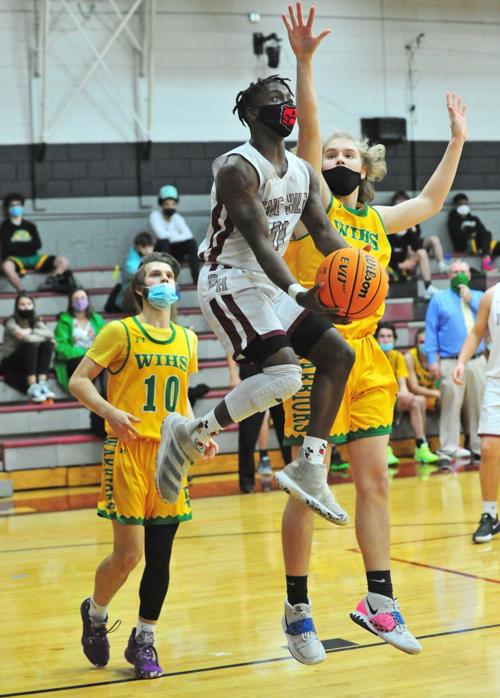 The Bunker Hill boys basketball team ended a three-game losing streak with a 60-56 home win over West Iredell on Monday in Claremont. Three Bears reached double figures in scoring, led by Ethan Hildebran's 21-point effort.
Kaden Robinson added 11 points for Bunker Hill (4-5, 4-5 Northwestern Foothills 2A Conference), which also got 10 from Harrison Fulbright. Additionally, the Bears received nine points from Quentin Hoover as they outscored the Warriors 32-28 in the second half after being tied at 28-all entering halftime.
Qualyne Johnson was the leading scorer for West Iredell (2-4, 2-4) with 21 points, while Nolan Cassidy also reached double figures with 12. The loss was the second in a row for the Warriors.
Bunker Hill hosts Fred T. Foard tonight, while West Iredell visits Draughn.
Draughn 59, Fred T. Foard 55
The Wildcats led 21-11 at the end of the opening quarter, 38-30 at the half and 48-43 entering the fourth frame during Monday's four-point home win in Valdese. Draughn improved to 3-6 both overall and in the Northwestern Foothills 2A, while the Tigers are now 0-7 in both.
Draughn hosts West Iredell tonight, while Fred T. Foard travels to Bunker Hill.
Hibriten 42, East Burke 30
The Panthers defeated the Cavaliers by a 12-point final margin during Monday's home contest in Lenoir. Hibriten led 13-10 after the first quarter, 30-14 at halftime and 39-20 at the end of three periods.
The Panthers (6-7, 6-7 Northwestern Foothills 2A) travel to West Caldwell on Thursday, while East Burke (2-9, 2-9) visited West Caldwell on Tuesday before hosting West Iredell on Thursday.
The Panthers slipped past the Wildcats at home Monday in Morganton. Patton moved to 8-4 both overall and in the Northwestern Foothills 2A, while Draughn fell to 5-4 in both.
Patton is at Fred T. Foard on Thursday, while the Wildcats host Fred T. Foard tonight.
Hickory 8, St. Stephens 0
The Red Tornadoes blanked the Indians during a home contest on Monday at Henry Fork Soccer Complex in Hickory. Carter Holt, Patrick Cecatto and Cesar Rangel scored two goals apiece for Hickory, which also received one each from Spears Culpepper and Luis Juarez.
Dishing out assists for the Red Tornadoes (6-0, 6-0 Northwestern 3A/4A Conference) were Jose Vallecillos with three and Holt, Nick Hutto, Lewis Tate and Gabe Palencia with one apiece. Mackenzie Tonks recorded a shutout in goal for Hickory.
Hickory hosts McDowell tonight, while St. Stephens (2-3, 2-3) visits Freedom.