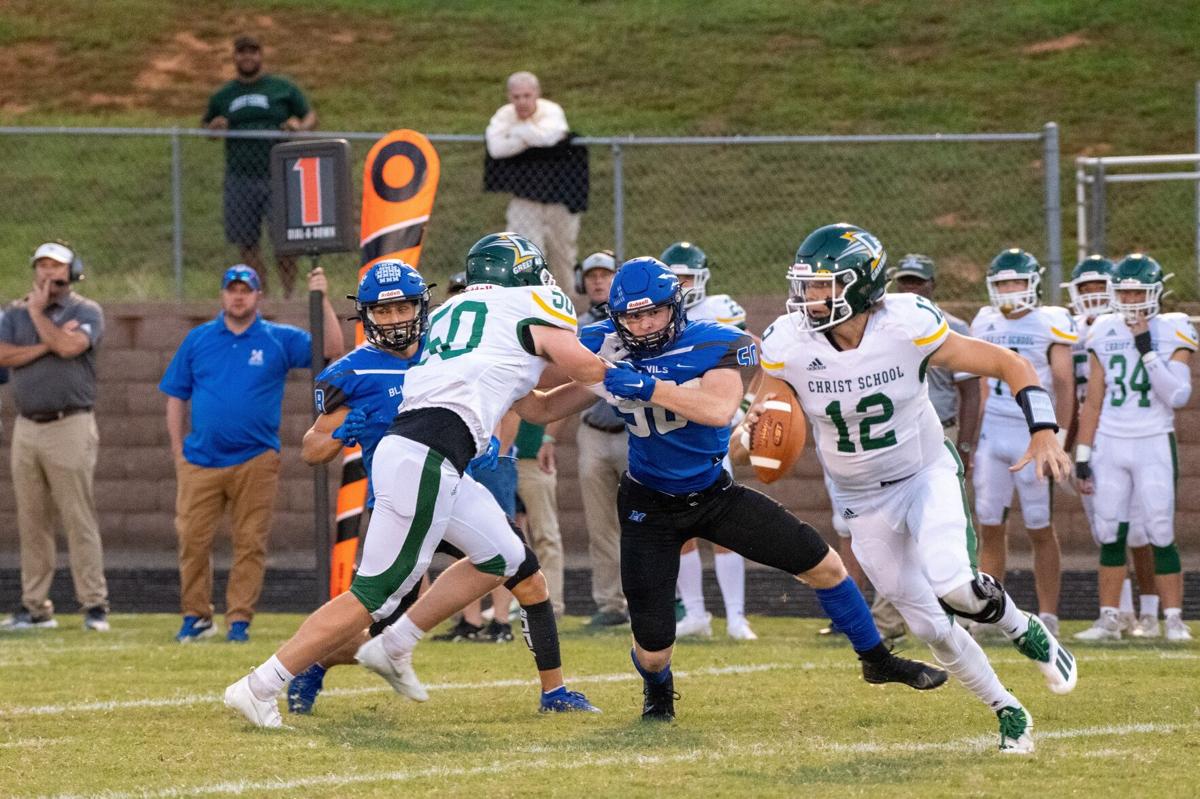 MAIDEN — Following blowout wins in its first two games of the season, the Maiden football team was tested in a big way on Friday at home. Asheville's Christ School gave the Blue Devils all they could handle and then some, but Maiden ultimately emerged victorious by a 27-21 final in an overtime thriller at Thomas E. Brown Stadium.
Neither team scored in the opening quarter before battling back and forth in the second period. Maiden (3-0) scored early in the frame before the Greenies tied things at 7-all just over four minutes later. The Blue Devils responded with a long touchdown pass from Ethan Rhodes to Chris Culliver, but Christ School was able to even the score again — this time at 14-all — entering halftime.
After Christ School (0-2) senior Bryce Sain returned the opening kickoff of the second half for a TD to give the Greenies their first lead of the night, another TD pass from Rhodes allowed Maiden to knot the score for a third time. Following a missed field goal by Christ School as time expired in the fourth quarter, the Blue Devils registered a walk-off TD on a jet sweep by Culliver in the first overtime period.
Maiden opens Catawba Valley 2A Conference play with a trip to East Burke next Friday, while Christ School hosts Rabun Gap-Nacoochee (Georgia) in a North Carolina Independent Schools Athletic Association Big South Conference contest.
<&underline>Alexander Central 28, R-S Central 8</&underline>
The Cougars scored the first four TDs in a 20-point road win over the Hilltoppers on Friday in Rutherfordton, receiving scoring runs of 7 and 1 yard from Luke Hammer in the first and second quarters, respectively, before adding a 4-yard TD scamper from Russell Frasier and an 8-yard TD jaunt from Andrew Bumgarner in the second half. R-S Central got a 5-yard TD pass from Jaiden Coston to Junior Montgomery in the fourth quarter to avoid being shut out.
Bumgarner was the game's leading rusher with 19 carries for 140 yards, while the Cougars' Logan Shoemaker added 12 carries for 93 yards. Ken Hines III was R-S Central's top ground gainer with 86 yards on 10 attempts.
Alexander Central (3-1) hosts nonconference Marvin Ridge next Friday, while the Hilltoppers (0-2) are at Hendersonville for a Mountain Foothills 7 2A Conference matchup.
<&underline>Draughn 69, Highland Tech 34</&underline>
The Wildcats capped nonconference play with a five-score road win over the Rams on Friday in Gastonia. Draughn outgained Highland Tech 454-330, including a 312-142 edge on the ground.
The 69 points represent a program record for Draughn (1-2), which scored TDs on each of its first nine possessions. The Wildcats led 37-6 after the first quarter and 69-26 at the half before allowing a fourth-quarter score.
Nigel Dula finished with 185 yards and four TDs on 13 carries to pace Draughn's offensive attack, and he also returned a kickoff 92 yards for a score. Eli Tillery completed 7 of 9 passes for 122 yards and three TDs, two of them to Daylin Pritchard for scores of 66 and 15 yards.
Draughn hosts Western Highlands 1A/2A Conference foe Owen next Friday, while Highland Tech (0-3) visits Burns to open Southern Piedmont 1A/2A Conference play.
<&underline>Alexander Central 3, Hickory 1</&underline>
The Cougars knocked off the Red Tornadoes in four sets at home Friday in Taylorsville, winning 26-24 in the opening set before falling 25-14 in the second. Following a 25-21 third-set victory, Alexander Central closed things out with a 25-18 win in the fourth set.
Alexander Central (4-1) continues nonconference play with a home match against Bandys on Monday, while Hickory (6-3) returns to Western Foothills 3A Conference action with a road contest against West Iredell. The Red Tornadoes are currently 2-1 in league play.