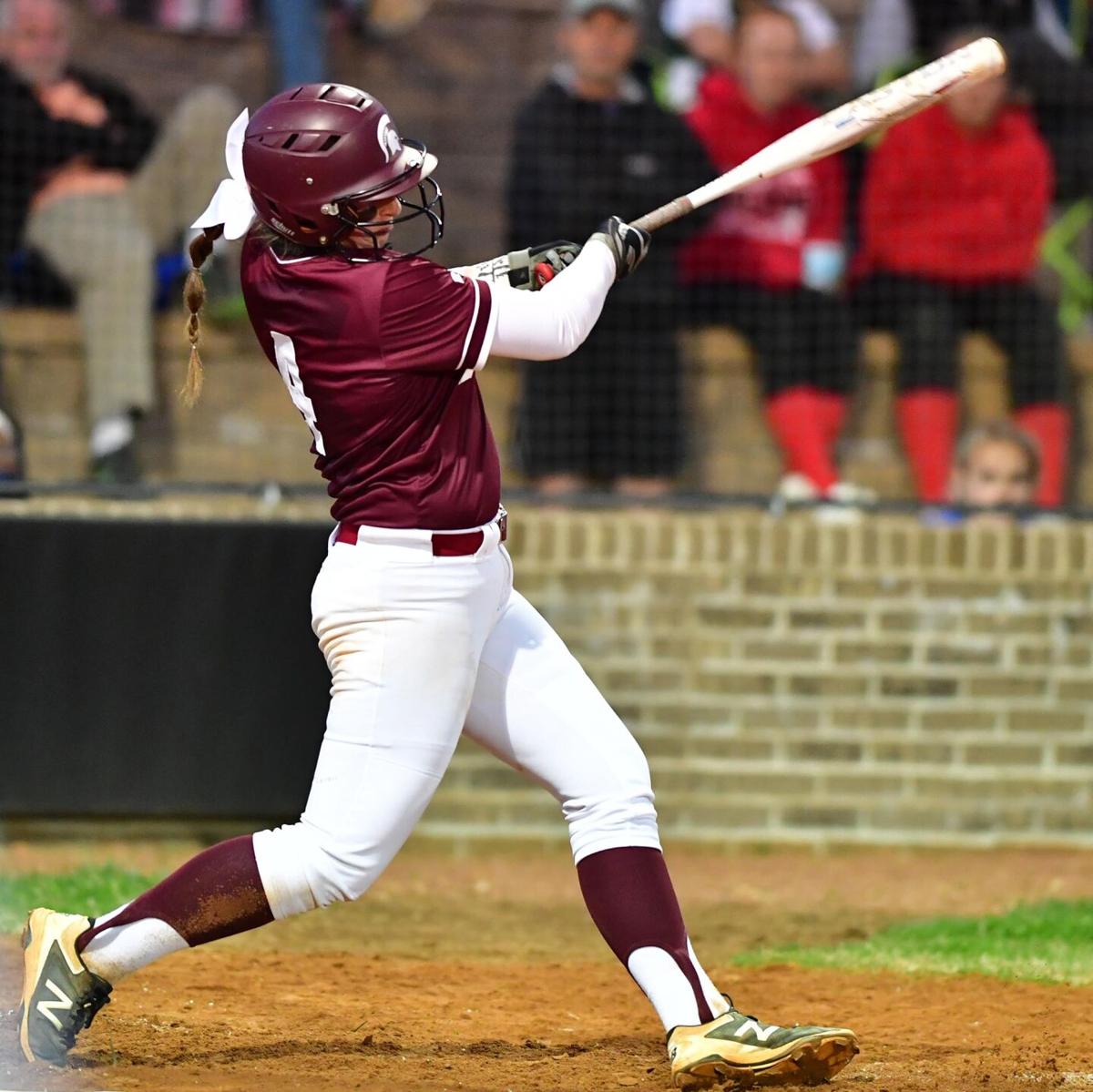 Six teams from the three area conferences will begin play this week in the North Carolina High School Athletic Association softball tournament.
Two teams from each of the South Fork 2A, Northwestern Foothills 2A and Northwestern 3A/4A conferences will compete with the first round scheduled to begin today.
Each of the four classifications in the NCHSAA will have 32 teams in its respective brackets with the first three rounds, as well as regionals, scheduled at school sites around the state. The site(s) for the state finals had not been announced at the time of this preview.
NOTE: For this preview, coaches were contacted and asked who they consider their key players, as well as the keys for their team's success. Unless noted, stats listed are provided by the team.
NCHSAA SOFTBALL TOURNAMENT SCHEDULE:First Round: Monday, May 3
Second Round: Wednesday, May 5
Third Round: Friday, May 7
Regional: Tuesday, May 11
Finals: Friday, May 14-Saturday, May 15 (Sites TBA)
4A WestNo. 13 West Forsyth (6-7) at No. 4 South Caldwell (12-1), 6 p.m.
About South Caldwell (fastpitch playoff record 28-19):
Key offensive players (stats from MaxPreps): 2B Regan Weisner (North Carolina commit, 2019 state final MVP, .594, 4 HR, 14 RBI); SS Jazz Hall (James Madison commit, .381, 5 HR, 20 RBI); C Ciara Hanson (UNC-Charlotte commit, .357, 2 HR, 13 RBI); Maddie Carpenter (Anderson Univ. commit, .605, 3 HR, 18 RBI); 1B Addison Blair (Lenoir-Rhyne commit .297, 2 HR, 11 RBI); UT Chloe Phillips, So.; UT Zoey Shatley, Fr. (.321, 8 RBI); Kennedy Crouch, Fr.
Key pitchers: Kadie Becker, So. (8-1, 1.57 ERA, 76 K in 62.1 IP); Kenley Jackson (4-0, 0.52 ERA)
Coach's keys for success: "We have had a very good year, thus far, but have yet to really break game and play our best softball yet. We have five seniors that are all committed to go play college softball. They are very excited for their future but are extremely focused on the task at hand. Chloe Phillips has been great defensively for us this year and freshmen Zoey Shatley and Kennedy Crouch could come up big for us at any time as well."
Outlook: Prior to the COVID-shutdown season the Spartans won the last two 4A West titles and were the 2019 state champions. Arguably, South Caldwell could have won the state title in 2020, as it had returned much of the state title team. The Spartans dominated the opposition in winning the Northwestern 3A/4A Conference with a scoring margin of 136-14. The one loss was a 4-3 defeat at home against West Stanly, which won the 2019 2A state title and has not lost a regular season game since 2018.
West Forsyth finished in a tie for second with Davie in the Central Piedmont 4A Conference with both getting a wild-card spot. Despite losing two of three to Davie, the Titans got the higher seed in the random draw. West Forsyth went 1-3 versus nonconference schools, all played against 1A and 2A schools. The Titans won the 2016 4A final and is 36-22 all-time in the fastpitch playoffs. Since the title, they have reached the third round only once, South Caldwell defeated them 12-0 in 2018.
Next up: No. 12 High Point Central (8-4) or No. 5 Providence (10-1)
3A WestNo. 14 Tuscola (9-5) at No. 3 Alexander Central (11-3), 6 p.m.
About Alexander Central (fastpitch playoff record 82-22):
Key Offensive Players: CF Chesney Stikeleather, Jr.; SS Peyton Price, Jr.; P Faith Carrigan, Jr.; 2B Kenzie Church, Fr.; UT Ava Chapman, Fr.; C Kirstyn Herman, Fr. Coach Hamby looks to Stikeleather to set the table at the top of the order for power hitters Carrigan, Church and Herman. Price and Chapman bring toughness to the plate with quality at-bats.
Key Pitchers: Faith Carrigan, Jr; Kara Hinkle, Jr. "Both have been pitching at the varsity level since their freshman season. Both know their roles and what is expected of them," said Hamby. The head coach also has praise for Herman in working with the pitchers.
Coach's keys for success: "We need to stay/be healthy throughout our batting order to be able to make a successful run in the playoffs and continue to get production in the spots that are currently doing so and look for the lower part of the order and some reserves to give us a boost. ... Our pitching needs to be solid and both pitchers need to be ready when called upon and be able to throw strikes."
Outlook: Of Alexander Central's three losses, two came against conference champion South Caldwell and the other against Southern Alamance, Mid-Piedmont 3A Conference champs. The key players for Hamby are returning in 2022, so any success this season could build a foundation for next season, when the Cougars return to 4A. With 10 state titles — six of those in the fastpitch era, five since 2009 — the Cougars are always a contender for a state title. The 3A champs in 2018 had a down year — for them — a year later with a second-round loss at the tournament.
Tuscola finished fourth in the Western Mountain 3A Conference and snatched a wildcard bid. In doing so, the Mountaineers (7-10 fastpitch playoffs) return to the tournament for the first time since 2018. Junior Delany Buchanan is the big bat in the lineup, leading Tuscola in all three triple crown categories, with a .574 average, five home runs and 26 RBIs.
Next up: No. 11 Marvin Ridge (12-2) or No. 6 Jesse Carson (11-2)
No. 16 Franklin (9-3) at No. 1 Hibriten (14-0), 6 p.m.
About Hibriten (fastpitch playoff record 4-12):
Key offensive players (stats from MaxPreps): 2B Zoey Walker, So. (.531, 2 HR, 18 RBI, 10 SB); 1B Anna Reeves, Jr. (.436, 17 RBI); OF Sydney Wike, So (.457, 13 RBI); SS Peyton Boggs, Sr. (.478, 12 RBI, 9 SB); OF Cady Ferguson, So. (.385, 1 HR, 12 RBI, 7 SB). As a team, the Panthers have just four home runs, but they make contact (3.6 Ks per game. "We are an evenly balanced team," Blanton said. "And each and every night someone different steps up and does something to help the team."
Key pitchers: Jillian Jones, Sr. (13-0, 0.51 ERA, 129 Ks in 82 IP). "She has the ability to throw really hard but would prefer to mix up her pitches and throws them at all different speeds," Blanton said.
Coach's keys for success: "The key to our success rests a lot with Jillian. This game is a pitcher's game and we will go as far as she can carry us. ... We don't have home run hitters but we do have a lot of contact hitters and good base runners."
Outlook: Winners of the Northwestern Foothills 2A Conference, the Panthers seemed to get stronger at the end of the regular season. Playing back-to-back the two teams who finished in a tie for second, Hibriten defeated Fred T. Foard on the road 8-2, then swatted Bunker Hill 12-1. The Panthers outscored their opponents 132-13 this season. The postseason has been unkind to Hibriten and it is looking for the first win since 2016, when it defeated West Henderson. This is the first home playoff game since losing to Marvin Ridge in 2016.
Having split with Pisgah, Franklin (32-24 fastpitch playoff history) handed Smoky Mountain its only loss in the season finale to finish a game ahead of Pisgah and gain a 2A wildcard spot. Senior Deaven Lombard (9-3, 2.25 ERA) will take the ball for Franklin — also nicknamed the Panthers. Seniors Taylor Ensley and Navaeh Tran each hit .500 or above for the season with Ensley swatting nine homers this season. Franklin won the 2A West title in 2018 before dropping a rain-soaked final series to South Granville. Franklin defeated Hibriten back in 2013 in the previous playoff meeting.
Next up: No. 9 West Stokes (12-1) or No. 8 West Stanly (14-0)
No. 15 Mountain Heritage (8-2) at No. 2 East Lincoln (13-1)
About East Lincoln (fastpitch playoff record 6-16)
Key offensive players: C Betsy Eatmon, So. (.564, 6 HR, 26 RBI); CF Taliyah Thomas, Jr. (.512, 2 RBI, 10 RBI, 16 SB, 23 R); 3B-SS Katie Hogue, Sr. (.457, 1 HR, 7 RBI); 1B Bailey Hardin (.412, 7 RBI).
Key pitchers: Payton Baker, Sr. (10-0, 0.51 ERA, 70 Ks, 4 ER allowed).
Coach's keys for success: Eatmon is the anchor of the team behind the plate as well as in the batter's box. At the top of the order, Thomas creates chaos on the bases with a good eye at the plate and speed. From the circle, Freeman said, "Payton's pitching has been very successful this season. She hits her spots and makes great pitches to keep hitters off balance and off base."
Outlook: East Lincoln swept key games early against South Fork 2A contenders Newton-Conover, North Lincoln, Bandys and Maiden — all of which were in the fight for the second playoff spot near the end of the season — to win it by four games. The lone hiccup was a loss to West Lincoln two weeks ago. The Mustangs outscored opponents 117-9 this season. With the playoff field cut in half this season, the Mustangs are playing what is normally a second-round game. East Lincoln has just four playoff wins in over the last decade with none in the second round.
Mountain Heritage defeated Owen nearly two weeks ago to place the Cougars in second place in the Western Highlands 1A/2A Conference by a game over Owen. That was enough to claim a wildcard slot. The Cougars are a young group with their top three hitters — all sophomores and freshmen — hitting .483 and higher. Mistie Renfro leads the group at .571. Junior Brooke Hensley leads the team with three homers and 13 RBIs. Mountain Heritage has struggled in the postseason, going 2-12 in the fastpitch era.
Next up: No. 10 Oak Grove or No. 7 Madison
No. 14 Bandys (10-4) at No. 3 East Rutherford (11-2)
About Bandys (fastpitch playoff record 12-16):
Key offensive players: CF Annie Andrews, Jr. (.368, 1 HR, 6 RBI, 7 SB); C Caroline McIntosh (.459, 2 HR, 13 RBI); DP-RF Rylee Bost, So. (.400, 1 HR, 17 RBI). Andrews is the key for the lineup, Smith said. "When she is able to get on, she can make a lot happen on the bases with her speed." McIntosh and Bost have provided solid at-bats at key moments throughout the season.
Key pitchers: Lydia Poovey, Sr. (5-3, 2:37 ERA); Owyen Lyall, Fr. (3-0, 2 saves, 2.55 ERA); Laura Drum, Jr. (1-1, 3,39) "They are all different kinds of pitchers so we can give the batter a different look when we need to," said Smith.
Coach's keys for success: "Our key in the playoffs is solid defense, timely hitting and our role players. Our defense has been stellar behind our pitchers this year and if we can keep that up and string some hits together when we need it, then I think good things can happen for us in the playoffs. ... This team can be very exciting to watch when we are hitting on all cylinders."
Outlook: After three straight losses put the Trojans at 5-4, they won the last five to claim second in the South Fork 2A Conference. The 10 wins are the most conference victories by Bandys since winning 10 in 2014. This is also the first season above .500 since 2015. A win tonight would be the first in the postseason since 2014 and would place the Trojans in the round-of-16 for the first time since that year.
East Rutherford won the Southwestern 2A Conference and currently holds and 8-game winning streak. The Cavaliers (33-23 fastpitch playoffs) won the 2014 2A state title, then went winless until 2019, when they advanced to the third round as a No. 26 seed.
Next up: No. 11 Bunker Hill (10-4) or No. 6 North Davidson (13-2)
No. 11 Bunker Hill (10-4) at No. 6 North Davidson (13-2)
About Bunker Hill (fastpitch playoff record 9-14):
Key offensive players (stats from MaxPreps): SS Addie Wray, Sr. (Appalachian State commit, .643, 1 HR, 8 RBI, 12 SB); 2B Camryn Bryant, Sr. (Lenoir-Rhyne commit, .457, 23 RBI, 15 SB), 3B Caley Powell, Jr. (.528, 2 HR, 29 RBI), P Makayla Herman, Sr. (.453, 13 RBI); C Ava Hamlett, Jr. (.447, 14 RBI).
Key pitcher: Makayla Herman (9-4, 3.42 ERA)
Outlook: The Bears started the season 3-0 before an odd loss to West Iredell (4-10). However, Bunker Hill swept Draughn, including a 19-17 slugfest just over a week ago that turned out to be the difference in a tiebreaker with Fred T. Foard (Foard split 1-1 with Draughn) to get into the playoffs. This is the first playoff for the Bears under Coach Norris, who took over for Randy Joines after the Bears advanced to the round-of-16 in 2018.
The Black Knights won the Central Carolina 2A Conference regular season crown, but lost in the tournament final to Central Davidson. Their only other loss is to 4A unbeaten East Forsyth. North Davidson (92-30 fastpitch playoffs) won the 4A state titles in 2010 and 2017 under legendary coach Mike Lambros, who passed from cancer a few months after his second title. Reclassified into 2A starting in 2018, they have made to the third and fourth rounds in the last two tournaments. In their only other playoff meeting, North Davidson defeated the Bears 4-0 in the third round.