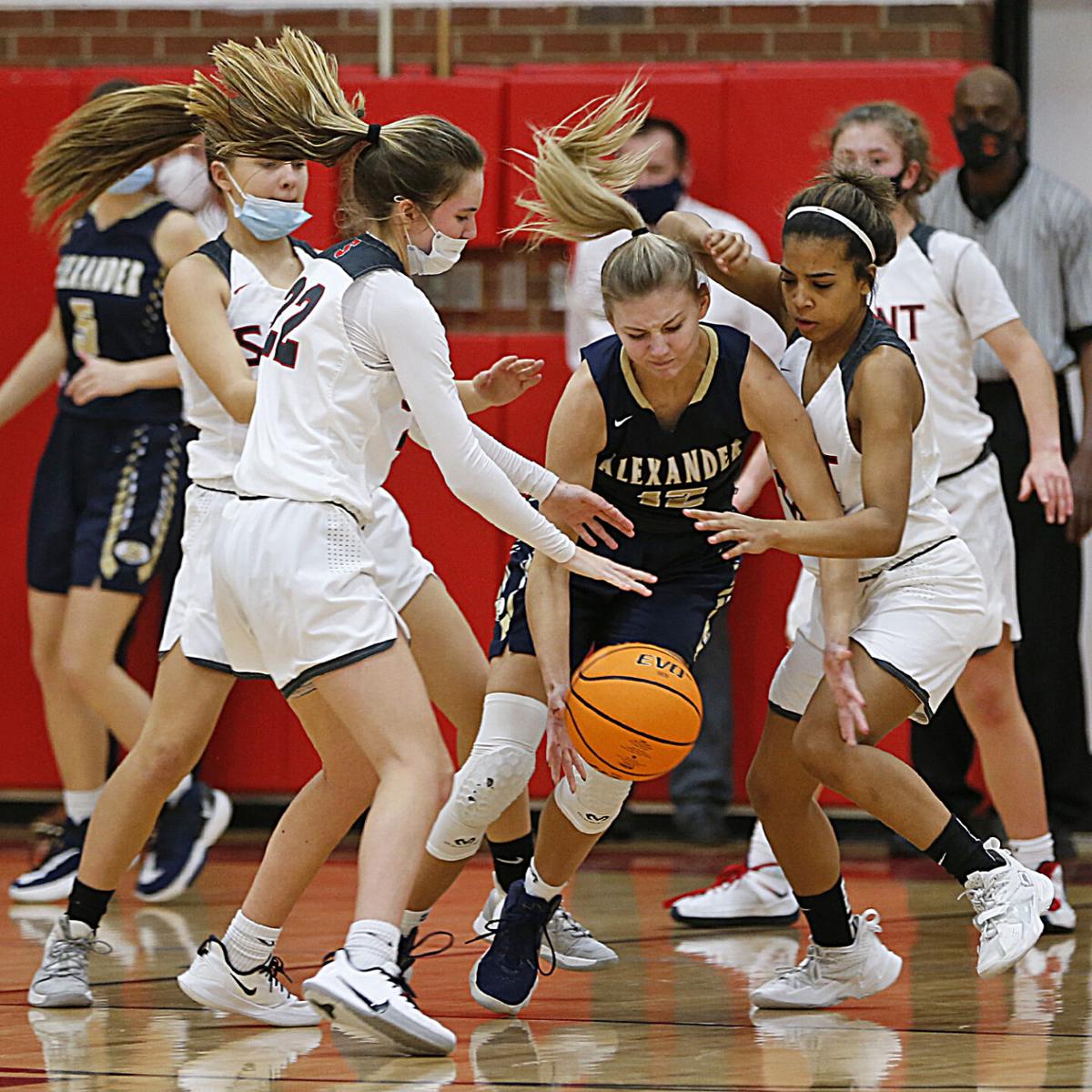 The Alexander Central girls basketball team had a difficult time finding the basket at St. Stephens on Tuesday night. But the Cougars found it when they needed it most in the final minute-and-a-half, the last time with just four seconds remaining to escape St. Stephens with a 45-43 win to stay unbeaten.
Alexander Central is now 3-0 overall and 2-0 in the Northwestern 3A/4A Athletic Conference, in spite of shooting just 37% from the field and less than 23% from behind the 3-point line.
"We were so bad," said Alexander Central coach Jon Presnell, noting how well his team had shot just the night before in a victory over Watauga. "It was just one of those nights when you haven't got it and you've just got to gut it out. That's what we did, they fought to the end."
St. Stephens jumped out to a quick 9-0 lead, only to have the Cougars scratch back and take their first lead of the night, 11-9, on a three-point play by Gracie Harrington to open the second quarter. But the Indians' Kaylee McGlamery tied it when she put back an offensive rebound.
Then Allie Reid scored from down low on the blocks to give St. Stephens a lead the hosts would guard until late in the fourth quarter. That lead hit as many as 10 points, 27-17, in the third period when Joselin Turner drove the lane for two.
"We're just trying to build it day by day. We're young. It's going to take some time," said St. Stephens coach Andy Bennett. "Today was a step forward. We thought we had it, but it slipped away there at the end. But we're definitely proud of how we played."
St. Stephens carried a 31-26 lead into the final quarter and Ella Pilkenton bumped it to eight points on a 3-pointer from the left wing to open the fourth quarter scoring. But Alexander Central chipped away and got back to within five points, 40-35, with just under two minutes remaining when Nikki Hagy scored in the paint.
At that point, the Cougars increased the intensity of their traps in their half-court defense.
"They (St. Stephens) had beat it all game. But we turned up the pressure a little," said Presnell. "We get a few turnovers and we feed off that."
Hagy completed a three-point play at the free-throw line to make it a two-point game with 1:39 to go. Then Sydney Hayes drained a 3 from the left corner with 1:24 to go to give the Cougars their first lead since early in the second quarter, 41-40.
"Sydney struggled all night, but she made it when it counted," Presnell said.
But St. Stephens answered back to reclaim the lead, 42-41, with 1:04 on the clock on a pair of free throws by Turner.
Back and forth the two squads battled with Hallie Jarrett taking a pass from Hagy for a layup for Alexander Central, only to have Pilkenton convert one of two at the line to tie the score at 43-all with 38.5 seconds on the clock.
"She (Pilkenton) is putting it all together and really hitting her stride right now," Bennett said of the Indians' captain.
But Hagy's determination won the moment and the game. Grabbing her own offensive rebound among a mass of flesh underneath the basket, Hagy somehow not only got a shot off, but got the game-winner to drop with just four seconds to play.
"She (Hagy) battled all night. They clustered around her all night. Their game plan was to stop her," Presnell said. "We found a way down the stretch to get her the ball and she delivered."
St. Stephens managed to get an open look from 25 feet, but the shot was just off the mark at the buzzer.
Hagy led all scorers with 20 points and made it a double-double with 10 rebounds. Pilkenton led St. Stephens with 16 points and McGlamery came up with eight rebounds.
St. Stephens, now 0-3 both overall and in league play, will be home on Friday against Watauga. Alexander Central is also at home that night against McDowell.
Alexander Central: 08 09 09 19 — 45
St. Stephens:        09 14 08 12 — 43
Alexander Central — Nikki Hagy 20, Sydney Hayes 9, Hallie Jarrett 6, Gracie Harrington 4, Reid Pennell 3, Chesney Stikeleather 3.
St. Stephens — Ella Pilkenton 16, Joselin Turner 9, Molli Harris 4, Kaylee McGlamery 4, Kennedy Moulton 4, Allie Reid 4, Elizabeth Sumpter 2.