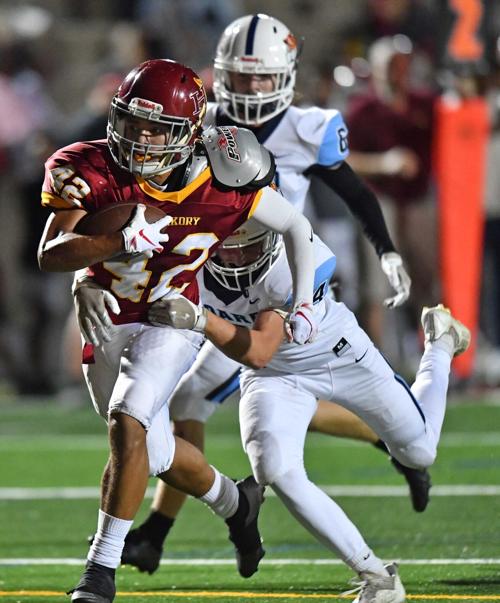 Six and a half months ago, the Hickory football team walked off the field to end the COVID-shortened spring season. The Red Tornadoes hadn't won a game, and five of their seven losses had been by double digits.
Oh what a difference those 6 ½ months have made, as Hickory's 64-14 victory over visiting Fred T. Foard on Friday night was the Red Tornadoes' fourth straight, marking their longest winning streak since they earned four consecutive wins in 2012. And with a fifth straight win in next week's regular-season finale, Hickory can claim a share of the Western Foothills 3A Conference title.
The Red Tornadoes' latest triumph came on Senior Night at Frank Barger Stadium, where their eight seniors were honored prior to the contest. Two of those seniors — Dontae Baker and Landan Maddox — combined for three touchdowns, while the others contributed in various ways throughout the night as Hickory improved to 6-3 overall and 5-1 in the Western Foothills 3A while sending the Tigers to 0-8 and 0-6.
"For them to come in after what they've been through the last three or four years with the losses and just completely buy in to everything," Hickory first-year coach Joe Glass said, "we've not had one senior that's not completely bought in to everything I've asked and supported me 100%, whether it be discipline or camps or anything. And that means the world to me with those guys right there, they'll be a special group to me forever because they're my first group of seniors and it's such a small group."
After Foard fumbled the opening kickoff and Hickory recovered, it took just four plays for the Red Tornadoes to find the end zone. Turner Wood hooked up with Tyquan Hill for an 11-yard touchdown pass before Baker added the 2-point conversion run to make it 8-0 at the 10:45 mark of the first quarter.
Following a three-and-out by the Tigers, Hickory struck again, this time on a 10-yard scoring strike from Wood to Rico Walker. Dashawn Medley added the 2-point conversion run to extend the Red Tornadoes' advantage to 16-0 less than five minutes in.
Another punt by Foard on its next possession led to another Hickory TD. After connecting with Medley for a 50-yard pass on the previous play, Wood hit Baker in the end zone for a 21-yard TD strike to put the Red Tornadoes up 22-0 at the end of the opening period.
Melvin Dula added a 26-yard TD run for Hickory with 7:11 remaining in the second quarter, while Wood found Medley for a 30-yard TD pass at the 5:48 mark. Less than 2 ½ minutes later, Dula intercepted a pass and returned it 45 yards for a score, and he also added an 8-yard TD scamper with 12.4 seconds left to give the hosts a 50-0 advantage at the half.
With a running clock in effect for the second half, the Red Tornadoes only ran one offensive play as Foard possessed the ball for most of the final two quarters. However, Hickory ended the third quarter with a 64-0 lead following Baker's 92-yard kickoff return for a score to start the half and Maddox's 56-yard TD reception from Brady Stober in the closing minutes of the period.
Foard got on the board twice in the fourth quarter, with Dalton Berg scoring from 20 and 25 yards out to account for the final score. Following Berg's first TD run, Sam Drum recovered an onside kick to give the ball back to the Tigers.
"We play a lot of young guys all the time," said Glass of getting playing time for some of his backups in the second half for a third straight game. "We're starting a couple sophomores, but getting those young guys in has been great. It's kind of worked out in our favor because they've had to miss some JV games, so it's been good to get those guys in. It's definitely good to see what we've got coming towards the future."
Berg was the game's leading rusher with five carries for 58 yards, while Hickory only ran 21 total plays — 11 runs and 10 passes — but outgained Foard 296-133 despite the Tigers running 45 total plays. In addition to Dula's pick-six in the second quarter, the Red Tornadoes also got an interception from Josh Fisher in the third.
Wood completed 7 of 9 passes for 148 yards, registering four TDs through the air for the second straight week. For the second game in a row, Hickory's sophomore quarterback sat out the second half with the Red Tornadoes enjoying a comfortable lead.
Medley was the game's leading receiver with 97 yards on three receptions, while Isaiah Lackey paced Hickory's ground game with six carries for 40 yards. Dula added 36 yards on three carries, with Wood gaining 16 yards on two attempts.
Senior Jake Prince added a blocked punt on an all-around dominant night for the Red Tornadoes. Hickory limited Foard QB Aiden Landrum to 62 yards on 8-of-20 passing, sacking and pressuring him numerous times.
"We're playing for a possible conference championship, and if it's not a conference championship we're looking at major playoff implications," said Glass of next Friday's trip to Statesville to face the Greyhounds, who are currently one game ahead of both Hickory and North Lincoln for the top spot in the Western Foothills 3A. "... We've got to be locked in this week, there can be no distractions.
"It's really hard not to overlook certain teams knowing you've got this big one coming up," he added. "Statesville's undefeated, they're the best team in our league, so we're looking forward to the challenge. Win or lose, we're gonna give them everything we've got like always."
On the other side, Foard ends the season at home against one-win St. Stephens, which has lost five straight games since a 21-0 victory over West Iredell on Sept. 17.
Notes: In addition to Baker, Maddox and Prince, other seniors for Hickory include Shawn Rawlins, Josiah Edwards, Zion Ettison, Tripp Young and Jaheim Williams.... The Red Tornadoes scored 64 points on Friday and 63 in a road shutout of West Iredell the previous week. Prior to the win over West Iredell, Hickory hadn't scored 60 points in a game since a 68-21 road victory over West Caldwell on Oct. 12, 2018.... Foard has lost 13 consecutive contests since winning its season opener this past spring, the longest active losing streak among teams in the three area conferences — Western Foothills 3A, Catawba Valley 2A and Northwestern 3A/4A
Fred T. Foard;00;00;00;14;—;14
H — Tyquan Hill 11-yard pass from Turner Wood (Dontae Baker run), 10:45
H — Rico Walker 10-yard pass from Wood (Dashawn Medley run), 7:15
H — Baker 21-yard pass from Wood (pass failed), :05
H — Melvin Dula 26-yard run (pass failed), 7:11
H — Medley 30-yard pass from Wood (pass failed), 5:48
H — Dula 45-yard interception return (Hill pass from Wood), 2:54
H — Dula 8-yard run (Isaiah Lackey run), :12
H — Dontae Baker 92-yard kickoff return (Woody Clarke pass from Brady Stober)
H — Landan Maddox 56-yard pass from Stober (run failed)
F — Dalton Berg 20-yard run (Stewart Simmons kick)
F — Berg 25-yard run (Simmons kick)
First Downs: Foard 9, Hickory 5
Rushes-yards: Foard 25-71, Hickory 11-92
Comp-Att-Int: Foard 8-20-2, Hickory 8-10-0
Passing yards: Foard 62, Hickory 204
Fumbles-Lost: Foard 1-1, Hickory 1-0
Penalties-yards: Foard 2-10, Hickory 6-70
RUSHING — Foard: Dalton Berg 5-58 and 2 TDs, Sam Drum 14-37, Colby Mace 1-1, Aiden Landrum 5-(-25). Hickory: Isaiah Lackey 6-40, Melvin Dula 3-36 and 2 TDs, Turner Wood 2-16.
PASSING — Foard: Landrum 8-20-2 for 62 yards. Hickory: Wood 7-9-0 for 148 yards and 4 TDs, Brady Stober 1-1-0 for 56 yards and 1 TD.
RECEIVING — Foard: Mace 4-31, Blaine Duncan 3-22, Stewart Simmons 1-9. Hickory: Dashawn Medley 3-97 and 1 TD, Landan Maddox 1-56 and 1 TD, Dontae Baker 1-21 and 1 TD, Tyquan Hill 2-20 and 1 TD, Rico Walker 1-10 and 1 TD.
Josh McKinney is the sports editor for the Hickory Daily Record.