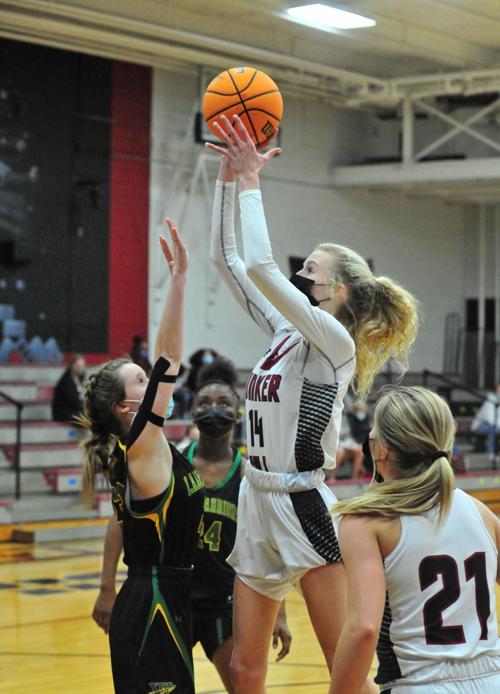 CLAREMONT — The Bunker Hill girls basketball team remains undefeated on the season after cruising past West Iredell 88-58. Friday night's home win improved the Bears' record to 4-0 both overall and in Northwestern Foothills 2A Conference play.
Bunker Hill was able to jump out to an early lead in the first quarter, largely due to its ability to attack the lane for easy points in the paint. Junior Faith Isenhour led the way for the Bears with 22 points in the game to go with 21 from fellow senior Addie Wray, and it was Isenhour who started the contest by scoring on six straight possessions to give Bunker Hill a 14-2 lead with 4:06 remaining in the opening period. Freshman Damireona Burch added five points over the initial eight minutes and the Bears made 13 of 14 free throws to build a 29-11 advantage.
The Bears kept the momentum going in the second quarter by continuing to attack the rim and getting to the free-throw line. Any chance of a West Iredell (0-4, 0-4 Northwestern Foothills 2A) comeback seemed to fade away after junior guard Olivia Ellis made the Bears' first shot from behind the arc with 3:20 remaining before halftime. Ellis' 3-pointer was followed by a big block and transition layup by Isenhour, giving the Bears a 41-17 lead. Isenhour capped the first half for the Bears with an assist to Burch for a layup and a 46-22 Bunker Hill lead.
West Iredell was able to knock down three shots from behind the arc in the third quarter, but it was too little too late for the Warriors. Wray and Ellis both hit shots from deep for Bunker Hill and Burch added another five points from her post position.
"Offensively, we did a lot of good things," said Bunker Hill coach Lee Swanson. "We had balanced scoring and were moving the ball well." 
The Bears carried a commanding 69-43 lead into the fourth quarter, where Burch scored six points to finish with 16 for the game. Ellis added seven points in the period including a perfect 5-for-5 mark from the foul line as Bunker Hill maintained a consistent offensive plan of getting the ball into the paint and creating easy shots inside.
Nonetheless, the fourth quarter also saw West Iredell guards Lariyah Clark (26 points) and Abby Goins (13) get to the free-throw line on several occasions, something Bunker Hill's coach mentioned following the contest.
"We have to commit to defending without fouling," said Swanson.
Bunker Hill hosts Draughn on Tuesday, while West Iredell visits West Caldwell.
West Iredell: 11 11 21 15 — 58
Bunker Hill:  29 17 23 19 — 88