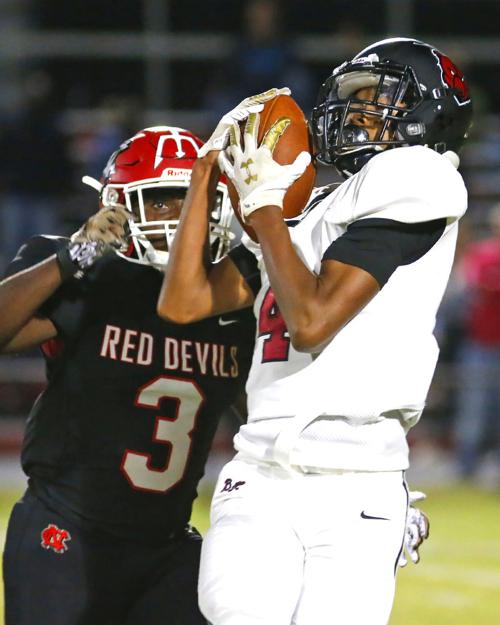 NEWTON — The Bunker Hill football team rebounded from its lone defeat this season and returned to its winning ways against a stubborn Newton-Conover squad on Friday night, earning a 27-13 victory at Gurley Stadium.
The Bears moved to 8-1 overall and 5-1 in Catawba Valley 2A Conference play. The Red Devils slipped to 3-5 and 3-3.
"We just wanted to do better than we did last week," Bunker Hill coach Albert Reid said in reference to the setback against Maiden. "We need to get back doing what we do. Tough place to play. (The) seniors wanted to come back out after last week's beating and come out to prove a point. We couldn't let last week beat us twice."
The Bears never trailed in the game and made things look easy on the opening drive. Taking the kickoff, Bunker Hill made a point of featuring Elijah Boston, who touched the ball the first six plays from scrimmage during a nine-play, 76-yard scoring drive.
Boston finished the drive in the end zone at the end of a fly route down the left sideline, easily corralling a perfectly thrown ball by quarterback Carson Elder for a 23-yard score and a 7-0 lead just over five minutes into the game.
"He's a ballplayer, he's a playmaker," Reid said of Boston. "We knew we had to get him the ball. He's a weapon with the ball in his hands. That was our plan to get Boston the ball."
On the other sideline, the Red Devils' offense struggled in the first quarter. Newton-Conover only had one first down to Bunker Hill's eight in the quarter and was outgained 112 yards to 14.
"We do some good things, we just make some bad decisions at times," Newton-Conover coach Steven Pack said of his offense. "I'll take the blame for it. There's a little growth, but we're not where we want to be."
The Bears added a 22-yard field goal late in the first quarter by Alan Bahena-Soto before adding a 21-yarder in the second quarter for a 13-0 lead.
The score could have been worse were it not for a valiant effort by Red Devils quarterback Aiden Luangkhot and the Newton-Conover defense.
Luangkhot was picked off by Bears middle linebacker Kaden Robinson, who looked as though he had a clear path to the end zone. But Luangkhot raced to catch Robinson and wrestled him to the ground at the Red Devils' 2-yard line.
Newton-Conover's Ben Watson blitzed through the line to knock Elder for a 3-yard loss on first down and the Red Devils' defense followed that by forcing two incompletions, making Bunker Hill settle for three points instead of seven.
"Our defense has been great all year, just behind a little bit on offense," said Pack. "We put the defense in some bad situations to give up some points."
But following the defensive stand, the Red Devils' offense showed some spark after a 30-yard kickoff return by Zane Redmond. Newton-Conover went on a seven-play, 55-yard march capped by a 9-yard touchdown run by Jayce Harrison-Young.
Although still trailing 13-6 after the extra point was blocked, the Red Devils' deficit was much more manageable with 3:52 left until intermission.
The Red Devils' defense came up big again on fourth-and-inches at the Newton-Conover 39 when it totally stuffed a quarterback sneak. But the Bears' second interception of the night, this one by Boston, put the Bunker Hill offense in striking distance at its 39.
A 39-yard pass from Elder to Xavier McCleave moved the ball to the Red Devils' 22. On first-and-goal from the 6, Elder found Boston again for a leaping catch in the right corner and a 20-6 lead with 18 seconds left before the break.
It almost got worse for the Red Devils, who turned the ball over for the third time in the first half on a fumble with 11.5 seconds to go. But Bahena-Soto's 42-yard field goal attempt came up just short.
"We left some points out here," admitted Reid. "But we get another week to play. We just have to make sure we learn from this and capitalize in the red zone."
The second half was scoreless until Luangkhot put one up for Redmond, who outjumped the Bunker Hill defenders for a 29-yard scoring pass that drew the Red Devils to within a single score, 20-13, with 2:29 remaining in the contest.
"I just told our guys I'm super proud of them because they never quit," Pack said. "We were in it until the end and competing to go score, competing to go tackle."
Bunker Hill negated Redmond's score moments later, however, when Chadz Stevenson roared through the middle of the line for a 55-yard touchdown sprint.
"Ray-Ray (Stevenson), he's a great player. When we need big plays he makes them on offense and defense," Redi said. "He has the ability whenever he touches the ball to take it to the house."
Stevenson led all rushers with 127 yards on 11 carries. Elder was 19-of-30 passing for 196 yards and the two scoring strikes to Boston. Boston had 10 catches for 114 yards.
Demarcus Beatty ran for 65 yards on 18 carries to lead the Newton-Conover offense and Harrison-Young added 52 yards and the score on nine touches. Redmond led the Red Devils' receivers with 80 yards and the touchdown on three catches.
The Red Devils finish the regular season next Friday at Maiden, while Bunker Hill travels to Bandys.
Bunker Hill;10;10;00;07;–;27
Newton-Conover;00;06;00;07;–;13
BH – Elijah Boston 23-yard pass from Carson Elder (Alan Bahena-Soto kick), 6:51
BH – Bahena-Soto 22-yard field goal, :14
BH – Bahena-Soto 21-yard field goal, 7:12
NC – Jayce Harrison-Young 9-yard run (kick failed), 3:52
BH – Boston 6-yard pass from Elder (Bahena-Soto kick), :18.
NC – Zane Redmond 29-yard pass from Aiden Luangkhot (Jason Brawley kick), 2:29
BH – Chadz Stevenson 55-yard run (Bahena-Soto kick), 1:30
First Downs: Bunker Hill 20, Newton-Conover 15
Rushes-yards: Bunker Hill 31-181, Newton-Conover 34-138
Comp-Att-Int: Bunker Hill 19-30-0, Newton-Conover 6-17-3
Passing yards: Bunker Hill 196, Newton-Conover 113
Fumbles-Lost: Bunker Hill 0-0, Newton-Conover 1-1
Penalties-yards: Bunker Hill 15-104, Newton-Conover 8-55
RUSHING – Bunker Hill: Elijah Boston 3-10, Carson Elder 11-36, Kaden Robinson 5-12, Chadz Stevenson 11-127 and 1 TD, Cole Lineberger 1-(-4). Newton-Conover: Demarcus Beatty 18-65, Aiden Luangkhot 5-23, Redmond 2-(-2), Jayce Harrison-Young 9-52 and 1 TD.
PASSING – Bunker Hill: Elder 19-30-0 for 196 yards and 2 TDs. Newton-Conover: Luangkhot 6-16-3 for 113 yards and 1 TD, Beatty 0-1-0.
RECEIVING – Bunker Hill: Boston 10-114 and 2 TDs, Robinson 1-2, Stevenson 3-20, Xavien McCleave 3-49, Lineberger 1-14, Justin Killian 1-(-3). Newton-Conover: Redmond 3-80 and 1 TD, Aquan Cauthen 1-22, Jordan Henze 2-11.