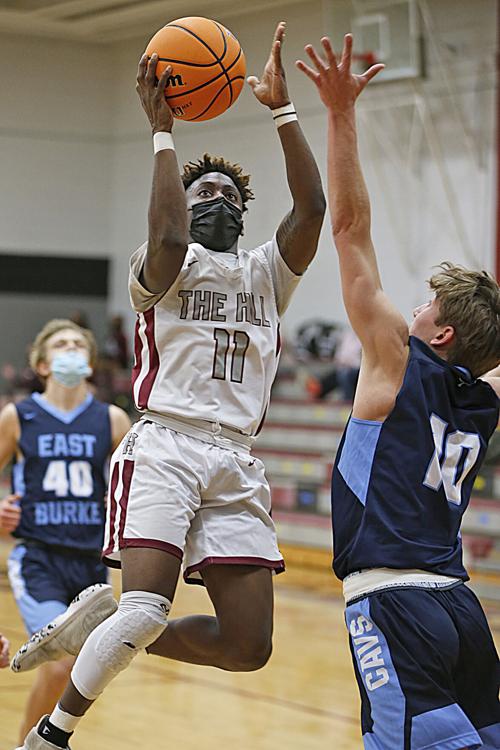 CLAREMONT — A wise coach once said "basketball is a game of runs," which proved to be true during Wednesday night's matchup between host Bunker Hill and visiting East Burke. The Cavaliers appeared to be in control entering the fourth quarter before the Bears rallied late, only to lose by a 68-62 final.
"We can't let ourselves dig so deep of a hole," said Bunker Hill coach Anthony Church. "If it wasn't for our poor second quarter and trailing by so much, I believe we would've had a real chance to win."
Bunker Hill (0-1, 0-1 Northwestern Foothills 2A Conference) came out of the gates hot from long range, making a trio of 3-pointers in the opening quarter. The Bears answered each time East Burke scored, with juniors Kaden Robinson and Mack Little each knocking down a triple over the initial eight minutes. Bunker Hill got the last points of the quarter from two Kaliq Ramseur free throws, and trailed 27-23 entering the second period.
The second quarter would turn the momentum in favor of East Burke (1-0, 1-0), which locked down the Bears on defense. Bunker Hill only made one basket in the quarter as the Cavs' defense closed out on shooters time and time again. The offensive woes for the Bears in the second quarter led to East Burke leading by as much as 22 points on three different occasions for the remainder of the game, but Bunker Hill fought and clawed its way back into the contest.
Church had his team inspired coming out of halftime and the Bears were able to tie East Burke with 13 points in the third quarter, although they still trailed 56-38 heading into the final frame. Bunker Hill would press early in the quarter, causing several East Burke turnovers. 
Bunker Hill scored 24 points to East Burke's 12 in the fourth quarter, but the run began a little too late. This team exhibited toughness, resiliency and grit to come back from the second-quarter deficit.
"It says a lot about the character of our young men," said Church. "They could have easily given up and let things get out of hand after trailing by 18 (43-25) at the half. We challenged them to continue to fight, keep playing hard and to chip away one possession at a time."
Ethan Hildebran led the way for the Bears with 17 points, including two big 3s in the fourth quarter during Bunker Hill's rally. Robinson and Little both scored in double figures as well with 14 and 12 points, respectively, while East Burke got 18 points from Aasin Lor and 12 from Logan Coffey.
"Moving forward we're going to learn from our mistakes in the second quarter and respond quicker to the adversity," said Church. "We also want to build off of our fourth-quarter run. We feel that we can compete on a high level each night as long as we play hard, play fast and play together."
Bunker Hill is scheduled to host West Iredell on Friday, while East Burke returns to action on Tuesday when it entertains Fred T. Foard.
East Burke: 27 16 13 12 — 68
Bunker Hill: 23 02 13 24 — 62
East Burke — Aasin Lor 18, Logan Coffey 12, Jadon Cooke 8, Trey Ward 8, Landon Yarbrough 7, Carter Crump 6, Christian Primm 5, Van Kanzleiter 4.
Bunker Hill — Ethan Hildebran 17, Kaden Robinson 14, Mack Little 12, Kaliq Ramseur 6, Dalton Chapman 5, Harrison Fulbright 4, Quentin Hoover 4.