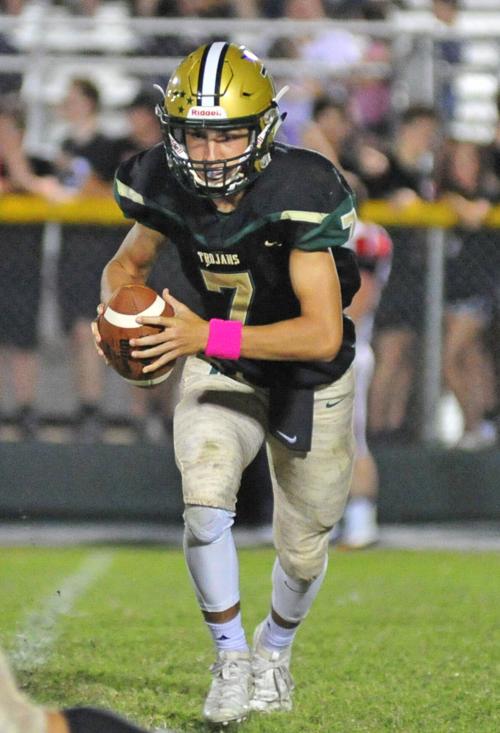 CATAWBA — A 1997 Bandys graduate, Jason Barnes always dreamed of becoming the head coach at his alma mater. Now he has that opportunity.
Following the departure of the Trojans' previous head coach, Tom Eanes, last February, Bandys chose to hire within when it tabbed Barnes as the next man to lead the program. Barnes had been an assistant at Bandys since 2014, most recently as the defensive coordinator.
"It's been kind of a dream of mine," said Barnes of becoming head coach. "... I'm super excited, stoked about it, and I couldn't be in a better situation. It's just one of those things where we've got a good administration here and we've got a good group of kids here and we've got a good coaching staff here. I can't speak enough about how our coaching staff works together and how hard they work."
Although the protocols that have been put into place due to the ongoing COVID-19 pandemic are extra burdens, at the end of the day, Barnes is just glad his team is getting the chance to have a season.
"If you asked me back in December if this is gonna happen ... I would have never in a million years guessed that we would get to this point," said Barnes. "But we get to do it and I'm excited about it and I know the kids are too."
Barnes likes the roster he has in place, which includes the junior duo of Parker DeHart and Parker Styborski. DeHart can play all kinds of positions including quarterback, while Styborski plays wide receiver on offense and safety on defense.
The Trojans primarily ran the ball last season, finishing with 586 running plays as compared to 59 pass attempts. DeHart was their regular QB, but he was also one of five players to tally at least 500 rushing yards, recording 79 carries for 531 yards and eight touchdowns.
"He's gonna play quarterback for us some and then we're gonna put him out at receiver, and heck, we're gonna put him at running back some," said Barnes of DeHart. "... We're gonna move him around a little bit, and he's gonna play defensive back for us.
"And then we have Parker Styborski, he's just a long, lean kid who moves well and does other things well," he added. "I'm excited to see what he does."
Styborski particularly excelled on defense in 2019, hauling in two of the Trojans' nine interceptions as a team. Meanwhile, senior Keelan Henrickson is a guy who can "do just about anything," according to Barnes.
"He's probably gonna be either a rocket scientist or a brain surgeon one day," said Barnes of Henrickson. "He knows every position on the field, we could stick him at quarterback and he'd probably do well there, but he plays everything from a strong safety to a corner(back) to a slot receiver, running back. He kinda does it all and we expect big things from him.
"Guys like that are what make a team run efficient because sometimes you can take a guy like that and put him in a spot and he might not be the biggest or strongest or fastest athlete out there, but he's gonna do as well in that spot as anybody could do," he continued. "So I'm excited about that aspect of it, but I think we've got some good returners coming back that can do some good things for us."
Seniors Cole Howard, Maddox Spires and Wayne Carroll are among Bandys' returning linemen, with Barnes stating that "we're gonna try to run the ball behind them as much as we can."
"They're all three getting looked at by smaller schools and hopefully they get put on the map a little more with the college coaches and maybe get looks from bigger schools," said Barnes. "Obviously, that's the goal."
Barnes believes the Trojans' line, both offensively and defensively, may be their biggest strength. But he also likes Bandys' coaching staff.
"We haven't won a ballgame yet, we haven't played a ballgame yet, but our offensive coordinator Bill Vaughn has done a tremendous job," said Barnes. "This is the first year he's ever been offensive coordinator, he's usually been on the defensive side of the ball, which sometimes that's a good thing. I've seen good offensive coordinators that were formerly defensive coordinators and it's because they know what the headaches are.
"Kent Millsaps is helping him (Vaughn) out on that side of the ball and then of course we've got Doug McRee who is our defensive coordinator and he's working closely with Frank Porter, those guys are on it," he added. "I want to say they're wound tight and I don't want them to think of that in a bad way because we need for them to be that way, and whenever the kids see them have a sense of urgency the kids typically follow suit and they have a sense of urgency about stuff like that. ... I can't tell you how many ballgames we're gonna win, but I can tell you that we're gonna be coached."
As for playing a schedule that includes only South Fork 2A Conference games, Barnes knows that will be a difficult task, especially for a Bandys program that has reached the state playoffs each of the past three seasons and will have to fight even harder to secure a spot with the playoff field cut in half this season.
"You'd like to have a few teams where you can tune up things and kind of find your stride before you really start playing conference games, and that stinks for the kids and that stinks for the coaches, just because you don't know how good of a team you're gonna have until you start fine-tuning those little things," said Barnes. "... It might be a struggle here in the first game or two and I'm sure everybody's in the same boat so it's not like we're the only ones here, but it's gonna be a tough.
"I hate having a smaller amount of games," he continued. "But we get to do it and we'll take what we can get at this point, and again we're excited to be playing."
2020-21 BANDYS FOOTBALL SCHEDULE
March 5: at Newton-Conover, 7 p.m.
March 12: Lincolnton, 7 p.m.
March 19: East Lincoln, 7 p.m.
March 26: at West Lincoln, 7 p.m.