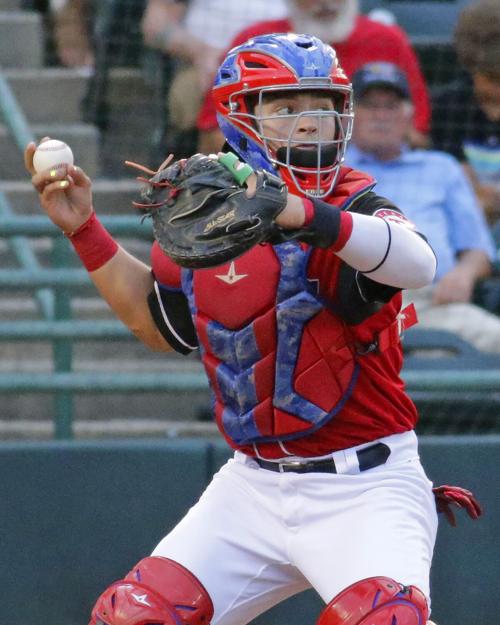 The Hickory Crawdads teased a full house with a comeback that looked like it might end their long losing streak. However, the visiting Greenville (South Carolina) Drive found another gear and continued their mastery over the Crawdads with a 14-7 win Friday night at L.P. Frans Stadium.
The Drive (61-51) powered up four home runs among 16 hits to claim a fourth win straight win in the High-A East League series, which continues tonight at 7 p.m. before the finale Sunday afternoon at 3 p.m. The Drive also increased the season series margin over Hickory to 15-7.
Meanwhile, the Crawdads (45-64) dropped their 12th in a row, which is their longest losing streak since May 2005 and the longest currently on record (records for streaks were not kept prior to 2005).
Greenville built a 9-1 lead through five innings and seemingly had the game on cruise control. A botched double-play ball led to a pair of runs in the second, but the Crawdads put together a pair of hits with two outs in the third, with Frainyer Chavez scoring on a passed ball to cut the deficit in half.
However, the game was defined by the inability of the Crawdads' pitchers to provide a shutdown inning. Greenville bounced back with three more runs against starter Avery Weems (3-6) in the fourth. Dom D'Alessandro doubled in a run and later scored on Christian Koss' single. Tyler Dearden added an RBI single to make it 5-1.
Wil Dalton clubbed a three-run homer in the fifth and Dearden cleared the fence with a solo blast in the sixth to increase the lead to 9-1. The homer for Dearden placed him in a tie for the league lead in homers with 23 and in sole possession of the league lead with 77 RBIs.
The large crowd, which had little to cheer for, finally rose to its feet in the sixth when David Garcia swatted his fifth homer of the season, a two-run moonshot to right.
The crowd got more energized in the seventh, as a solo homer from Pedro Gonzalez (his sixth) started the inning. Jared Walked tripled and scored on Chavez's groundout. Ezequiel Duran doubled and Dustin Harris hit his 10th homer with the Crawdads to get the team within 9-7.
But the four runs by Hickory in the seventh were matched by the Drive in the eighth to put the game away. Koss singled and later scored on Brandon Howlett's hit. Joe Davis accounted for the other three runs with a drive to left for his ninth home run of the season. Koss capped a three-hit night with a solo homer to left in the ninth.
Drive starter Brandon Walter (4-3) got the win after allowing a run on two hits and striking out eight over five innings.