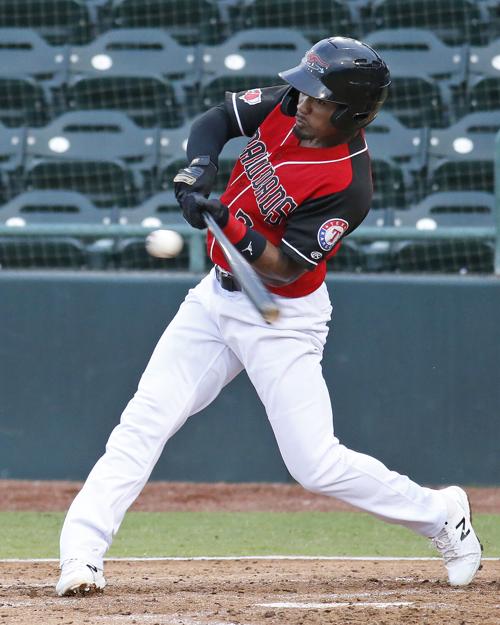 The Hickory Crawdads returned to L.P. Frans Stadium for the first time in two weeks, but the Greensboro Grasshoppers spoiled the homecoming with a 13-5 win in front of 1,068 fans Wednesday night.
The contest was the first of a six-game series in the High-A East League, which was originally to start Tuesday, but was postponed by the first rainout at Hickory this season. That game will be made up today as part of a doubleheader, which is scheduled to start at 5 p.m.
Greensboro (16-15) earned its fourth win in a row, while Hickory (12-19) dropped its second straight.
Wednesday's game is best described as laborious, as well as sloppy at times. The nine-inning tilt ended in just under four hours (3 hours, 57 minutes) with the teams combining to throw 358 pitches. The teams combined for five errors — the Grasshoppers committed four — with six walks and two hit batsmen.
Greensboro never trailed in the game but had difficulty putting away the home team until late. The Crawdads did manage to put 15 base runners aboard, but stranded 10 as they went 3-for-12 with runners in scoring position.
The night had promise for a pitchers' duel, as both teams started top-30 prospects from their respective major league parent clubs. However, neither Justin Slaten of Hickory nor Quinn Priester of Greensboro was sharp, with both leaving the game prior to the completion of the fifth inning.
Jesus Valdez hit the first of four Greensboro homers in the third to give his team a 2-0 lead. Using an error on a pickoff, the Crawdads got a run back in the bottom of the inning when Jonathan Ornelas singled in Jose Acosta.
However, a botched double play ball by Acosta at third loaded the bases with none out and led to a five-run fourth. Jared Triolo, Grant Koch and Matt Gorski had consecutive run-scoring singles to account for four of the runs, which chased Slaten. The final run came in on Liover Peguero's grounder to second.
Another Greensboro error led to a run in the Hickory fourth, as Valdez misplayed a short hop on a bouncer to first that allowed David Garcia to score from second.
It remained 7-2 until the seventh when Aaron Shackelford hit his league-leading 10th homer of the season. The Crawdads took advantage of three walks to add a pair of runs on Garcia's single with one out, placing Hickory within 8-4. However, Myers Park High product William Kobos entered the game and needed two pitches to record two outs and end the threat.
The Grasshoppers received three walks in the eighth, two scoring on a single by Valdez and the third on a wild pitch.
Greensboro closed out the scoring in the ninth with solo homers by Lolo Sanchez and Triolo.
Blaine Crim singled in Ornelas in the ninth to account for the final margin.