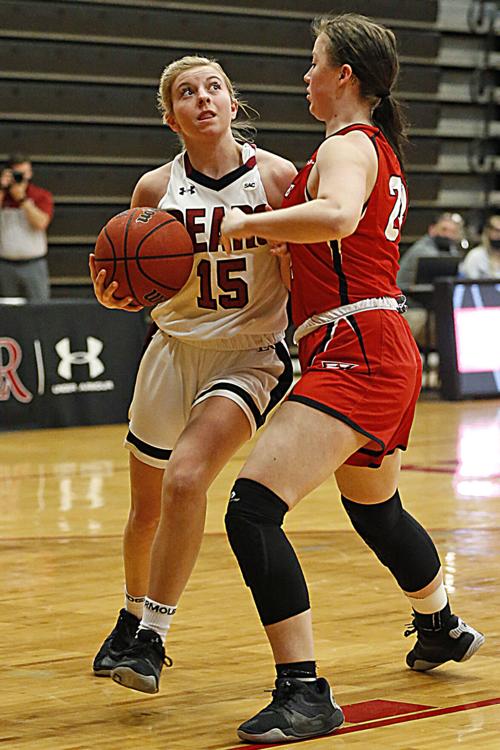 The Lenoir-Rhyne women's basketball team has been in action a lot as of late. In fact, Wednesday night's home game against UVa Wise was the Bears' fifth contest in a 10-day span, with a couple of close losses and a double overtime victory included among their recent results.
L-R trailed the entire way during Wednesday's game at Shuford Gym, turning the ball over 11 times in the first half — the Bears had 16 turnovers overall — en route to a 68-45 loss to the Cavaliers. Consequently, L-R entered Thursday's road game at Coker having lost twice in three days.
"That was definitely kind of the story of the first half — too many turnovers — and I think a lot of unforced turnovers trying to make passes that weren't really available instead of taking the easy pass and the easy play," L-R coach Grahm Smith said. "And even with that we were down by 11 at halftime, and we just dug ourselves a hole by lack of ball control and not taking care of the ball, not valuing possessions."
Following back-to-back layups from UVa Wise's Ada Stanley and Kalee Johnson to open the first quarter, L-R (4-12, 4-11 South Atlantic Conference) found the bottom of the net for the first time on a 3-pointer from Alyssa Wagner. Stanley followed with a spinning layup, which was answered by a layup from the Bears' Nakia Hooks on the other end.
From there, the Cavs (12-3, 11-3) went on a 13-4 run that included a straightaway jumper from Stanley, a layup from Caitlyn Ross, two 2-pointers and a 3 from Nia Vanzant and a layup from Johnson to build a 19-9 advantage late in the frame. Despite a reverse layup from Wagner to complete the first-quarter scoring, L-R still trailed by eight entering the second period.
Vanzant continued to dominate on the offensive end in the second quarter, recording four more baskets to match the eight-point output put forth by the rest of the Cavs. Meanwhile, L-R had five players score led by five points from Emily Harman as the Bears found themselves down 35-24 at the half.
UVa Wise quickly put six more points on the board after the intermission to take a 41-24 lead with 7:50 remaining in the third quarter. Kennedy Weigt nailed a 3 following an L-R timeout and Harman knocked down a pair of free throws shortly thereafter, but the Bears did little else as they headed into the final frame facing a 59-33 deficit.
Both teams emptied their benches in the fourth quarter, with the Bears outscoring the Cavs for the first time all night. L-R's Tatum McBride made two 3s in the period, while Weigt added a basket and Sydney Wilson and Josie Hise each went 2-for-2 at the free-throw line to account for the final margin.
"(Points in the paint) was one area that I was really surprised at," said Smith, whose team was outscored 42-20 on the inside. "The first time we played them we ended up losing by seven (70-63) and did a really solid job as far as defending in the paint and they really hurt us from the perimeter, and then this time around we had some more depth on the inside. I was really surprised that they went to work on us on the inside, in the paint.
"... They put some pressure on us and we didn't respond well, and it led to a lot of easy baskets for them," he added. "That's where they kind of made their living tonight, it was a tough one."
The Cavs' Vanzant was the game's leading scorer (24) and rebounder (seven), while Johnson added 13 points and Stanley finished with 12 points and five rebounds. L-R was led by nine points from Harman and seven apiece from Wagner and Weigt.
"The biggest thing for us is just knowing there's a lot of basketball left to be played," said Smith. "... We've just got to take it one game at a time. The biggest thing for us right now is trying to focus on things that we can control. That starts with our effort level, our energy, our ability to execute, and if we can do that I think things will go our way."
After traveling to Coker on Thursday for a game that was completed after presstime, the Bears return home for a matchup with Newberry on Monday at 5:30 p.m. On the other side, UVa Wise hosts Wingate on Saturday at 2 p.m. before visiting Mars Hill on Monday at 5:30 p.m.
UVa Wise:       19 16 24 09 — 68
Lenoir-Rhyne: 11 13 09 12 — 45
Uva Wise — Nia Vanzant 24, Kalee Johnson 13, Ada Stanley 12, Meg Crawford 9, Mackenzie King 5, Caitlyn Ross 3, Leah Kestner 2.