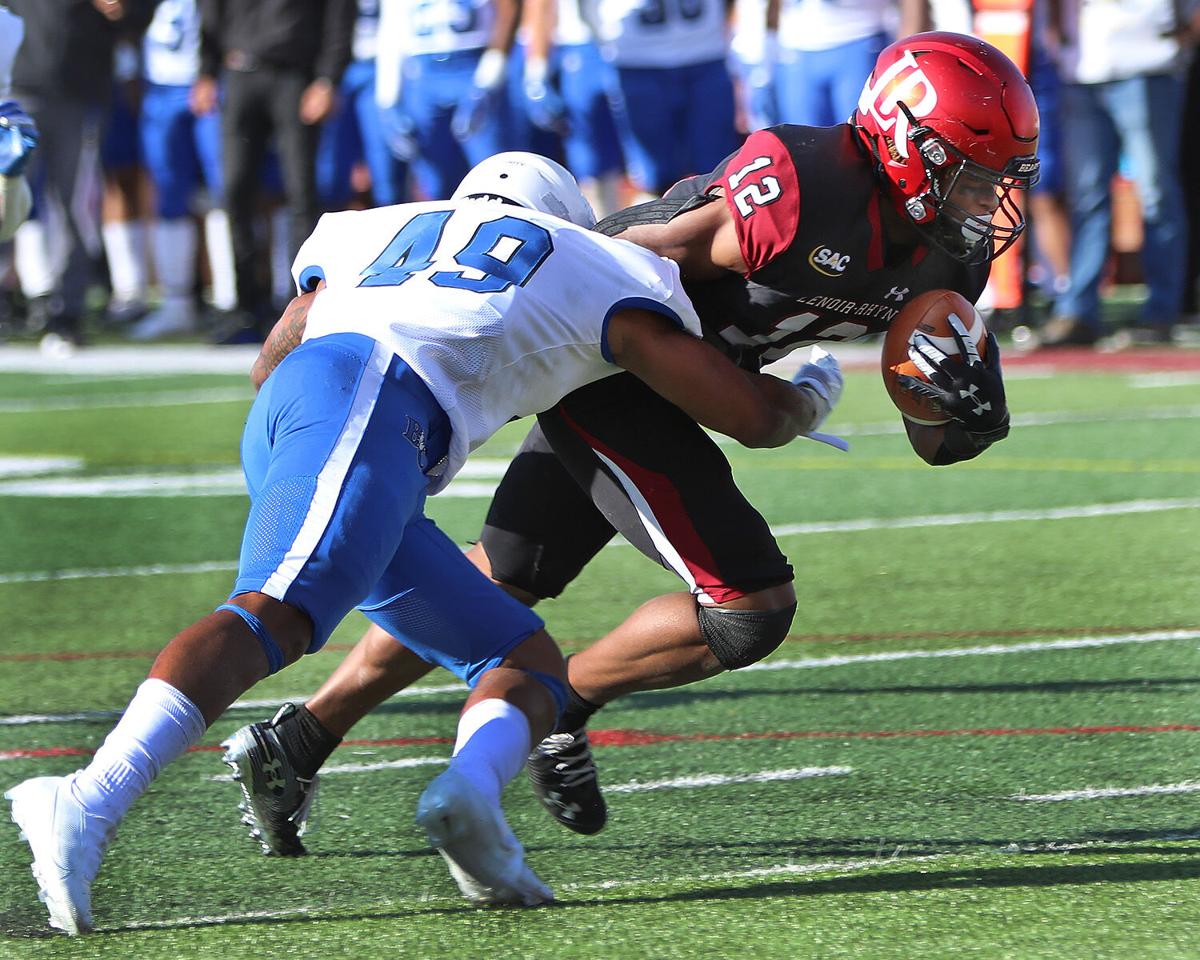 In recent years, every time the Lenoir-Rhyne and Wingate football teams get together, a close game ensues. In fact, each of their past four meetings has been decided by eight points or less.
The Bears have defeated the Bulldogs three straight times, winning last season's NCAA Division II Showcase Game of the Week in Hickory by a 20-13 final after topping Wingate twice in 2018. Following a 31-24 road victory over the Bulldogs during the 2018 regular season, L-R earned a 21-17 home win over Wingate thanks to what became known as the "Miracle at Moretz" — a double reverse flea flicker that ended with Grayson Willingham finding Riley McGee for a 32-yard touchdown pass with 45 seconds remaining.
Speaking of Willingham, he's coming off one of the best games of his collegiate career in the Bears' most recent contest. In L-R's home opener against Barton two weeks ago, the redshirt senior completed 22 of 27 passes for a career-high 309 yards and two touchdowns.
He'll need to play at a high level again today if L-R hopes to remain unbeaten against one of its toughest adversaries in the South Atlantic Conference. Both squads are 2-0 both overall and in league play this spring, and the winner of today's matchup will be the only team in the SAC's Piedmont Division with an unblemished record.
During the first two games of the season, freshmen have stepped up for the Bears. Two of L-R's notable first-year players have been running back Dwayne McGee and linebacker Jon Ross Maye.
McGee has received 59 of L-R's 85 carries, registering 352 yards and three TDs. He is averaging 6 yards per carry to go with two catches for 13 yards.
As for Maye, he is already a two-time recipient of the SAC Defensive Player of the Week award. He is the Bears' leader in total tackles (25), solo tackles (14) and tackles for loss (3.5), and he's one of three L-R players with a sack this season.
Those players and many others have contributed to L-R's victories over Newberry (27-20 in double overtime) and Barton (44-13), and it will take another total team effort for the Bears against the Bulldogs, who have cruised past Barton and Catawba by respective scores of 55-14 and 33-6 thus far. Redshirt junior Shaw Crocker (25-of-46 passing for 402 yards and three TDs), freshman Alex Wilson (16 carries for 136 yards and a TD), redshirt freshman Kevin Henderson Jr. (21 carries for 122 yards and five TDs) and redshirt junior Kendall Lewis (five catches for 158 yards and two TDs) are among Wingate's offensive leaders.
Defensively, Wingate has three interceptions and a pair of fumble recoveries. Senior linebacker Kendrick Hicks is the Bulldogs' leading tackler with 10 total tackles and four solo, and he also has two tackles for loss and a half-sack.
L-R has won 22 of 35 matchups with Wingate all-time, with their first meeting coming on Oct. 25, 1986. The Bears defeated the Bulldogs 11 straight times to begin their rivalry before losing 10 of the next 14 meetings, but L-R is 7-3 against Wingate since 2011.
The next chapter in the rivalry will be written today, with the result potentially deciding the winner of the SAC's Piedmont Division. The winner of the Piedmont Division will face the winner of the Mountain Division in the conference title game on April 17.
Today's contest begins at 6 p.m. at Wingate's Irwin Belk Stadium, while the Bears cap the regular season with a home game against Catawba on April 10 at 1 p.m.
Josh McKinney is the sports editor for the Hickory Daily Record.