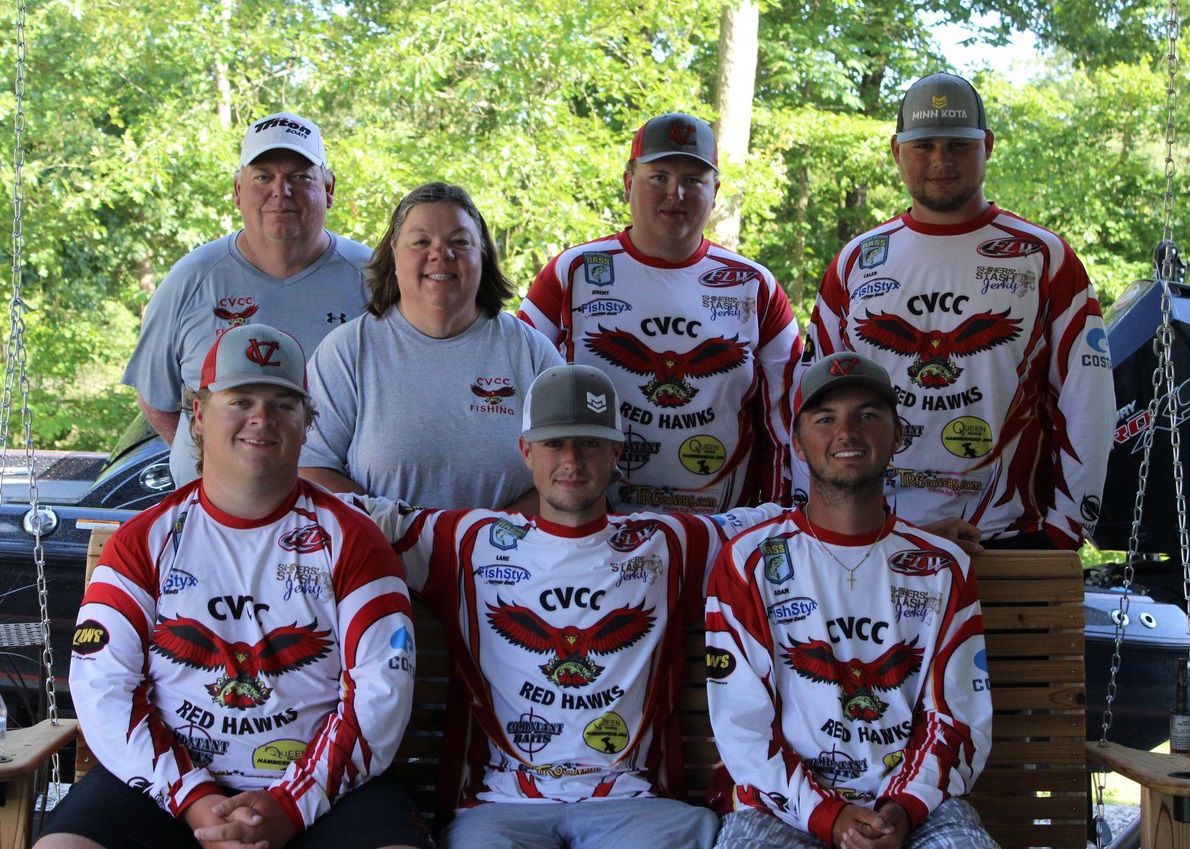 The Catawba Valley Community College bass fishing team capped its inaugural season last week at the BoatUS National Championship held on Pickwick Lake in Florence, Alabama.
A total of 206 teams from across the country competed in the two-day event.
CVCC bass fishing head coach Angela Mayo is proud of the way her team fought despite several issues that all three of the competing Red Hawk two-person teams faced.
"As a team, this was a tough tournament," Mayo said. "Any time an angler has problems with their equipment, it is very difficult to stay focused on fishing. However, they all kept their head in the game and brought fish to the scales. We had one sophomore and four freshman competing against the best teams in the country — many of them fifth-year seniors — and they held their own."
The highest placing of the Red Hawk teams was the tandem of freshmen Lane Bailey and Adam Seagle, who finished in 91st place with a combined five-bass weight of 16.94 pounds.
The duo's finish is even more impressive given the fact that they lost almost two days of practice time because of boat issues.
"Finishing top 100 in the national championship is truly a blessing," Seagle said. "Giving all we have all year long got us to where we were — 77th out of 319 teams for school of the year. There's no other group of guys I want to grind through the rest of next year with."
The team of freshman Spencer Black and sophomore Caleb Lonca finished in 115th place with a total weight of 12.94 pounds, including a big bass catch of 3.69 pounds.
Black and Lonca had their own share of problems during the tournament with their boat unable to operate correctly due to an electronic issue. This hindered them from fishing in the deeper waters, which usually produce bigger fish.
Also fighting through some mechanical issues, freshman Jeremy Dellinger finished in 160th place with a total weight of 5.86 pounds.
"Overall, I thought the national championship was a very tough tournament given the conditions," Dellinger said. "Howling winds and upper 90 degree temps made practice extremely difficult, especially for finding fish offshore. I'm proud of our performance although I am a little disappointed in my own. There was some missed opportunities by all of our teams, but it gave us a lot of great experience for the next time we are faced with a Tennessee River Lake."
The BoatUS National Championship is the final event in the Bass Pro Shops School of the Year standings, which is a year-long competition.
In the final Bass Pro Shops School of the Year standings, Catawba Valley Community College finished ranked 77th out of 315 colleges and universities in the United States.
"This year has been one to remember," Lonca said. "Finishing in 77th place as a community college among all the other collegiate organizations in the nation is special. Being a first-year team, there has been many challenges with learning how to make this work as student-athletes. The professors, advisors and administration has been phenomenal in working with us and understanding that this is to benefit our future — not only as Red Hawks, but as adults. Next year will be full of surprises — from new places, new people and many more tournaments than we expected last season."
Catawba Valley Community College ranked third among 31 junior colleges in the United States on the list and fourth among colleges and universities in the state of North Carolina — finishing higher than teams from Western Carolina University, Appalachian State University, Wake Forest University and UNC Greensboro.
"Placing this high is quite an accomplishment for a team consisting of mostly freshman," Mayo said. "To say I am proud of them is an understatement. As we traveled to each new body of water, the Red Hawk anglers learned how to break down the lake and find their fish. They competed against teams that have been fishing these lakes for four or five years and held their own. Congratulations to each Red Hawk angler on a successful year."
The program would like to thank its sponsors — Fishstyx Custom Rods, Shiners Stash Jerky, Outdoor Supply Company, TRC Covers and Queen Tackle.
BASS PRO SHOPS SCHOOL OF THE YEAR PRESENTED BY ABU GARCIA
23. Snead State Community College (Boaz, Alabama)
39. Calhoun Community College (Decatur, Alabama)
77. Catawba Valley Community College (Hickory)
79. Itawamba Community College (Fulton, Mississippi)
85. Pearl River Community College (Poplarville, Mississippi)
117. Wallace State Community College (Hanceville, Alabama)
127. Central Louisiana Community College (Alexandria, Louisiana)
137. Southern Union State Community College (Wadley, Alabama)
147. Jefferson State Community College (Birmingham, Alabama)
150. Shelton State Community College (Tuscaloosa, Alabama)
171. Northeast Texas Community College (Mt. Pleasant, Texas)
180. Hinds Community College (Raymond, Mississippi)
184. Mid-Plains Community College (North Platte, Nebraska)
188. Wytheville Community College (Wytheville, Virginia)
206. Northwest Arkansas Community College (Bentonville, Arkansas)
222. Southwest Mississippi Community College (Summit, Mississippi)
228. Central Alabama Community College (Alexander City, Alabama)
229. Mott Community College (Flint, Michigan)
244. Wallace Community College (Dothan, Alabama)
251. Grand Rapids Community College (Grand Rapids, Michigan)
260. Community College of Baltimore County (Baltimore, Maryland)
265. Gadsden State Community College (Gadsden, Alabama)
266. Glen Oaks Community College (Centreville, Michigan)
270. Hutchinson Community College (Hutchinson, Kansas)
281. Moraine Valley Community College (Palos Hills, Illinois)
285. Northwest Shoals Community College (Muscle Shoals, Alabama)
288. Patrick Henry Community College (Martinsville, Virginia)
293. Schoolcraft Community College (Livonia, Michigan)
294. St. Charles Community College (Cottleville, Missouri)
303. Tulsa Community College (Tulsa, Oklahoma)
318. Virginia Highlands Community College (Abingdon, Virginia)
North Carolina colleges and universities
73. N.C. State University
77. Catawba Valley Community College
105. Western Carolina University
205. Appalachian State University
230. Wake Forest University
Be the first to know
Get local news delivered to your inbox!