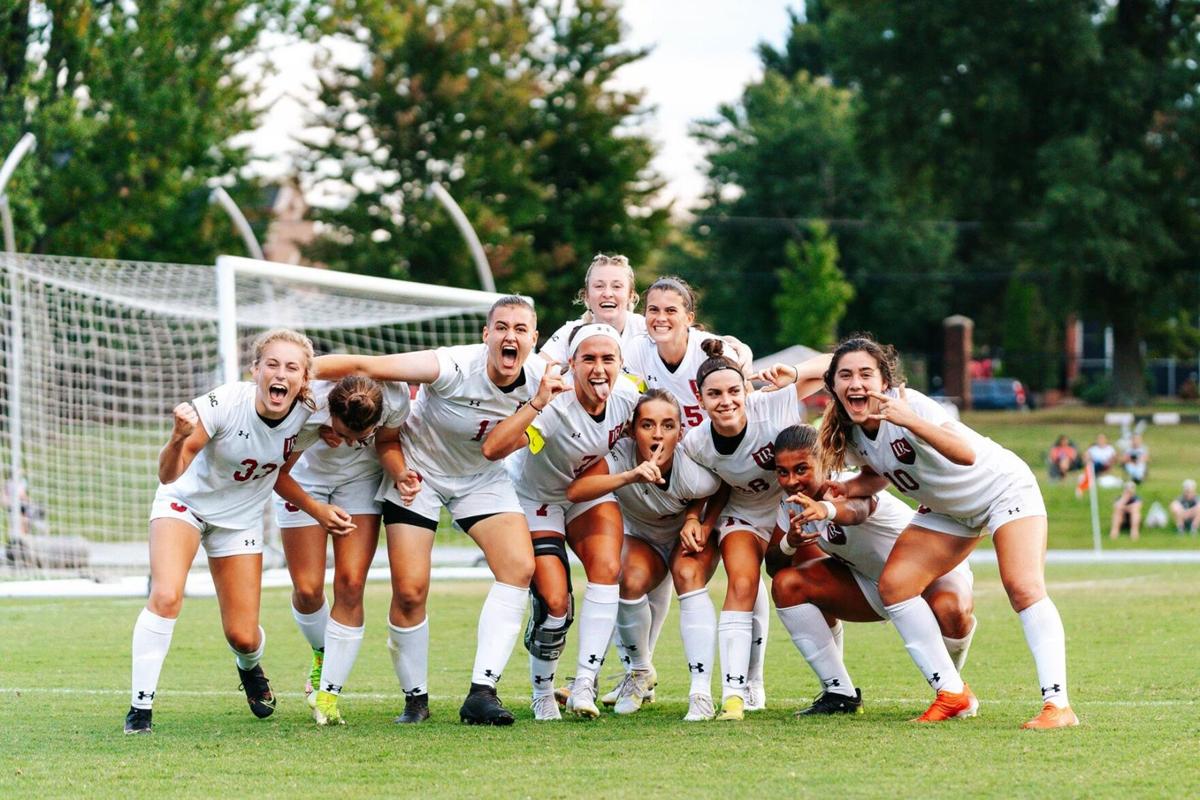 The Lenoir-Rhyne women's soccer team opened South Atlantic Conference play with a 3-2 home victory over No. 21 Limestone on Saturday in Hickory. Ria Acton scored two goals including the match-winner, also assisting on the Bears' remaining goal, the third for Scarlett Kelly in the past two contests.
Allie Zueger registered the other assist for L-R (3-0-2, 1-0 SAC), while the other goal for Acton came on a penalty kick in the first half. Meanwhile, both goals for the Saints (3-1-1, 0-1-1) were scored by Tabea Schutt, with Azumi Manriki notching both assists.
L-R goalkeeper Grayson Cameron missed the match, leaving Charlotte Warner to start in her place. Warner finished with six saves, as did Limestone keeper Katie Maher.
The victory marked the third straight conference-opening win for the Bears, who last lost a league opener in 2018 against Carson-Newman. L-R travels to nonconference North Georgia on Wednesday at 5 p.m., while Limestone visits nonconference Lander at the same time.
Lenoir-Rhyne women finish first, men 18th at regional preview
The L-R women's cross country squad won its second straight event on Saturday at Converse University in Spartanburg, South Carolina. Twenty-two teams attended the meet, with the Bears posting a first-place score of 53 points and a total time of 1:53.46. Emory came in second with 61 points, while Anderson (South Carolina) and Wingate took third and fourth, respectively.
Individually, the L-R women received a third-place time of 22:05 from Janet Kwambai and a fourth-place time of 22:17 from Caroline Hilliard. Kylie Dahlberg added a ninth-place time of 22:45, while Kathrin Polke posted a time of 22:55 to finish 13th.
Also participating in the women's race were the Bears' Adie Bjerkness, Elizabeth Kessler and Pierson McManus in 27th, 38th and 55th, respectively. Their efforts helped L-R win the team title, while the Bears' men's team came in 18th out of 26 participating schools.
The top finishers among the L-R men were Sean Incardona with a 41st-place time of 27:11 and Harrison Hickman with a 129th-place time of 29:11. They will join the women's team next Friday for the Queen City Invite in Charlotte.
Newberry 28, No. 5 Lenoir-Rhyne 21
The Bears' 18-game winning streak in SAC regular-season games came to an end on the road Saturday in Newberry, South Carolina, with the host Wolves taking home the Bishops' Trophy for the first time since 2017. The contest was held at Newberry's Setzler Field, where the Wolves won to move to 2-1 overall and 1-0 in SAC play while dropping L-R to 1-1 and 0-1.
L-R got on the board less than three minutes in on a 32-yard touchdown pass from Grayson Willingham to Deondre Lester, but Newberry scored the game's next two TDs on a 25-yard run from Mario Anderson in the opening quarter and a 16-yard TD pass from Dre Harris to Bryson Woodruff in the second period. Following a 7-yard scoring strike from Willingham to Ryan Carter with 6:52 left in the second quarter, the teams entered halftime with the score tied at 14-all.
Newberry scored twice in the third quarter to build a 14-point advantage, with Mario Anderson scoring from 18 yards out at the 8:44 mark before Harris notched a 4-yard TD run with 4:35 left. Although L-R got a 3-yard TD run from Dwayne McGee in the opening minute of the final quarter, the Bears ultimately fell by a seven-point final margin.
McGee finished with 110 yards on 23 carries, while Willingham completed 22 of 35 passes for 205 yards. Lester, Carter and Dareke Young each caught five passes for the Bears, combining for 154 receiving yards.
L-R hosts Mars Hill next Saturday at 6 p.m., while Newberry visits Tusculum for a contest that is scheduled to begin at 1:30 p.m.
Limestone 2, No. 9 Lenoir-Rhyne 0
The Saints shut out the Bears on the road Saturday in Hickory, scoring both of their goals within the final six minutes of the match. Tristyn de Laaf scored off a double assist from Jacob Hancock and Pascal Werba to get Limestone on the board, while the second goal came on a goal by Mark Radoki off an assist from de Laaf.
L-R (1-2-0, 0-1 SAC) held a 14-11 advantage in shots, while both teams finished with six shots on goal. Limestone (4-1, 2-0) was whistled for seven fouls as compared to 10 for the Bears, who held a 6-2 edge in corner kicks.